Thrunite Ti Review
I don't remember exactly when I bought these flashlights, I think it's more than one year ago. I didn't know how good these flashlight was, I bought it because there was a promo from Thrunite.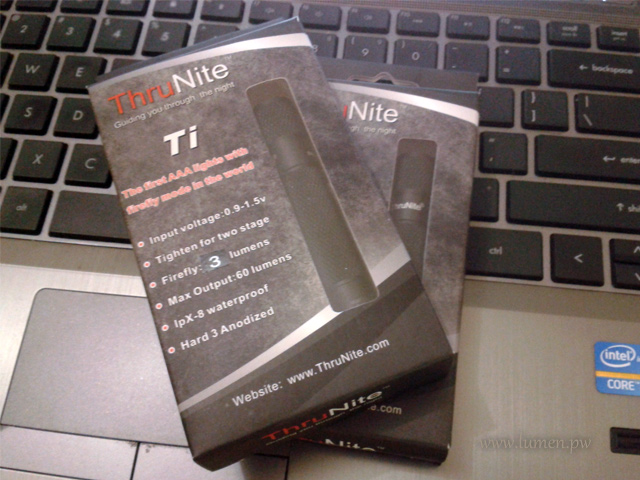 When they're arrived, I realized that they're awesome.
A sweet finger-sized flashlight, powered by 1 AAA battery, and 2 brightness levels (3 and 60 lumens). Thrunite Ti's body are made from hard anodized aluminum and have nice knurling, make it easy to twist their head to turn the light on or off.
They're small and light enough for key chain, I hang it everyday and never fell off from my motorbike. Thanks to its strong metal ring.
Albeit they're small in size, they burst enough lumens for everyday carry (EDC) flashlight. With "throw" beam profile, it's ideal for locating your vehicle out in parking lot.
I bought more than 15 pieces for my friends, they're more than happy to get it. A friend even use his Thrunite Ti for hiking and his flashlight was the brightest among others (most hikers carry an incandescent, a dimmer and resource wasting flashlight).
I also give one Thrunite Ti to my mother and she keep it in her pursue as her EDC flashlight.
Pros:
Pretty cheap
Has 2 brightness level and easy to operate
Small and lightweight
Very bright at AAA class flashlight
Good material
Reverse polarity protection
Cons:
Some flashlights that I gave to friends, died after fell from their pocket
---
Baca ulasan dalam Bahasa Indonesia: Thrunite Ti, Imut Senternya, Wow Terangnya