Review Olight H05 Active (Orange)
Olight H05 Active is new headlamp line from Olight with distinctive vibrant color (available in orange, blue, green, purple, and black) and powered by two AAA batteries (included) with maximum brightness up to 150 lumens.
This orange sample was sent by EDC Store Indonesia, a trusted flashlight store in Indonesia, for reviewing purpose.
First Impression of Olight H05 Active
Olight H05 Active arrived inside a transparent box, exposing its shape and its vibrant orange color.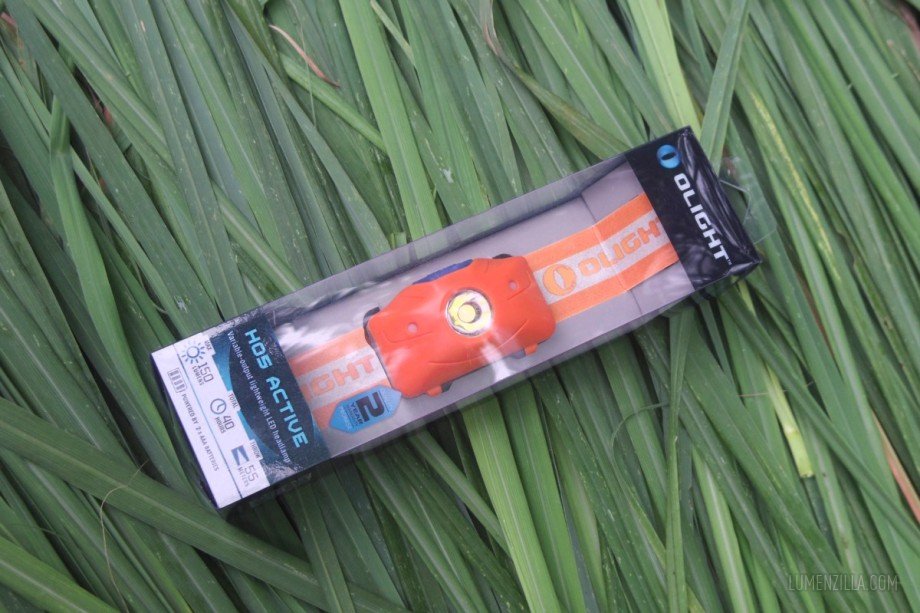 Information about this headlamp is printed on the back side of the box, including the specification and available modes (three) and its run time.
High, 150 lumens that will last for 10 minutes and automatically stepped downto 90 lumens that will last for 280 minutes (about 4.5 hours).
Medium, 30 lumens that will last up to 10 hours.


Low, last for 40 hours.
Approximate beam distance is about 50-55 meters.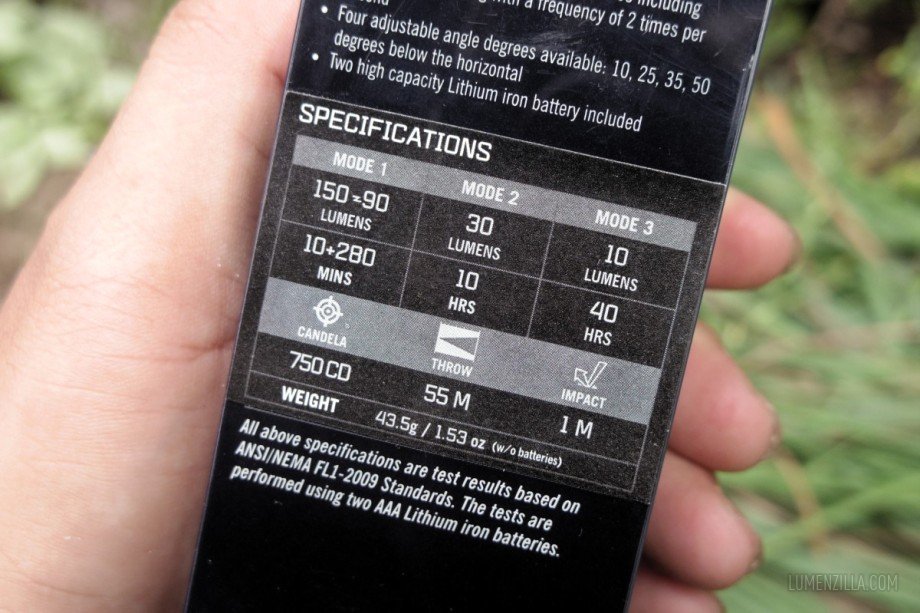 After opening the box, here are the package contents:
Headlamp
Manual book
Two AAA batteries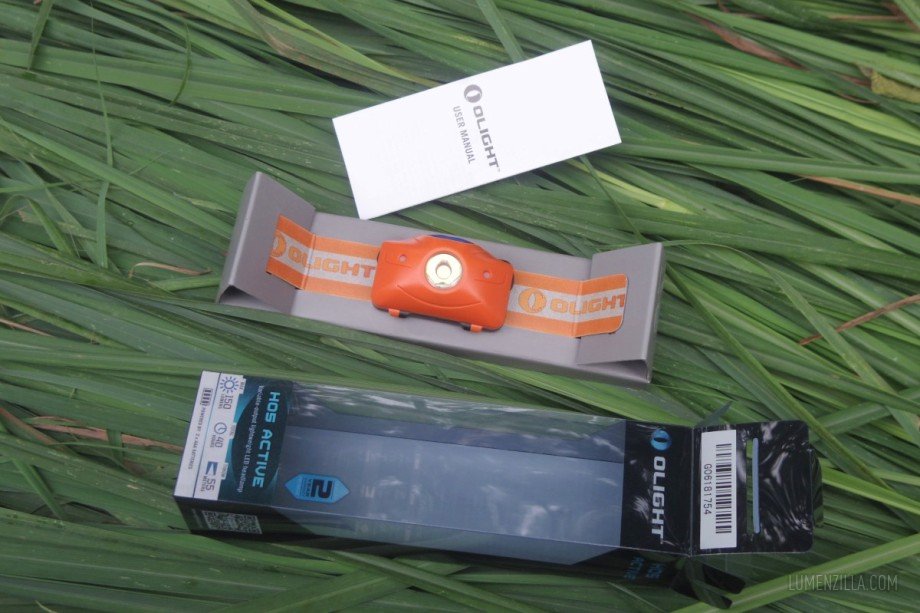 There's a thin film covering the contact terminal of the batteries to avoid accidental activation during the shipment. Don't forget to remove the film before operating this headlamp.
Olight H05 Active Hands-On
The dimension of this headlamp is quite small and compact. Because the body is made from plastic material, Olight H05 Active is very lightweight and will not burden your head when in use.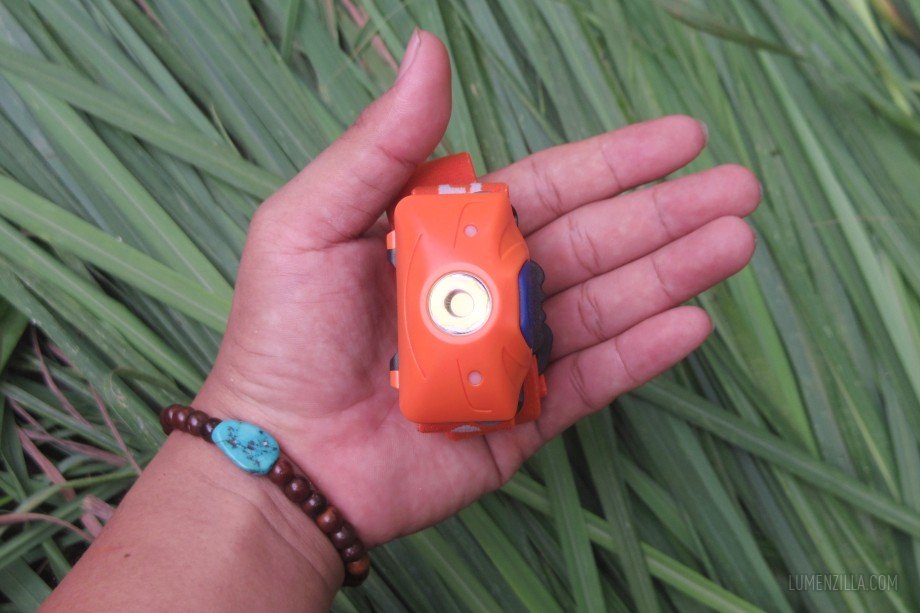 Olight H05 Active utilizes a Cree XM-L2 LED featuring a high light transmission rate TIR optic lens. This TIR optic lens is quite similar to the one used in Olight S1 Baton.
There are two red LEDs that flank the main LED, which is –unfortunately– designed only for beacon/locator purpose. They are a too dim for night vision lighting and these two red LEDs has two mode: constant on and blinking.
A curve was also drawn under the LED that mimics a smiley face, and the blue stuff you see on the top of the headlamp is the switch.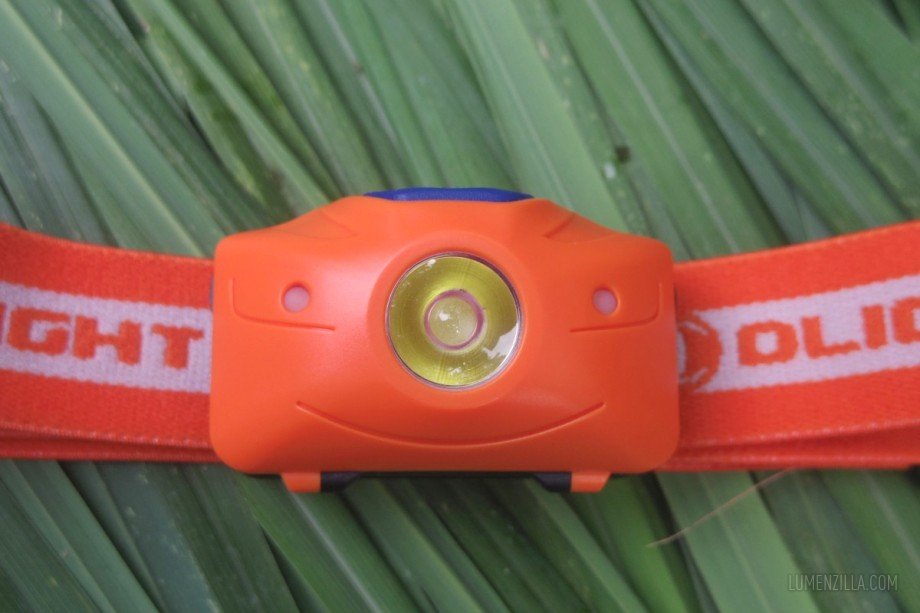 Battery compartment is located behind the LED, just pull the lever and we can see the batteries.  Twist the headlamp downward to open its battery compartment easily.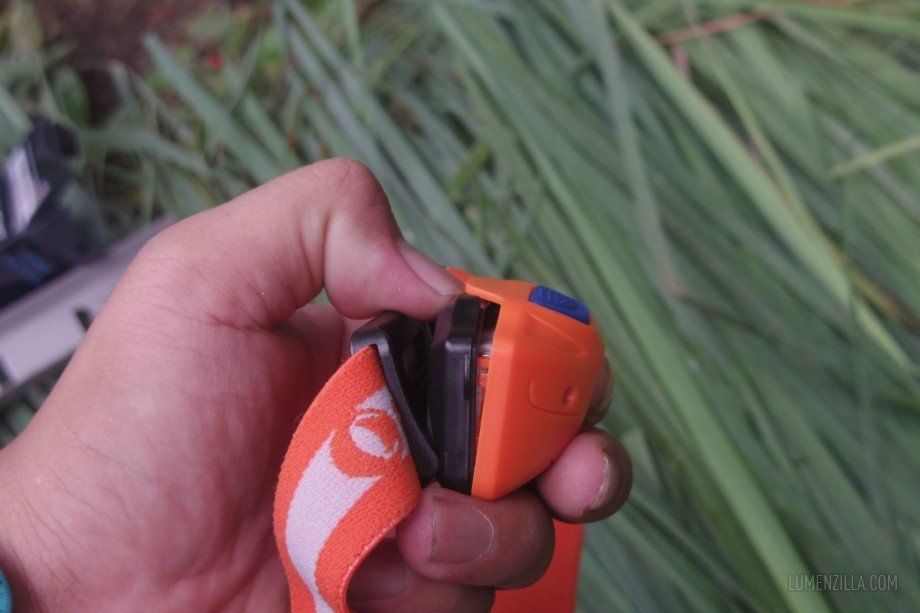 Here are two lithium AAA batteries provided by Olight, I have removed the thin plastic protection before taking pictures.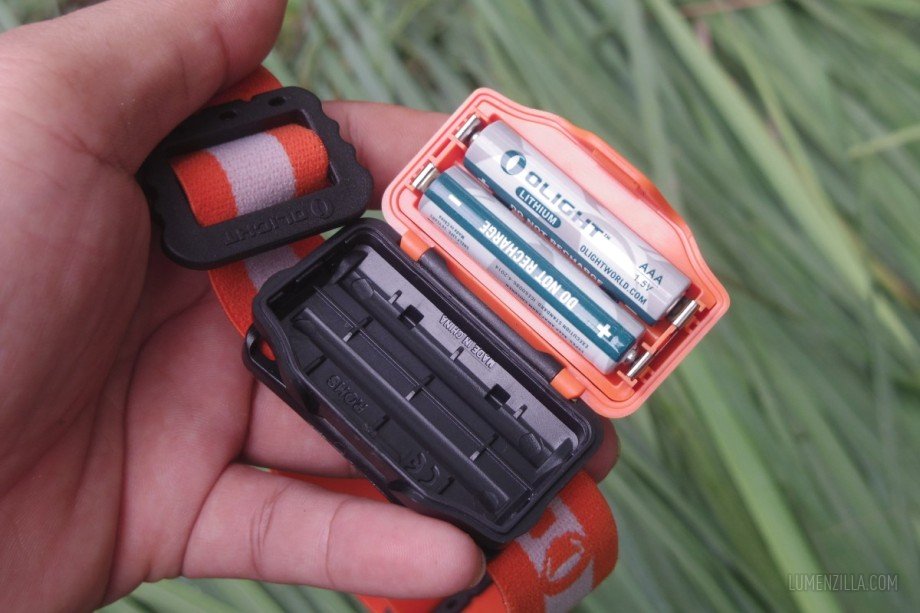 Because I'm a fan of "branded batteries", these two will definitely go into my drawer as memento and I will use my eneloop batteries instead.
Operating Olight H05 Active
Operating Olight H05 Active is very easy: push blue button on top of the headlamp and it will turned on in high mode (150 lumens). Push again to switch to medium, push again to switch to low mode, and push again to turn off the light.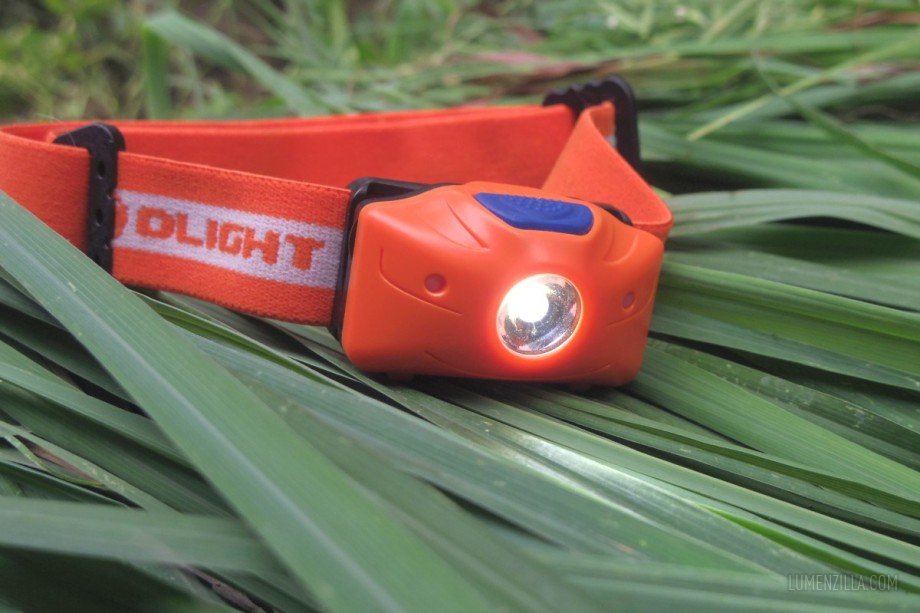 Quick double press on the switch will activate the red LEDs. While the red LEDs are on, press the switch again to toggle to blinking mode.
Another double press will turn off the red LEDs and activate the main LED.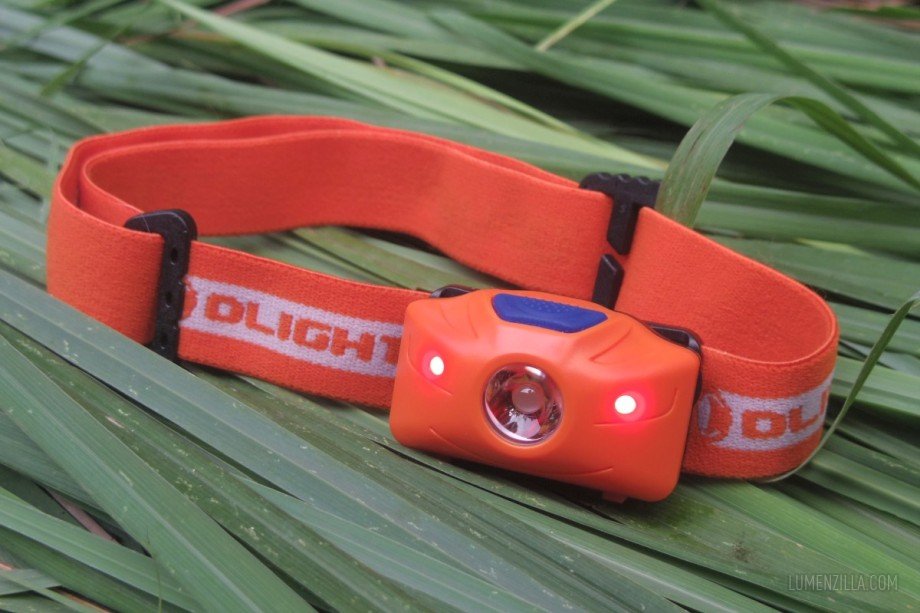 It's very unfortunate that the red lights can't be used as night vision lighting because they are too dim. Well, yes it could, but not sufficient. I wish Olight use a little brighter LEDs.
The Rest of The Story
I really like the matching color between head band and the headlamp body, all are in vibrant color of orange. The band is also made from high quality material, it's soft and very comfortable on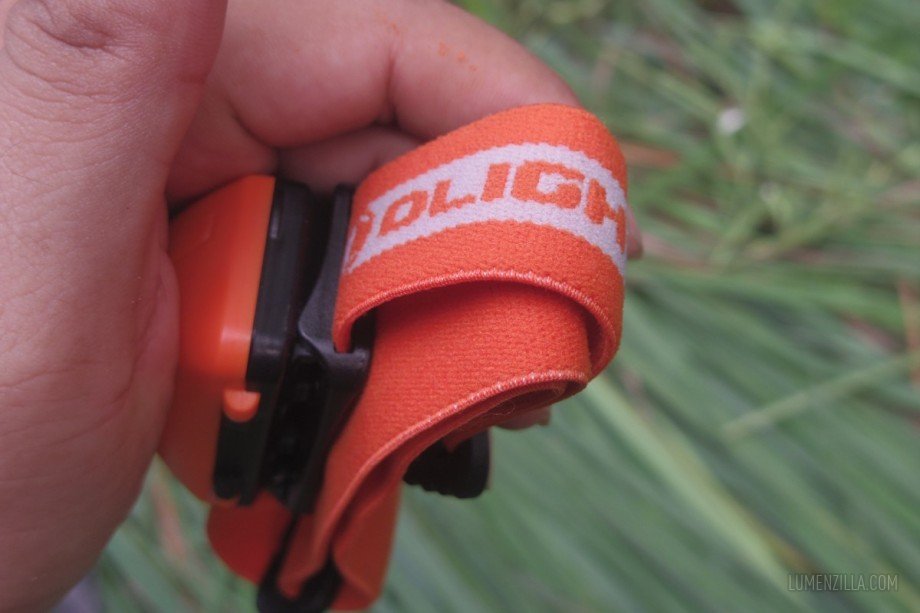 For user's convenience, the head can be twisted into four different angles: 10, 25, 35, and 50 degrees. After several days using Olight H05, I wish it has more twist angles.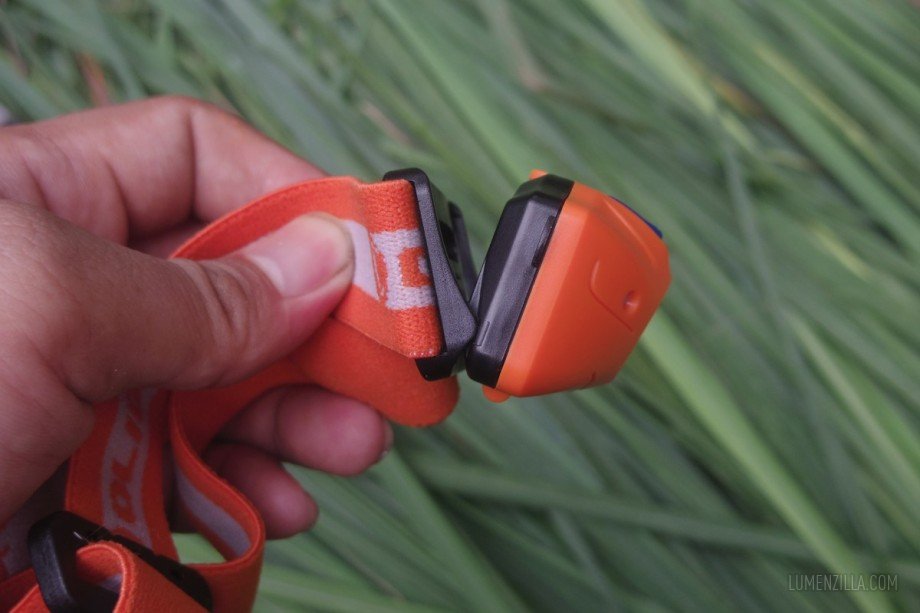 When I use this headlamp while soldering stuffs, I need to bow my head down to get the light into the table. Otherwise I have to move my hand away from my body which is a bit inconvenience.
And being curious with the circuit, I disassembled this headlamp and this is what we might expect.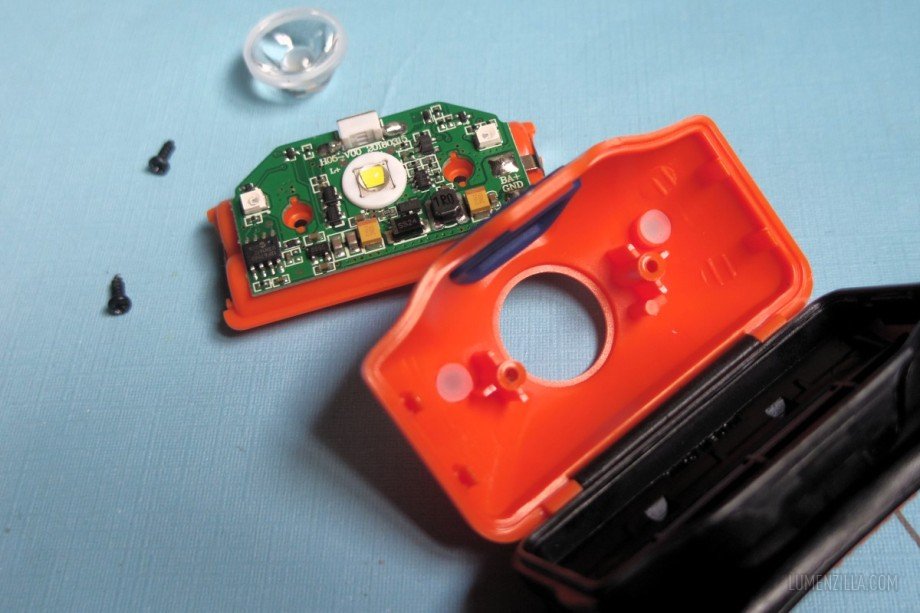 Olight H05 Active Beamshots
I brought this headlamp –which is already acquisited by my daughter– for a family camping trip with the hope that I can get great photo shot in the night..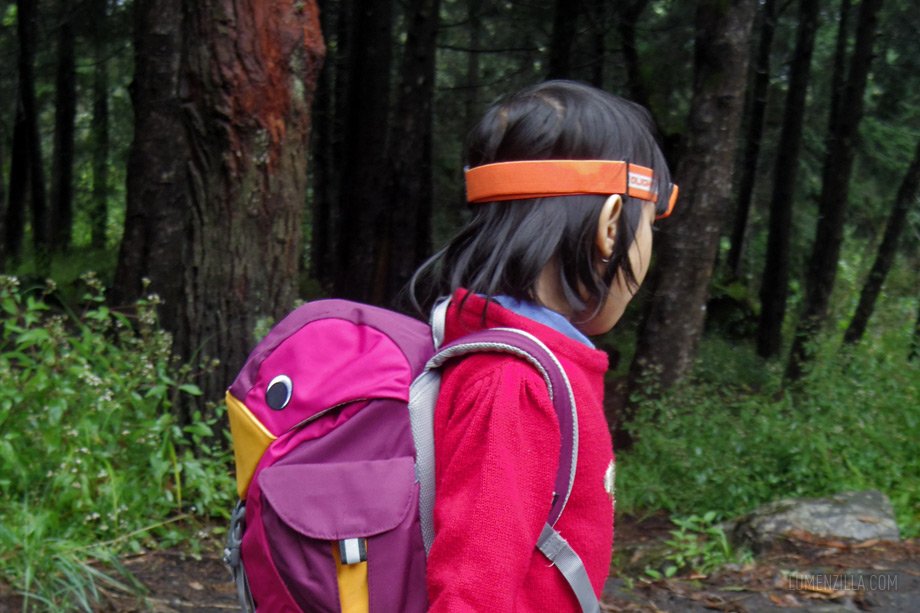 Unfortunately the rain poured over all night long until the next morning, so all I can get are these outdoor photoshots near my house.
All pictures are taken using Pentax Q: ISO 400, f 1/9, exposure 0.6 seconds. The distance between camera (and flashlight) to the banana trees are about 15 meters.
Control shot: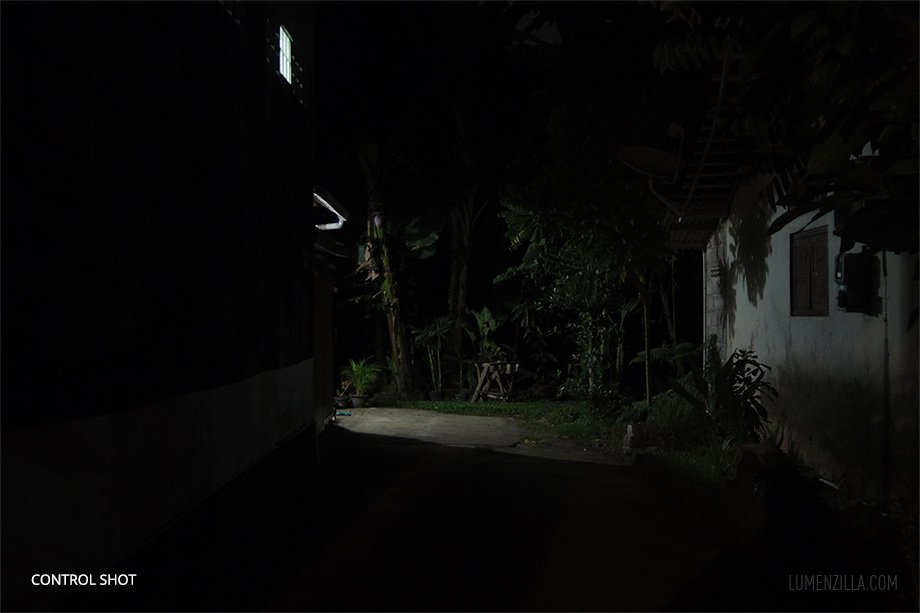 High mode: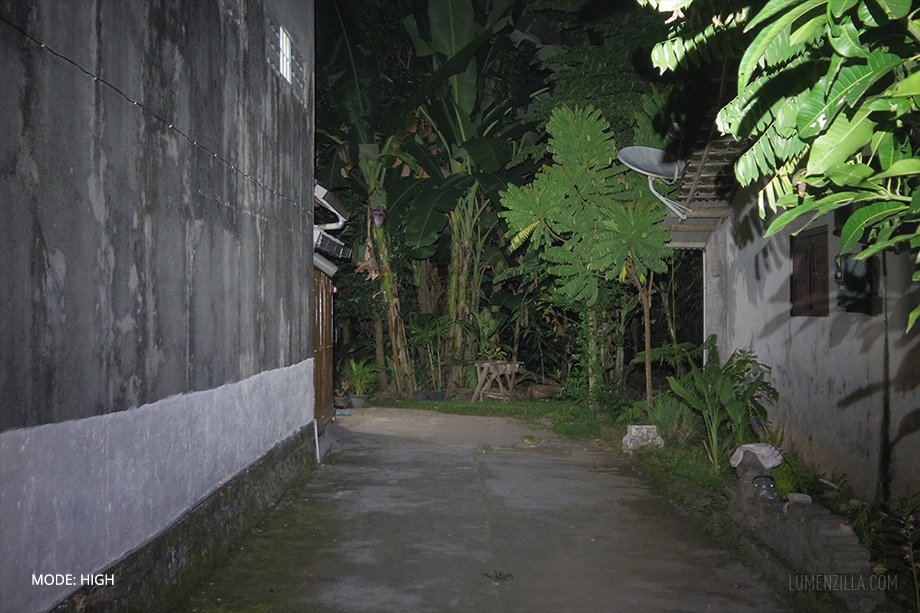 Medium mode: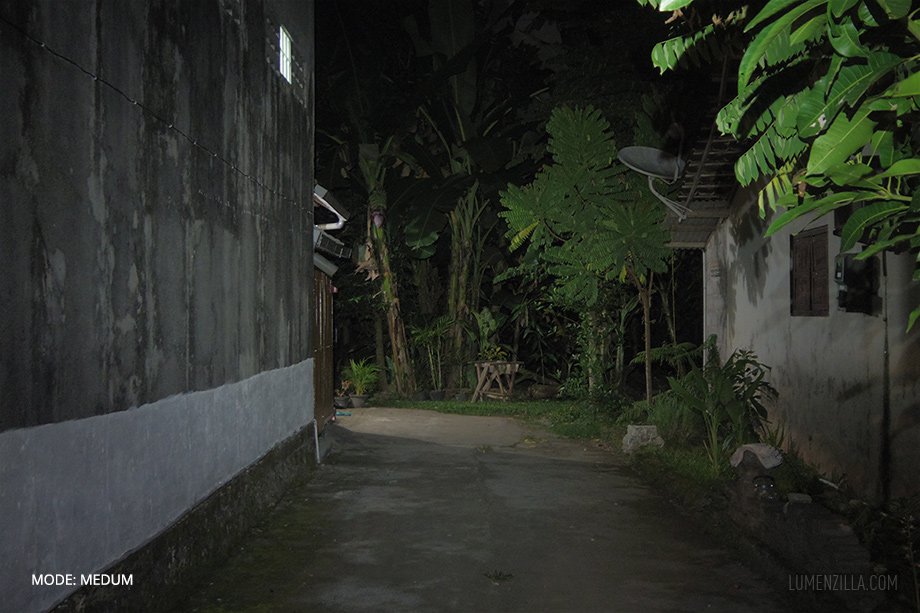 Low mode: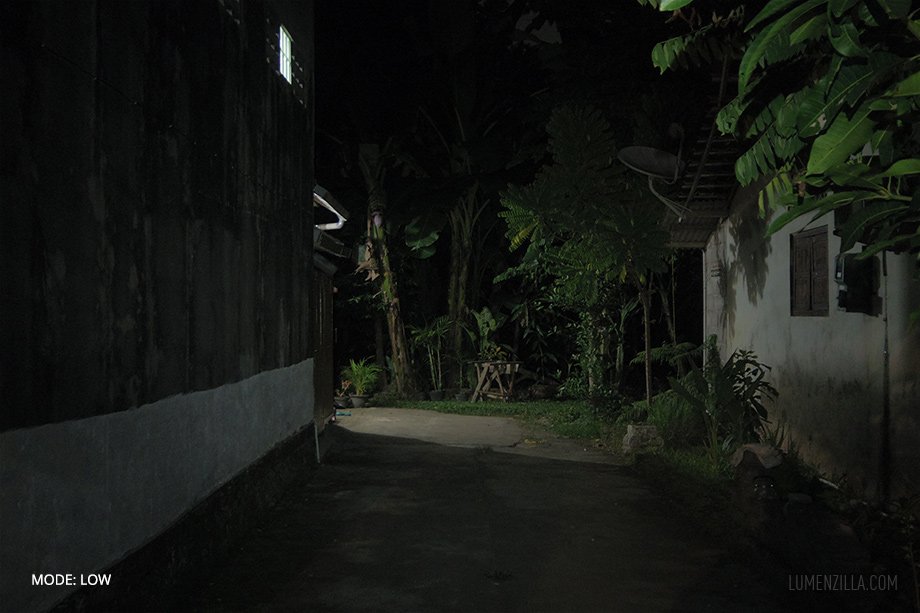 And here's the beam pattern from 2 meters wall.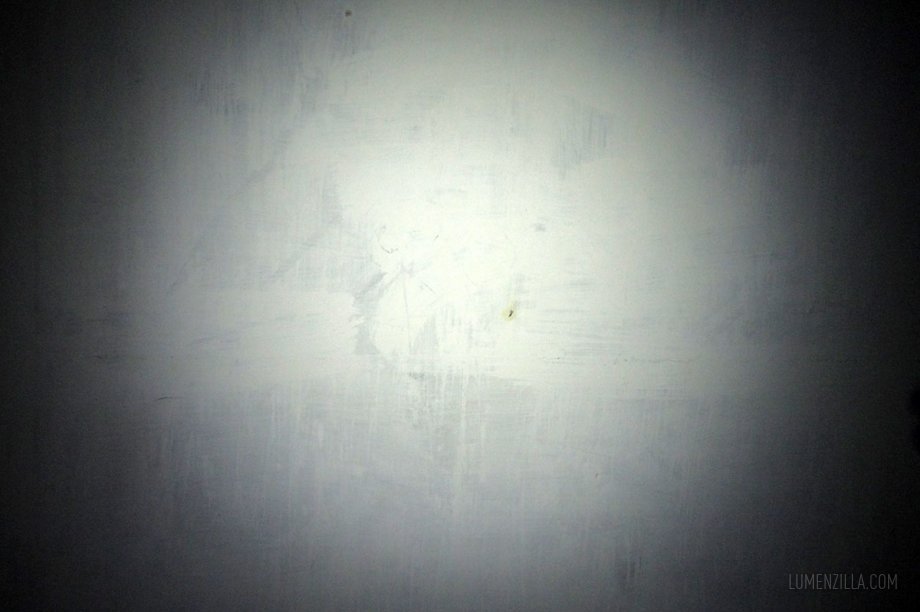 As always, for your viewing pleasure, here's the animated version of the beamshots: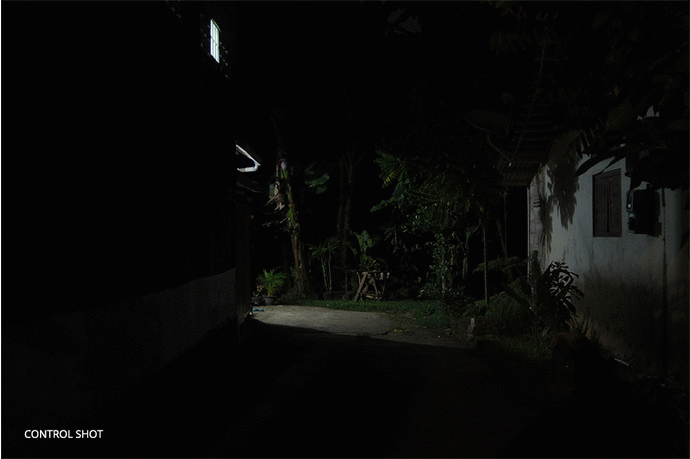 Summary
Olight H05 Active is great headlamp for both outdoor and indoor activity. It has excellent mode spacing that will help the user in close range or long range lighting.
Although the red LEDs can't be used for night vision lighting, it has another benefit as a locator.
Pros:
Lightweight.
Powered by two AAA which is available almost everywhere.
Vibrant color, easy to spot when it falls somewhere in the bushes.
High quality head band, comfortable for long period usage.
Nice brightness mode spacing.
Cons:
Red LEDs can't be used for night vision lighting
Because the body is made of plastic, I sometimes see the orange glare above my head. Easily solved by paint black the inside part of the headlamp.
If you're in Indonesia and looking for this nice headlamp, you can purchase Olight H05 Active at following links:
Last but not least, thanks to EDC Store Indonesia for providing me this Olight H05 Active for review.