Manker U11 (Quinlan) Review
I got a chance to test and review Manker Quinlan U11 from Gearbest and I have to say that I'm impressed with this flashlight, although I also found some things that could be improved in the future.
You might not heard about Manker brand before because they're quite new in flashlight world. Despite the fact that they are a new kid on the block, Manker has already scored great points by releasing several flashlights using latest LED emitters.
Unboxing Manker U11
The flashlight came inside a strong brown cardboard packaging with padded foam inside to ensure the safety of the flashlight during delivery.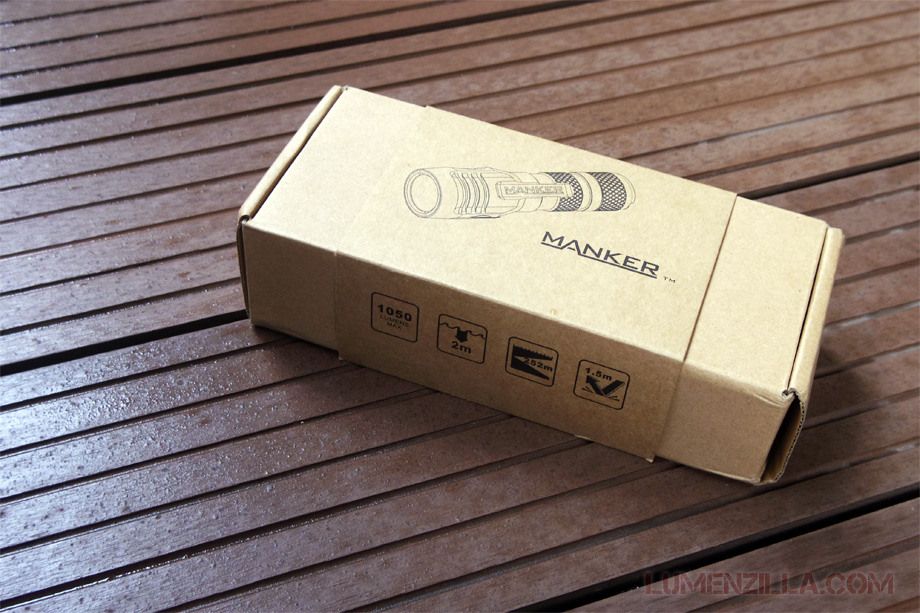 After opening the box, here's what we can expect to see: A flashlight, lanyard, spare o-ring, micro USB cable for charging, a pocket clip, and a manual book.
I will suggest everyone to keep the manual book for future reference because we will need it as guidance for changing the mode into advanced mode, as well as to program the flashlight to meet our own preferences.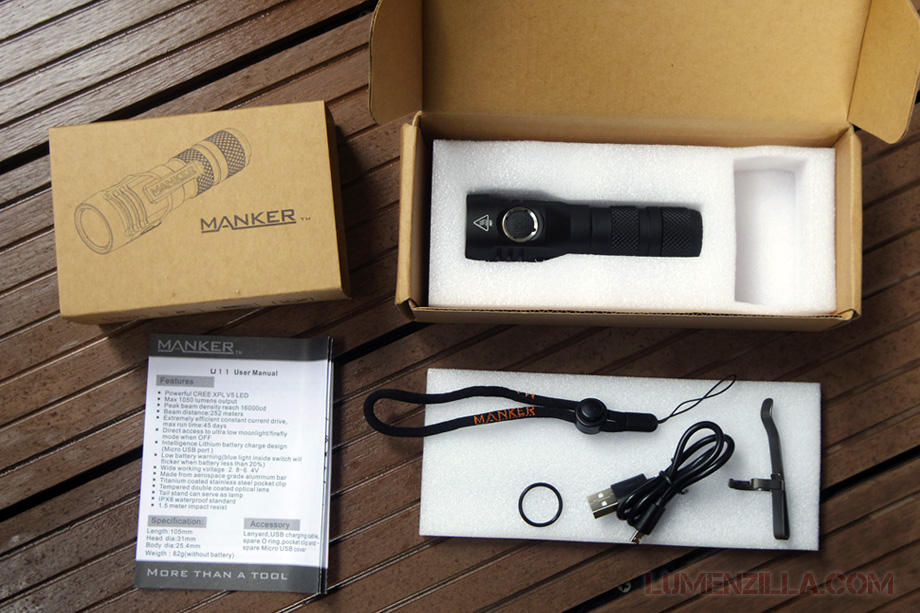 Manker U11 Technical Specification
Manker Quinlan U11 is powered by a single 18650 battery or two CR123. Please be aware that only CR123 (primary, non-rechargeable) is supported. Do NOT use two RCR123s or 16340s to power this flashlight as they will burn the flashlight engine due to maximal voltage limit it can accept (6.4 volts).
Here's Manker Quinlan U11  specification taken from their website:
Powerful CREE XPL V5 LED
Max 1050 lumens output
Peak beam density reach 16000cd
Beam distance: 252 meters
Max run time: 45 days
Intelligence Lithium battery charge design (Micro USB port )
Wide working voltage:2.8-6.4V
Made from aerospace grade aluminum bar
Titanium coated stainless steel pocket clip
Tempered double coated optical lens
IPX6 waterproof standard
1.5 meter impact resist
Manker U11 Overview
Manker Quinlan U11 is built from a solid aluminum block and machined to get into its shape. The knurling is smooth and not aggressive so it will be comfortable to grip it by hand.
Side switch is located on the "top" and the charging port is on the other side. Side switch is made from translucent rubber (or silicon?) that will allow us to see blue LED blinking slowly as we charge the battery using built-in charger feature. There's a kind of robot logo on the rubber button and I can't figure out what logo is it.
On its head, there's a "hot warning" and several fins that will help cooling down the body on long period of usage.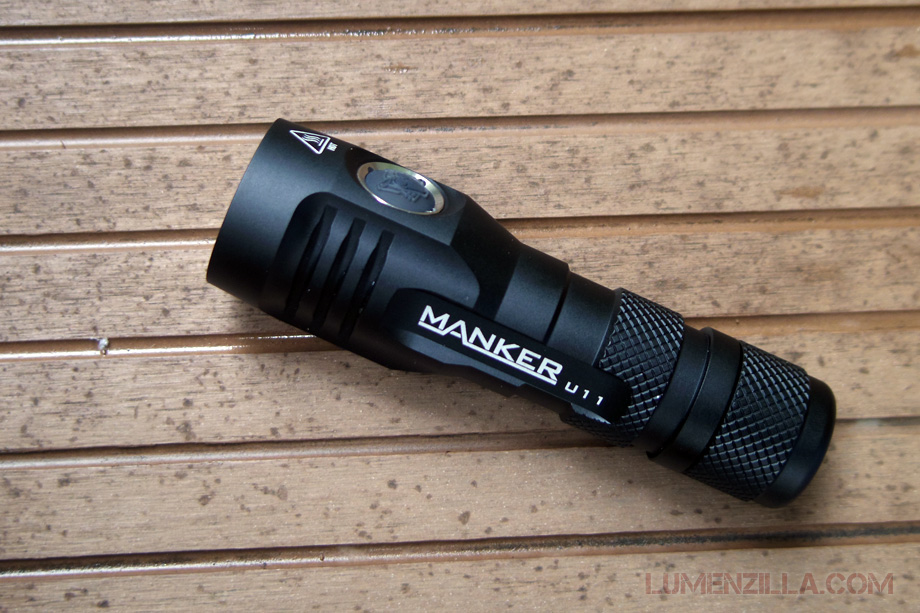 A Manker logo and the series is engraved on one side, while the other side displays battery direction guide and several other symbols.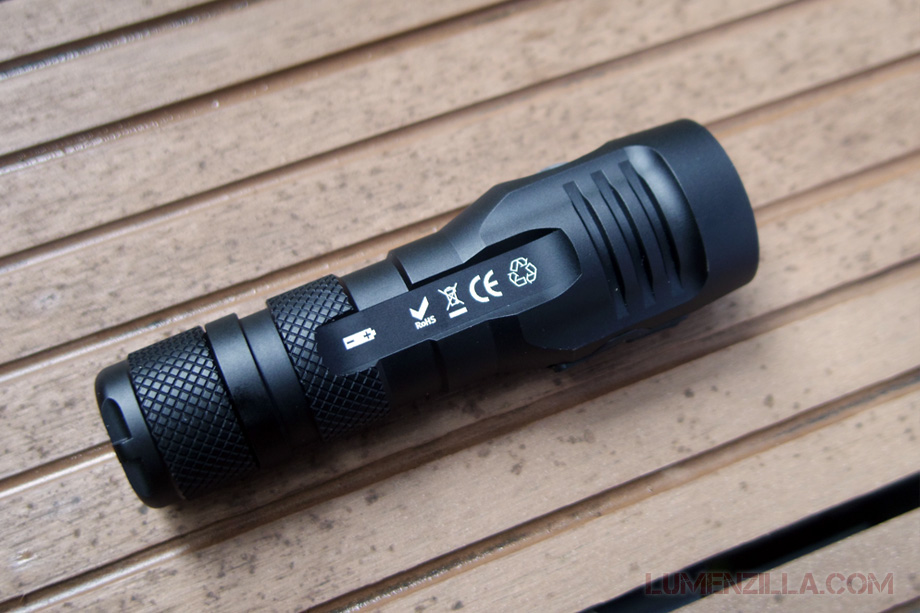 Here's quick shot of any parts of the light.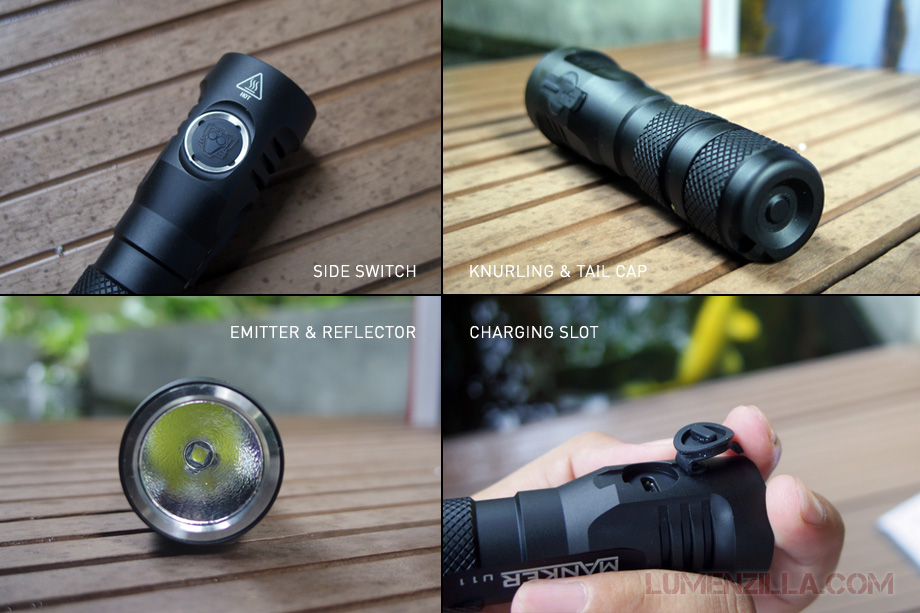 I can say that the body is well machined and the matte black finish is almost excellent. I don't know how strong the body is anodized because I haven't attached the pocket clip yet.
Manker also using gold plated springs for electrical contacts as shown below. Springs are attached on both head and tail-cap to ensure the flashlight is rattle-free.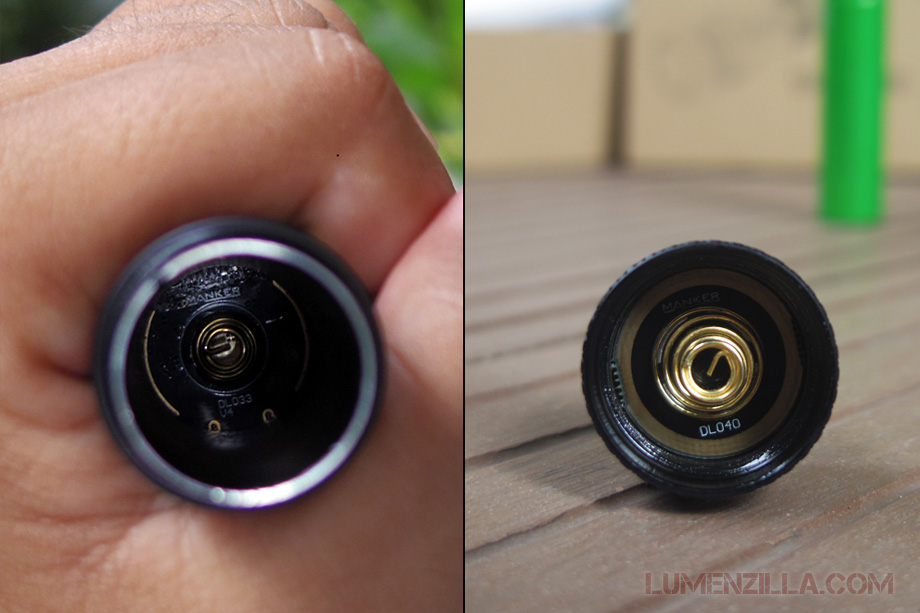 Hands-on Experience
For 18650 flashlight, Manker U11's body is quite compact. I believe it will accept both flat-top and button-top 18650 batteries, thanks to the springs I mentioned on previous picture.
I test Manker U11 with a flat top, 2550-2600 mAh battery scrapped from my Sony Vaio laptop's battery last week.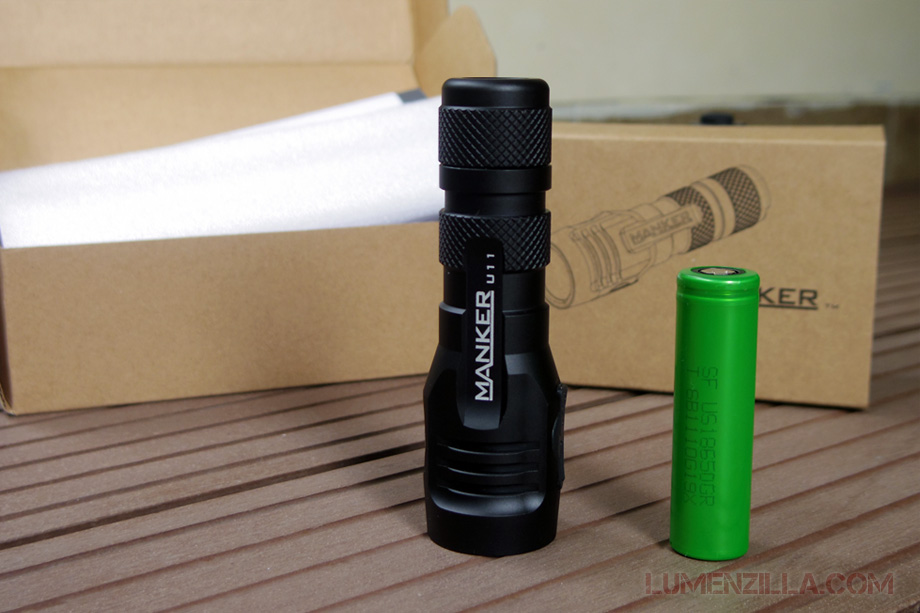 Here's the size comparison with Olight S1 Baton and Novatac 120T.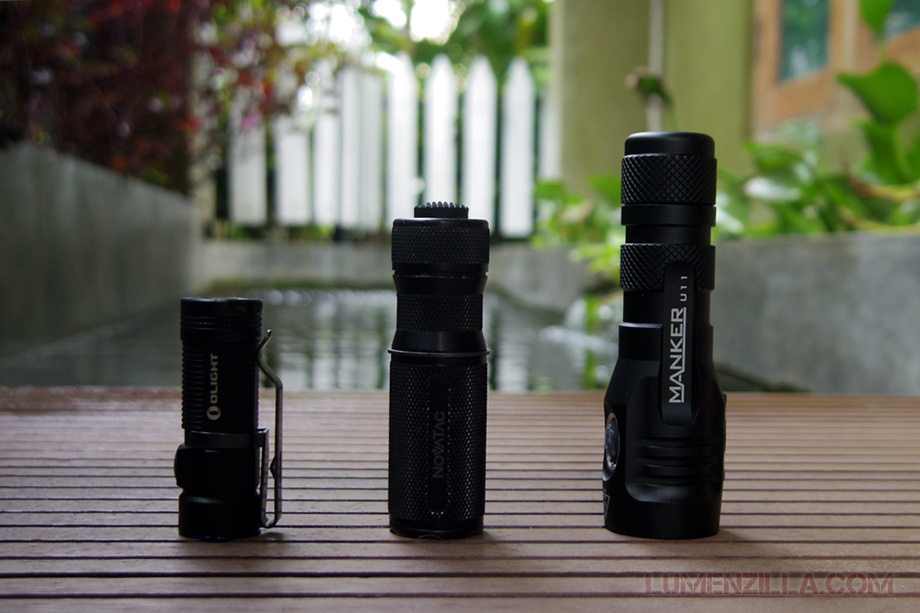 The design of the body is pretty impressive. I like the curve and the shape, these things make the flashlight is very comfortable in hand.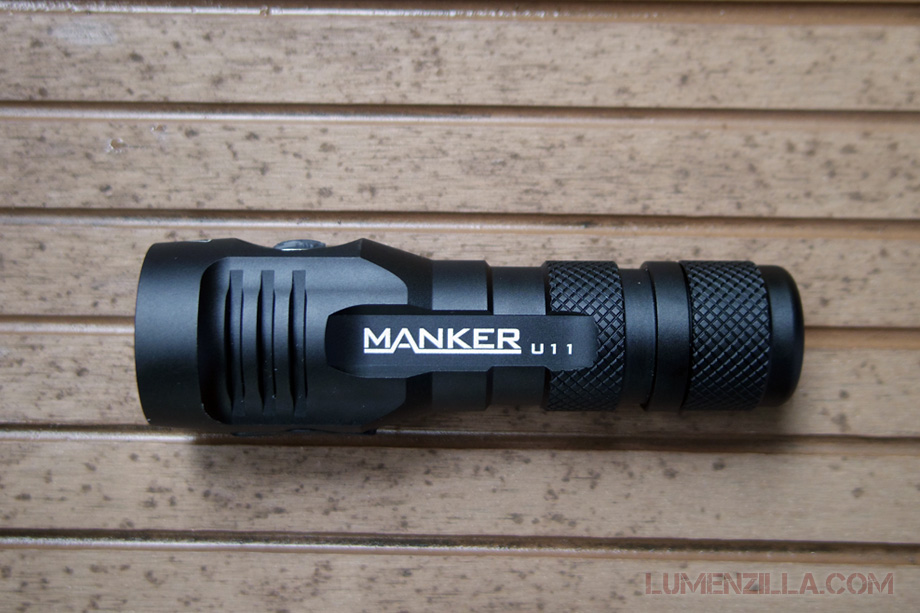 On a side-switch flashlight, I often have to roll it on hand and guessing the position of the switch. But Manker U11 design allows me to found the switch easily as if it's a Zebralight flashlight. Well done!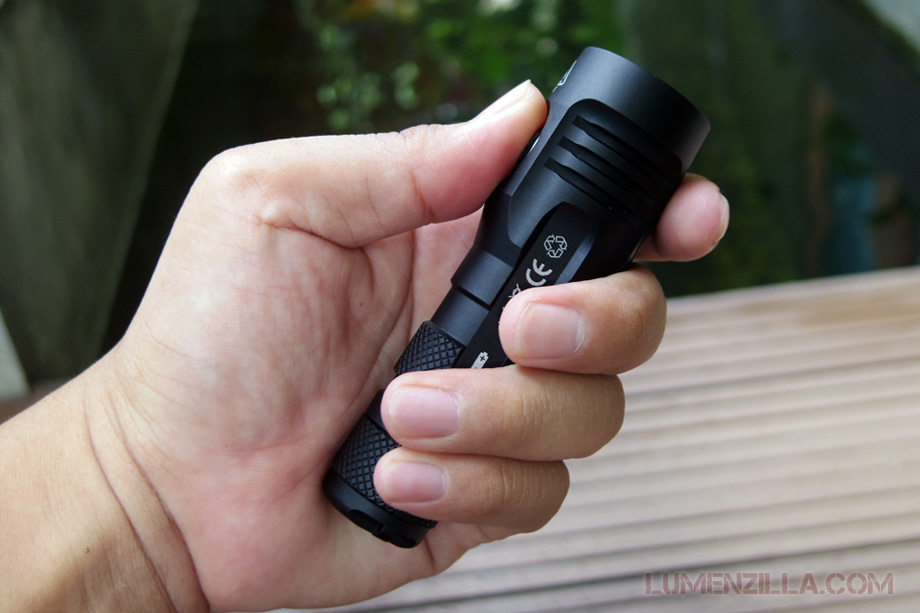 Of course I can use reverse-grip technique to hold this flashlight but I will be unable to access the switch easily.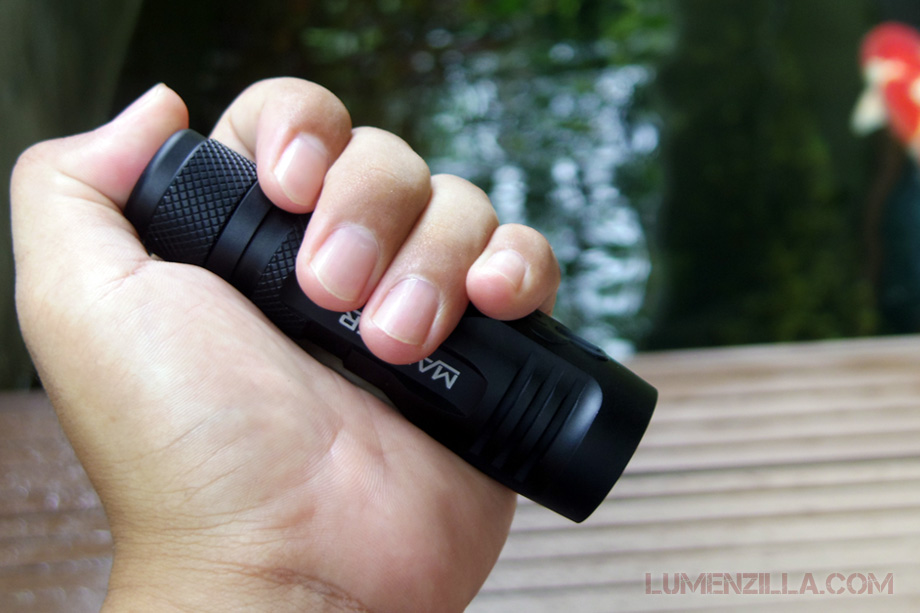 Manker U11 consists of 2 parts, the head which is is integrated with body and the tail-cap. I noticed a small gap between tail-cap and body, it may not dangerous at all because there's an O-ring on the thread but it might bug some perfectionists out there.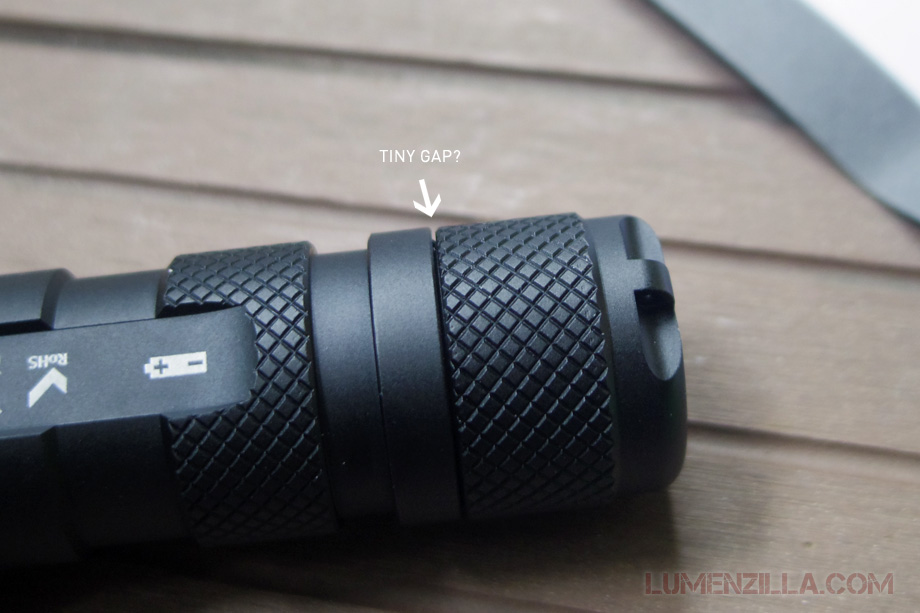 Brightness & Mode Spacing
To be honest, I was confused seeing the diagram of the mode spacing. I know it can be understood with a little brain effort but I prefer asking my wife (she used to be a database analyst) to explain the diagram to me using human language.
This is why I suggest every owner of the flashlight to keep the manual book for reference.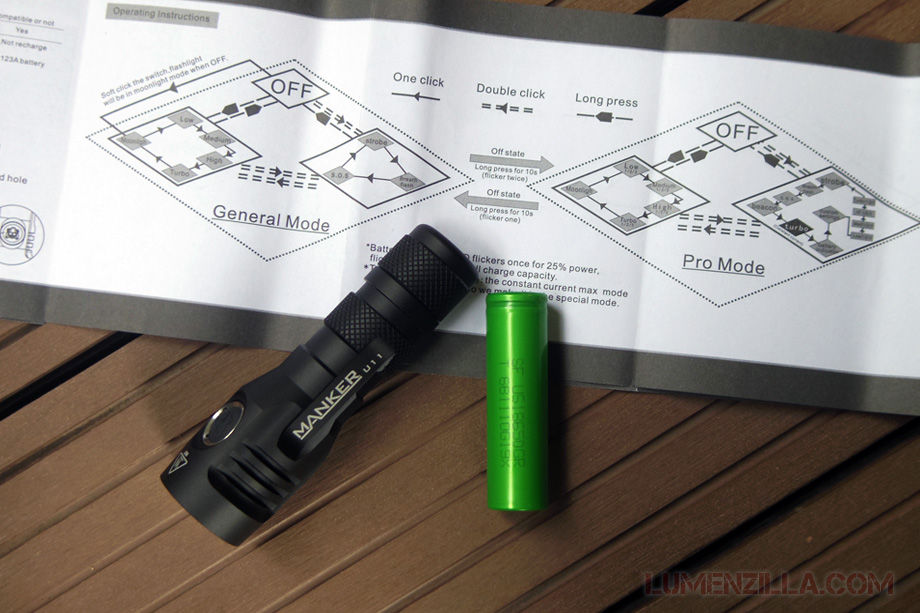 On General Mode –I prefer call it Normal Mode– Manker U11 has 5 brightness levels; start from moonlight/firefly, low, medium, high, and turbo. Single click will activate moonlight/firefly mode and another click will cycle the brightness level. Use a long press to turn it off.
From "off" state, a long press will jump into medium brightness level, or use double click to access special modes as well.
We can also switch from "Normal Mode" into "Pro Mode" by a looong press from off state. Press for about 10 seconds until we see a blinking LED and we can start exploring the complexity of the driver.
Manker U11 has a very low moonlight mode, lower than moonlight mode on Olight S1 Baton, which is a great deal for moonlight/firefly fans out there.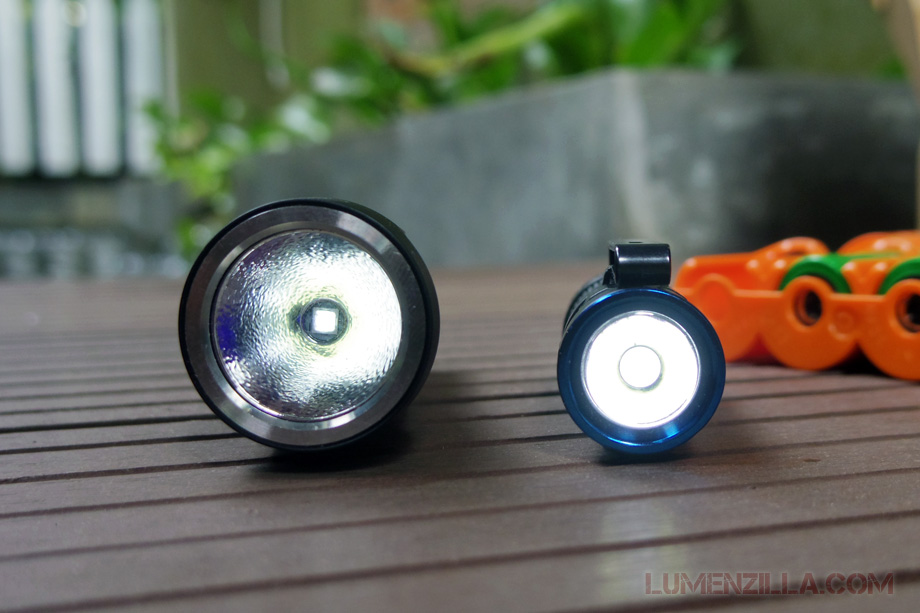 Textured reflector used in this flashlight is a good option and makes Manker U11 suitable for both short range and long range lighting.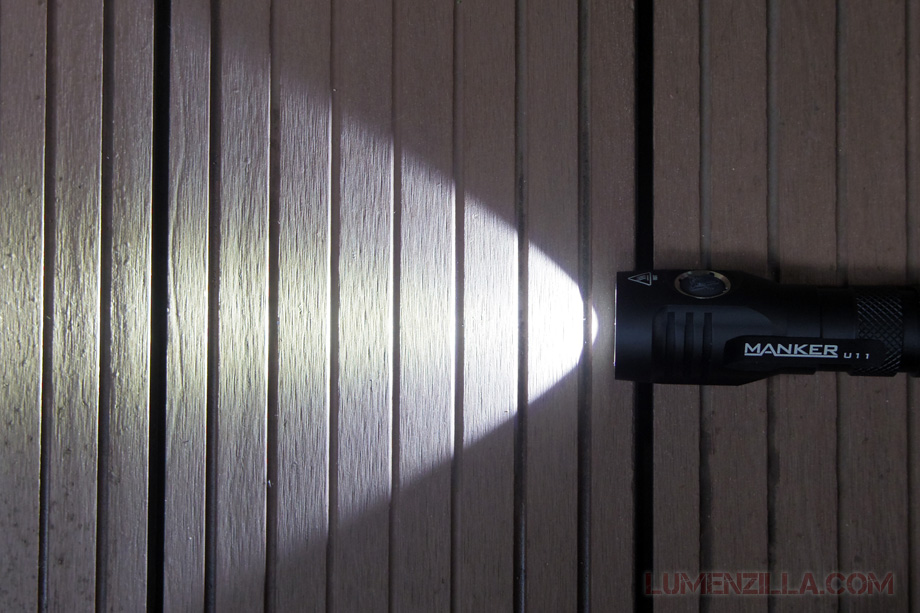 I will write another post –because it's already long– to show beam shots on outdoor test.
Battery Charging
A recent trend on flashlight world is a flashlight with built-in internal charger. A lot of people love this idea and there are also many people against this feature.
Manker U11 has this feature, means the owner can recharge the battery without the need to taking out the flashlight. It can be charged by any micro USB chargers that also being used on smartphone nowadays.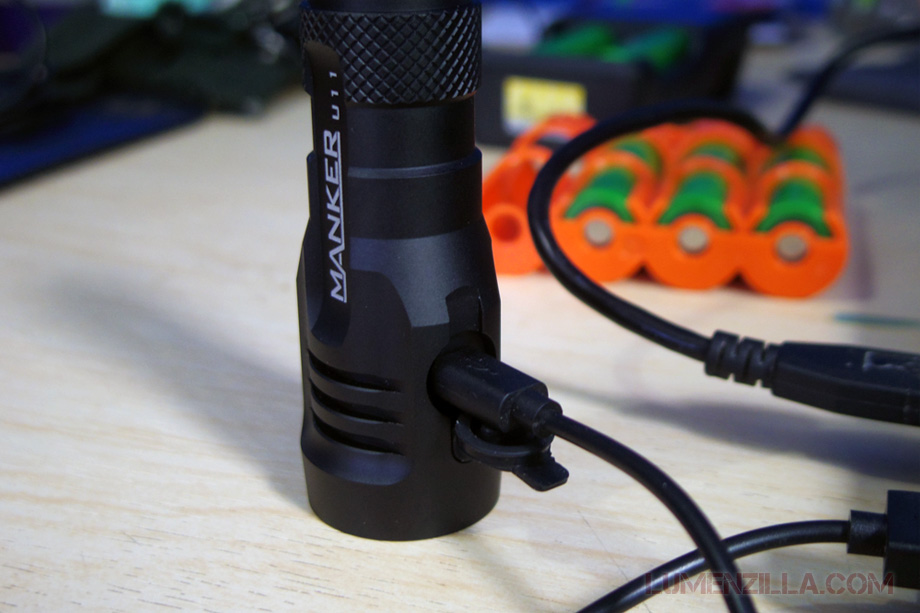 We can charge the battery inside the flashlight using wall charger adapter, power bank, laptop, TV, or any other modern devices those have USB port on it.
While charging, the button will be illuminated in blue color and turned off after the battery is fully charged.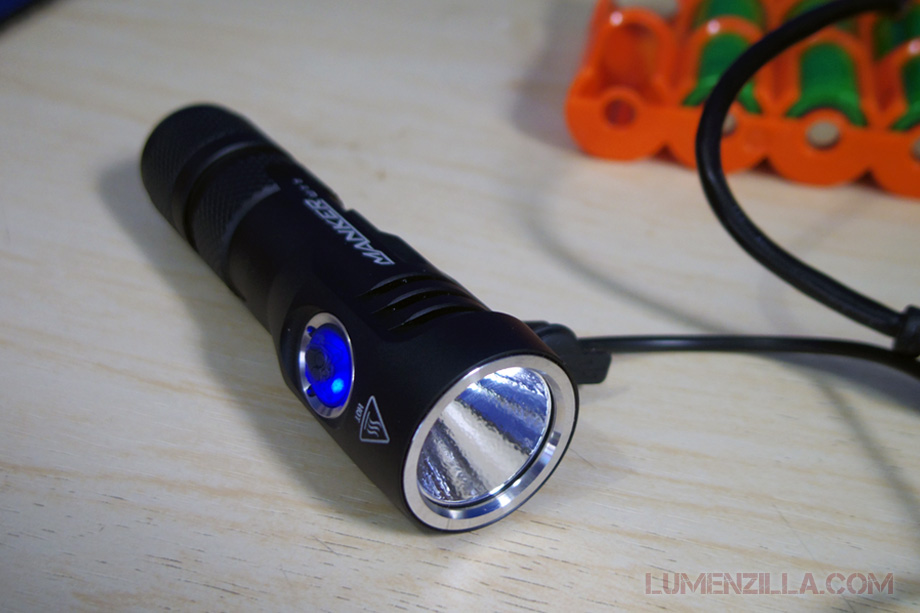 I don't know what will happen if I turn on the flashlight while charging, but I will find out soon.
One thing that bugging me is the curiosity if the flashlight will be fully waterproof or not. It may survive from splash of water but I have no idea (yet) if Manker U11 will survive from a heavy rain or even submerged into the water.
Summary
This is an awesome flashlight packed with a lot of features and using latest XPL LED emitter. It's quite lightweight for its size and has interesting shape and design. Side switch is not an issue because we can feel and find the switch position by fingers.
It has internal charger which is a cool feature for some people but also a curse for some others. It also has too many modes but anyone can stick into "Normal Mode" to use Manker U11 without any difficulties.
Pros:
Using latest LED technology, CREE XPL V5.
Bright and durable.
Good looking flashlight, nice design.
Suitable for both long range and short range lighting.
Has built-in charger.
Strong deep carry pocket clip.
The driver packs a lot of features.
Side switch is easy to locate by fingers.
Cons:
Built-in charger cover might be the source of water leakage, but it's just my assumption.
It has too many modes and may confuse some people who want a "normal flashlight".
Coupon Available
If you're interested to Manker U11, use following link and code to get a good discount:
I don't know how long the promotion is last, so use it wisely.