Lumintop Tool AAA
Lumintop Tool is well known as the first shortest AAA flashlight using clicky switch on its tailcap. I have read many positive reviews about this flashlight before but I haven't got any chance for a hand on experience. Until one day Abbie from Lumintop contacted me and asked me to review this famous little light.
Here's Lumintop Tool AAA inside its original box, simple package and neat. You can purchase yours on their Amazon store or any retailer nearby. Now they also sell Lumintop Tool Copper which is made from copper material and using Nichia 219B LED emitter.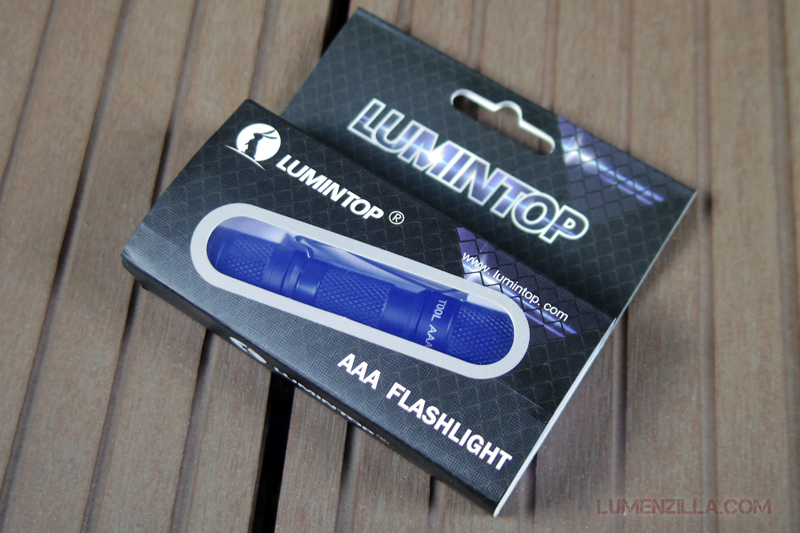 Lumintop Tool AAA Specification
Cree XP-G2 R5 LED.
3 brightnes modes (MLH): Medium on 32 lumens (10 hours), Low on 5 lumens (60 hours), and High on 110 lumens (30 minutes).
Orange peel (OP) reflector.
Max beam distance of 45 meters.
Working voltage is 0.9-1.5 Volt, 14450 battery is not supported and may damage the driver.
Length 81.5 mm using clicky switch tail cap, or 70 mm when using magnetic/twisty tail cap.
After opening the box, here are what I found inside the cardboard box:
Lumintop Tool AAA flashlight stored inside a nice and strong plastic case.
Two spare o-rings.
Additional tail cap with magnet if you prefer a twisty light.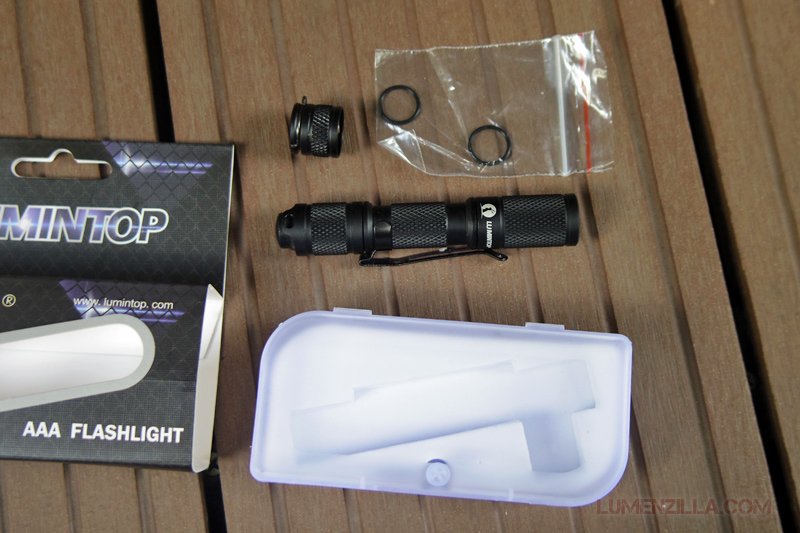 First Impression
As far as I remembered, Lumintop Tool originally came only in clicky version without additional tailcap for twisty fans out there. The rubber boot on the switch was also taller than this one I received.
Both tail caps have a little hole for lanyard insert. While the clicky version using its body for lanyard insert, the twistie tailcap is a lot shorter and using strong wire for lanyard insert. It's your call to choose whether clicky or twisty, but you better see the next image for your consideration.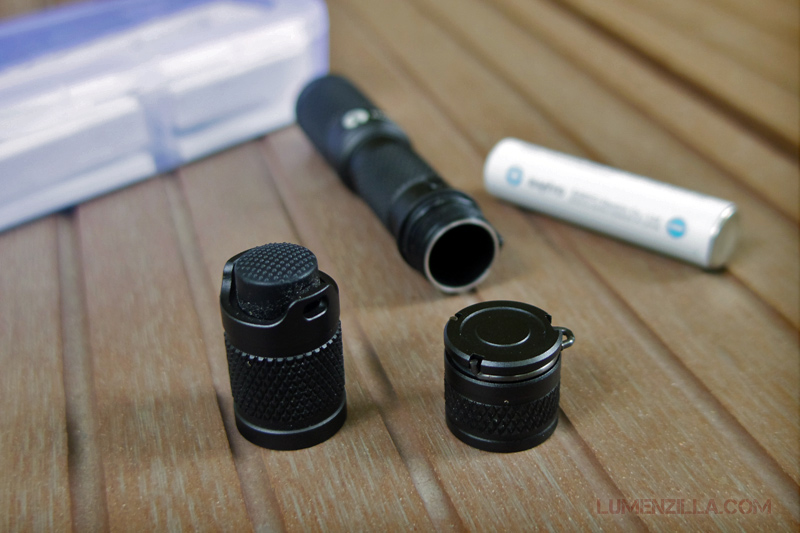 On the picture below, it shows you the head's and tail cap's metal contact. You can see that the clicky tail cap is using somewhat lower quality spring compared to the one used in magnetic/twisty tail cap. I wish I had any better multitester to check resistance value from both spring materials.
Now let's talk about the main component of any single flashlight on earth. A well-centered XP-G2 R5 LED is placed inside the head, a common choice for small flashlight to get more "throwy" light. Later, I found that it's pretty easy to disassemble its head thus give us options for possible LED swap.
A "glow in the dark" rubber ring also placed between the orange peel reflector and the lens, give you a nice greenish illumination in the night. But I found that the rubber is not glowing for a long period of time, so it can't be used as flashlight "locator".
For this review, I use Eneloop AAA Lite just because I have one pack unopened. Later I found that Eneloop Lite doesn't have enough juice for an EDC flashlight. My false, Eneloop Lite is designed for low energy device such as household's remote controls.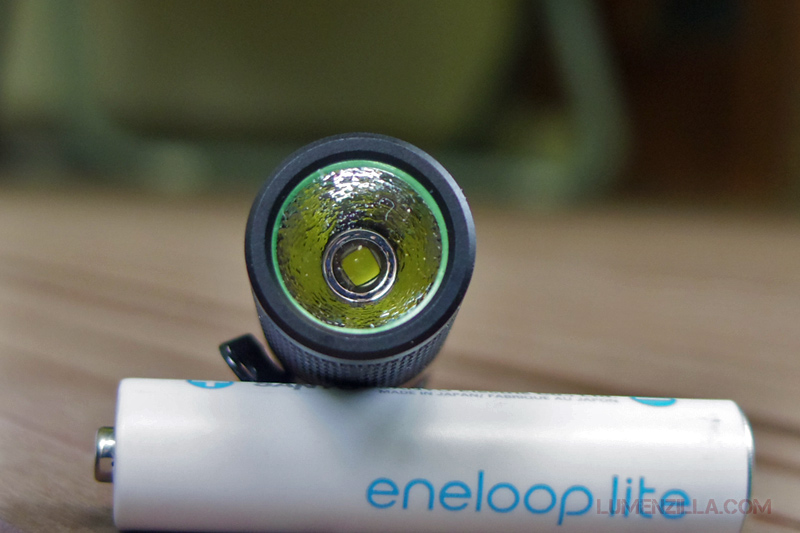 Swaping tail cap is a no brainer task. Simply unscrew the original clicky cap and replace it with another cap. Plain easy.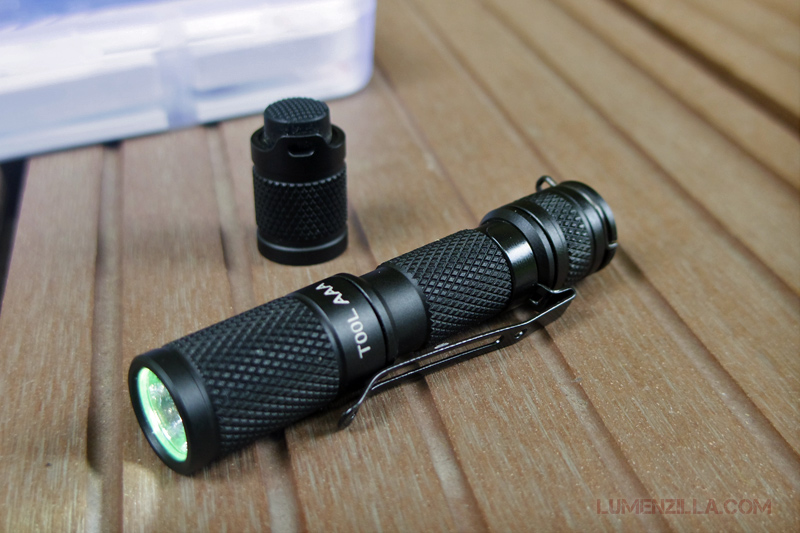 The twisty cap is shorter and has magnet ring inside, allowing us to attach this Lumintop Tool into any metal surfaces.  It's a handy feature and frees our other hand when both hands are needed. No more teeth needed 😀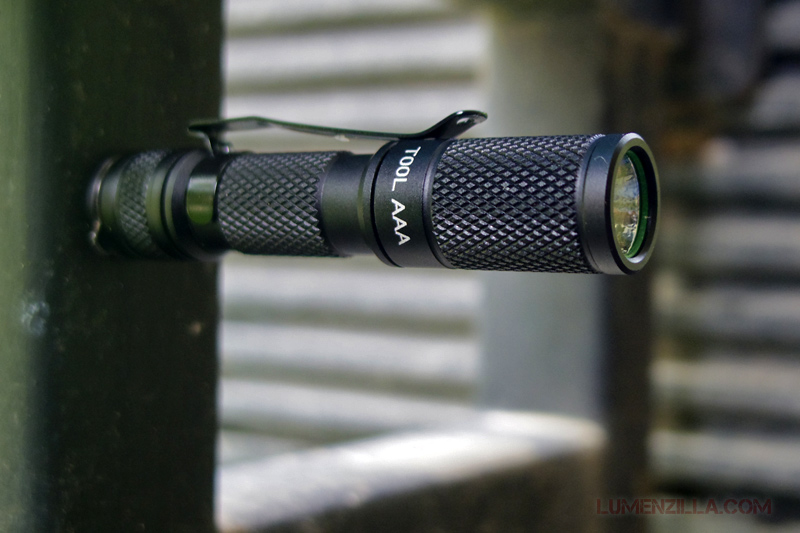 On Hand Experience
Lumintop Tool's size is pretty small but not too small, here's how it looked on my palm.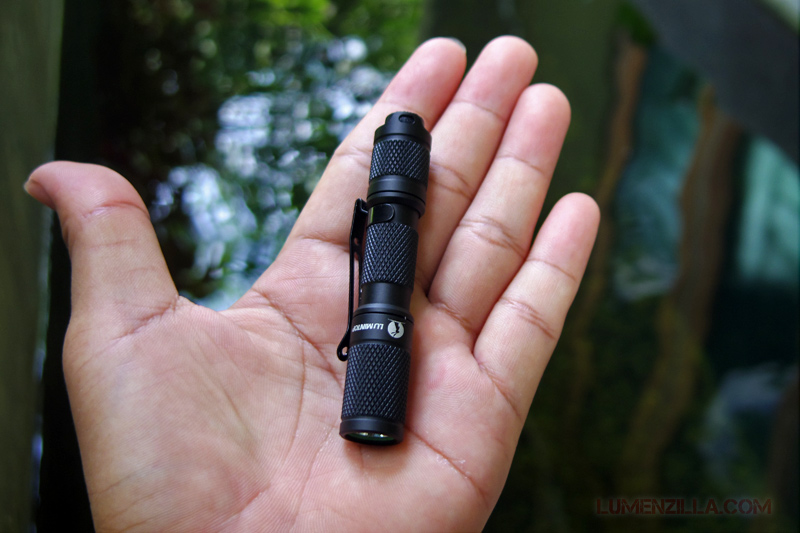 It has nice knurling all over the body so I can grip it firmly in my hand. I prefer clicky over twisty and I found that I can click the switch easily, thanks to its high profile rubber switch.
It's also has the right size as my small folder knife's companion. Here's how it become a nice looking pair for my Spyderco Dragonfly.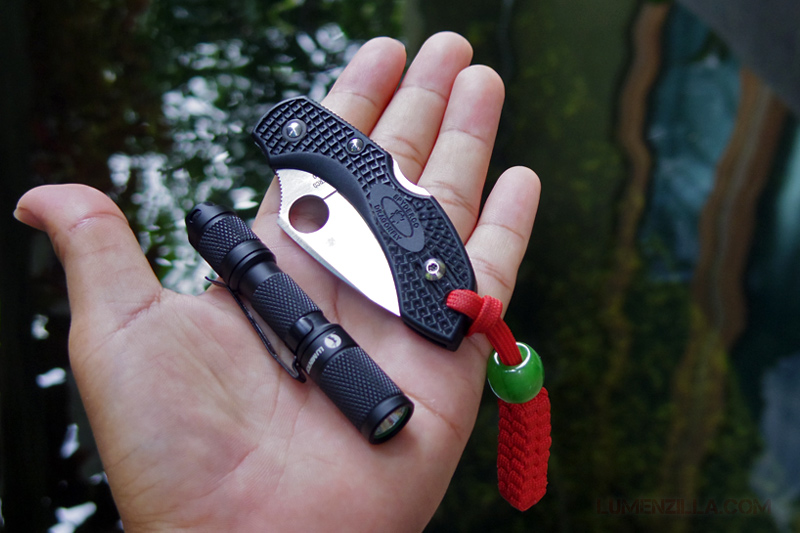 Pocket Clip and Carrying
Lumintop puts a thin but strong clip for this Tool. It keeps the flashlight secured while I carry it inside the coin pocket or any other pocket.
The clip position is also reversible for your convenience.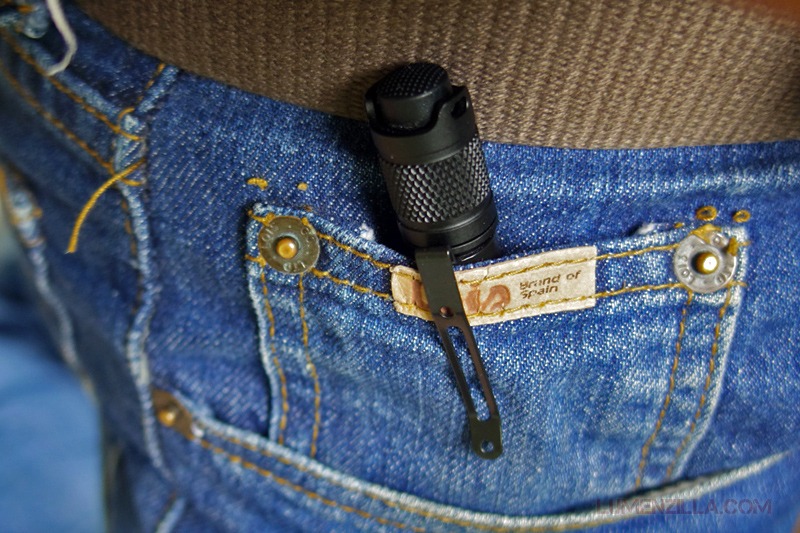 Unfortunately, the clip profile can't fully hide the flashlight into the pocket. I experienced several moments where the flashlight is almost pulled out of my pocket.
It would be great if Lumintop also made optional clip for deep carry. It can be sold separately and I believe many Lumintop Tool users will purchase it for theirs.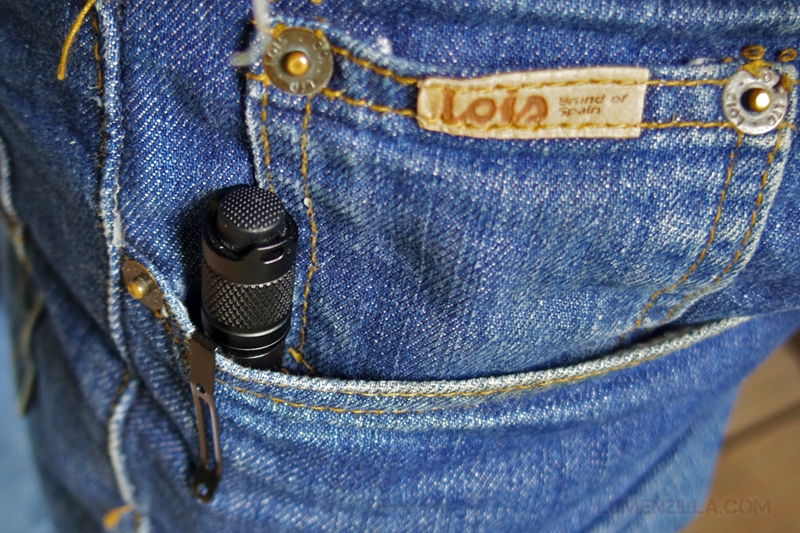 Tint and Beamshots
Here's Lumintop Tool's beamshot compared to Fenix E05, Fenix E99Ti, and Hugsby XP1. Lumintop Tool's beam profile is narrower than both Fenix because the Tool using reflector while the Fenixs use TIR optics.
All flashlights are in their highest brightness level but not for Hugsby XP1 because it only has single mode.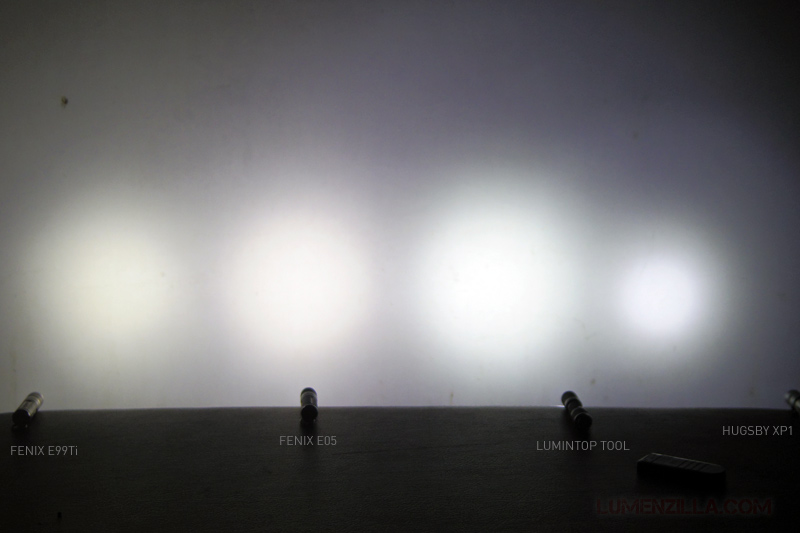 Lumintop Tool has 3 brightness levels and always starts from Medium, then goes to Low, and High. It's not my favorite mode spacing but I know some flashlight users who like MLH mode.
Here's beamshot on Medium mode, approximately 1.7 meter distance. All pictures are taken with Pentax Q with ISO 200, speed 1/25, F 1.9.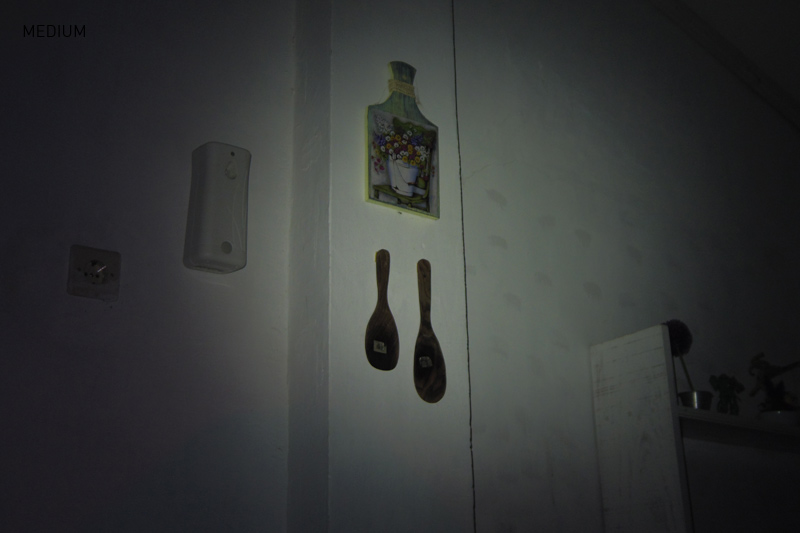 Then switched to Low mode..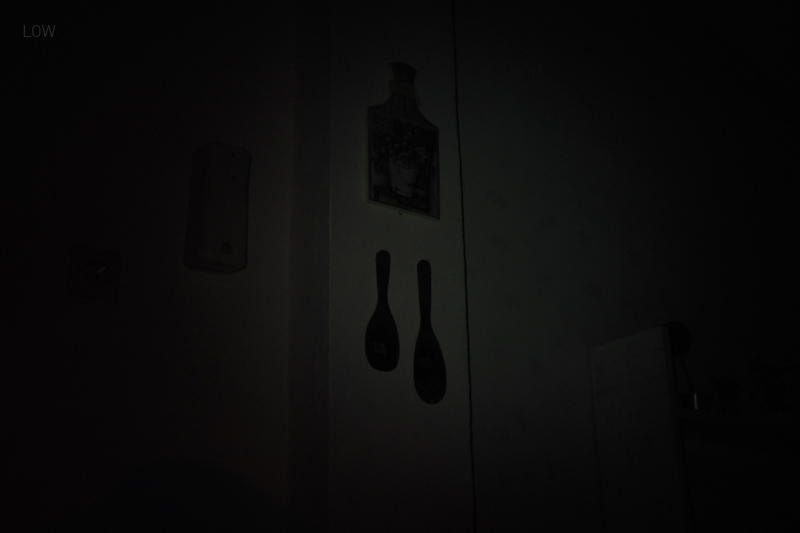 And then High mode, pretty bright for an AAA flashlight.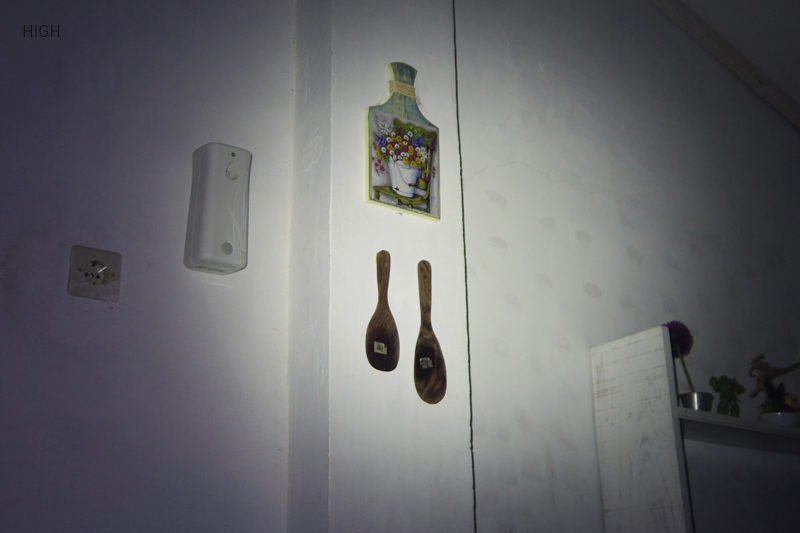 Here's the animated version for easier comparison.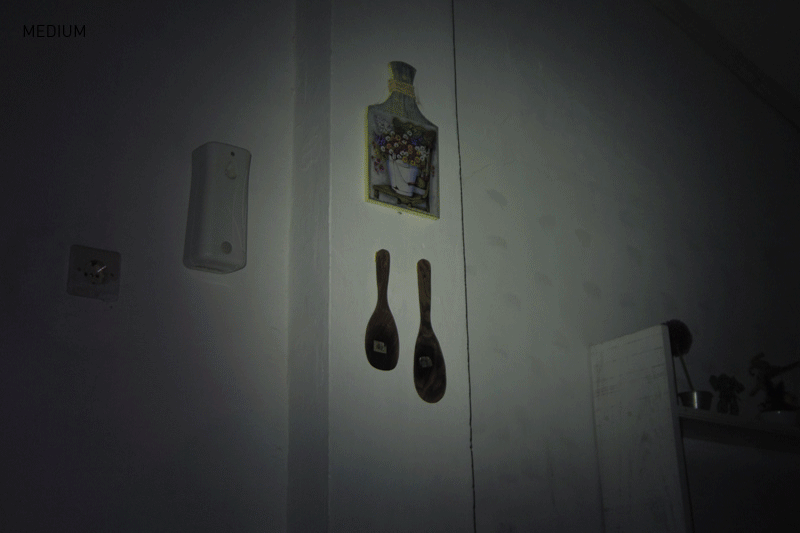 Summary and Conclusion
After carrying it for several weeks, I found many benefits and some point that I think can be improved in the future that will change this Lumintop Tool as killer AAA flashlight.
Pros:
Using AAA battery, easy to find and keep the size small.
Decent body material, strong clip and rubber switch.
Bright and has 3 brightness levels for various purposes.
Cons:
Mode spacing (MLH) is not suitable for some persons.
Pocket clip is not deep enough, any chance (yes, little chance) that it will fell off from pocket.
GITD ring is too fast to fade away.
Lumintop Tool AAA by any means is a perfect EDC flashlight. Powered by a single AAA battery easily found anywhere, you'll never find this flashlight as useless. Put it in your glove compartment on your car, drop it in your bag's pocket, your wife's pursues, or anywhere you can imagine of.