Lumintop IYP365 – Nichia Version
Lumintop IYP365 is a portable penlight powered by two AAA batteries with maximum output of 200 lumens on CREE version and 125 lumens on Nichia one. It has three brightness mode (medium, low, high) and operated using metalic reverse clicky tail switch.
I received this nice looking penlight from Lumintop and I was told that IYP365 means "In Your Pocket Every Day (365 days)".
Unboxing Lumintop IYP365
I received sample from Lumintop two weeks ago, it's the Nichia version and it arrived inside a brown cardboard box as following picture: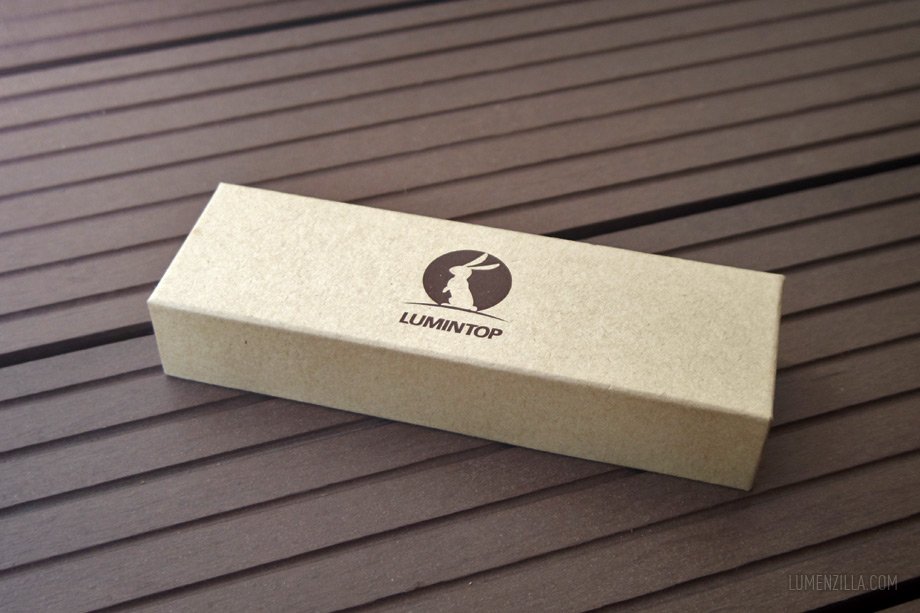 Contents of the package are flashlight, two spare o-ring, and there are two AAA batteries included although their website said that the batteries are not included.
There was no manual book included. Instead, the data sheet is printed on the back of the box.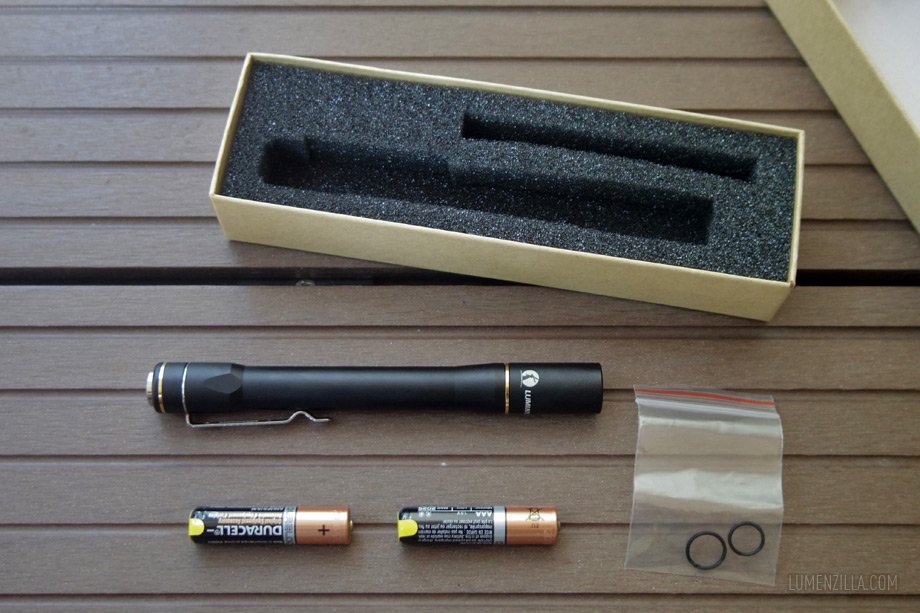 To avoid accidental activation, Lumintop put stickers on the negative pole of the batteries. A clever method to avoid battery being drained during shipment/delivery.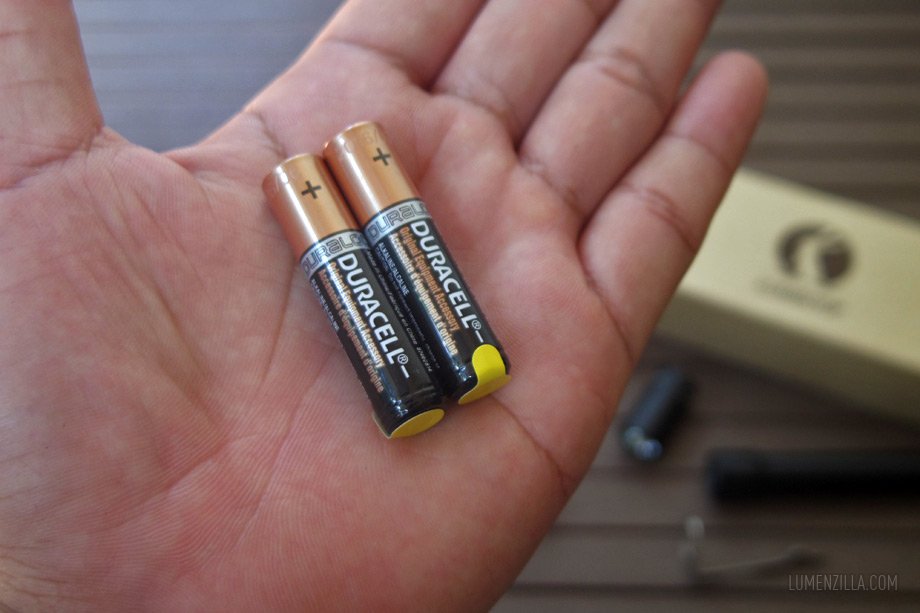 And here's the flashlight, a nice looking black penlight with golden ring on the head and tail cap. It has a strong and properly designed pocket clip which is attached securely between the tail cap and the body.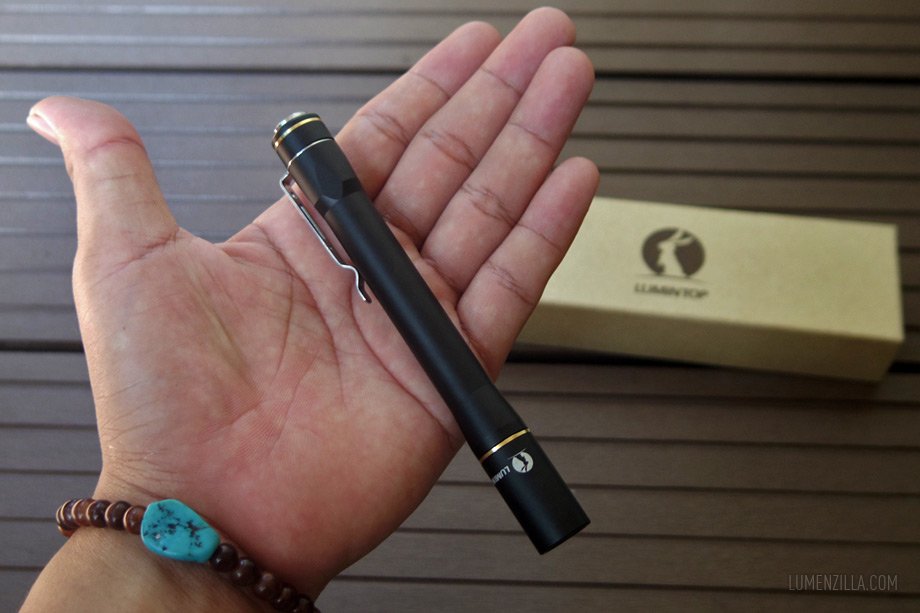 Here's full IYP365 specifications taken from Lumintop website:
Cree LED
Nichia LED
LED emitter
Cree XP-G2 R5 LED
Nichia 219BT LED
Output / runtime
3 lumens (50 hours)
40 lumens (25 hours)
200 lumens (35 minutes)
1.5 lumens (50 hours)
25 lumens (25 hours)
125 lumens (35 minutes)
Max Beam Intensity
900 cd
506 cd
Max Beam Distance
60 meters
45 meters
Brightness Modes
3 modes (Mid –  Low – High), no memory
Dimension
Length: 5.04″ (128mm)
Head Diameter: 0.57″ (14.5mm)
Body Diameter: 0.49″(12.5mm)
Weight
0.81 oz (23 g) without battery
Working Voltage
0.9-3 volts
Battery Type
2 x AAA (10440 Not Supported)
Water Resistant
IPX-8 (2 meters)
Impact Resistant
1.5 meters
Accessories
O-ring
Disassembling Lumintop IYP365
I was eager to see the flashlight construction. It consisted of three main parts: head, body, and tail cap; where the tail switch is located.
The pocket clip itself is secured between the body and tail cap.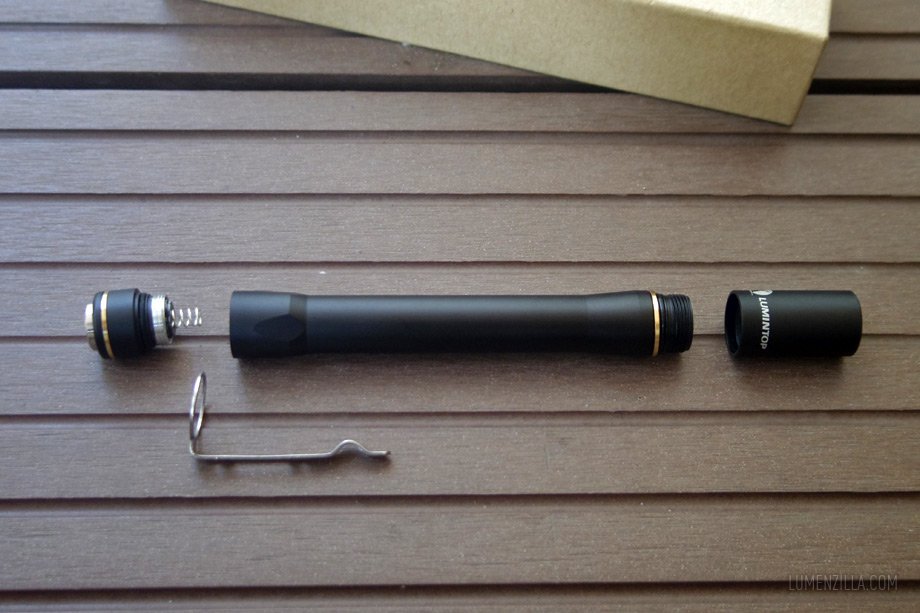 Lumintop IYP365 uses a regulated driver to maintain a constant brightness during usage. It means the flashlight will not go dimmer when the battery is running out of its juice.
Looking at the design of the PCB driver, it looked visually almost the same as Lumintop Tool driver although I can't confirm that they're exactly the same driver or not.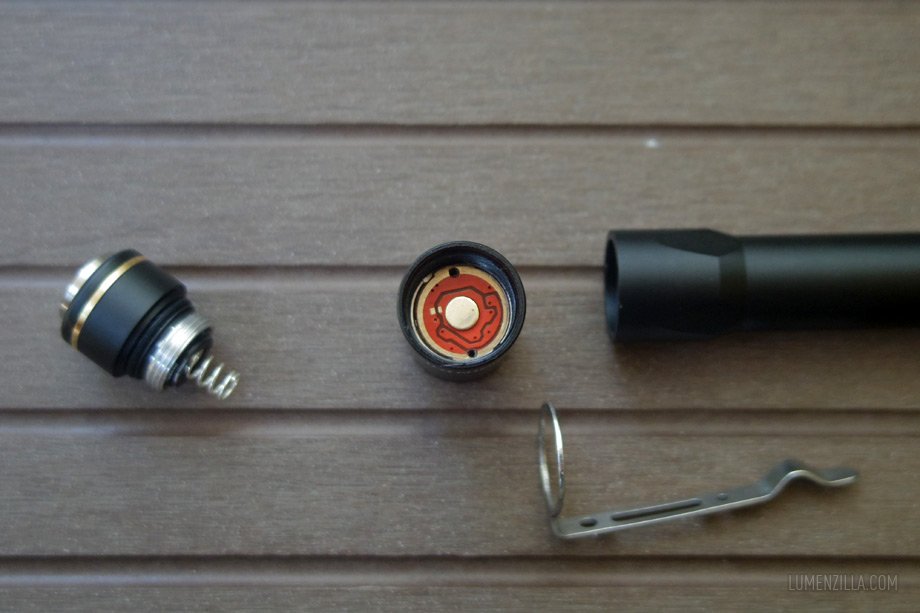 Upon inspecting the body construction, I found that I was unable to insert batteries from tail side. Batteries can only be inserted from head side after removing the flashlight head.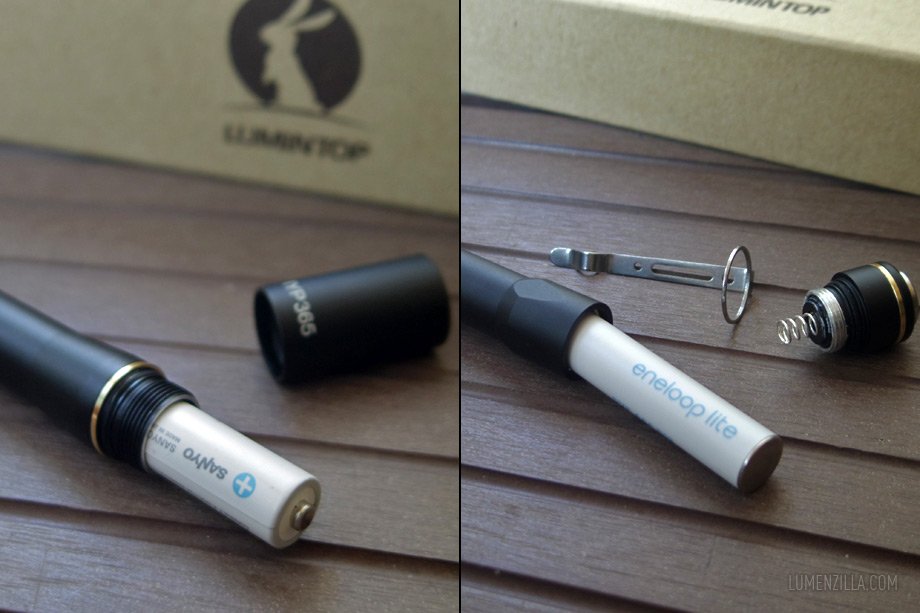 IYP365 dimension is pretty much similar to Sunwayman P02A, but slightly lighter.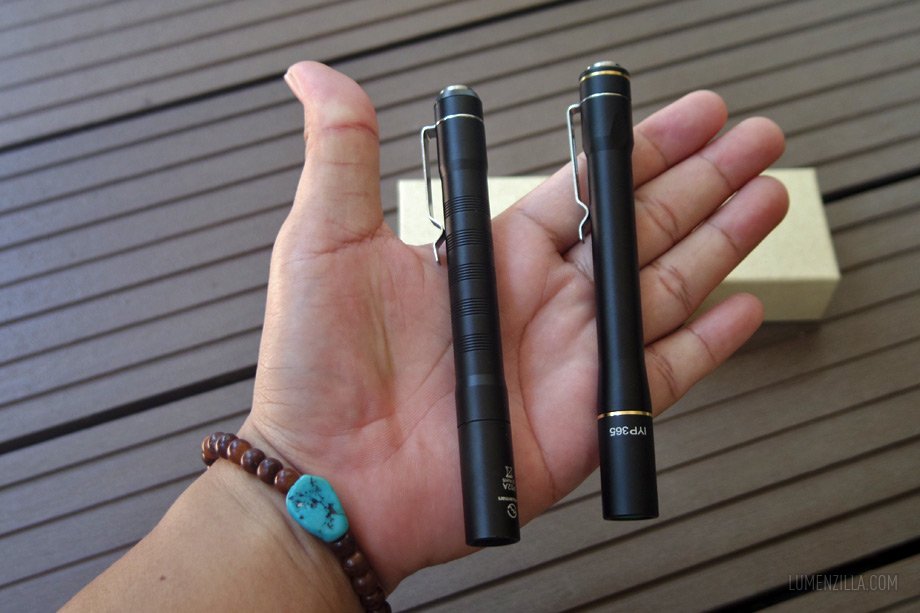 Their pocket clip design are also similar but Lumintop's pocket clip is slightly narrower. It also has decorative holes and made the penlight look less bulky than Sunwayman's.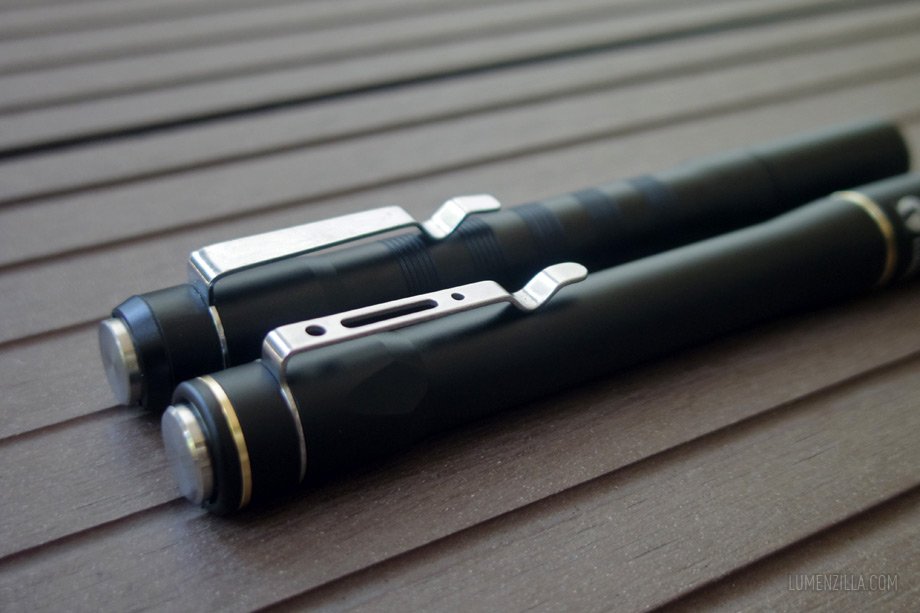 Operating Lumintop IYP365
Lumintop IYP365 utilizes a Nichia 219B LED which is nicely put centered in the head. The head is also decorated with glow in the dark o-ring, pretty much similar to Lumintop Tool.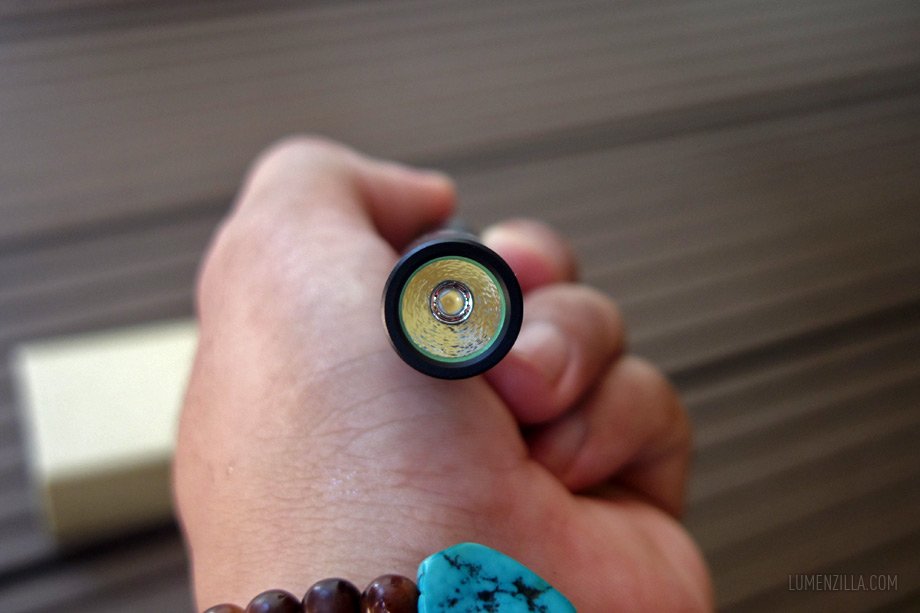 Combination of Nichia 219B LED and orange peel reflector resulting a good tint color which is comfort on eyes and gives us a true color sightseeing.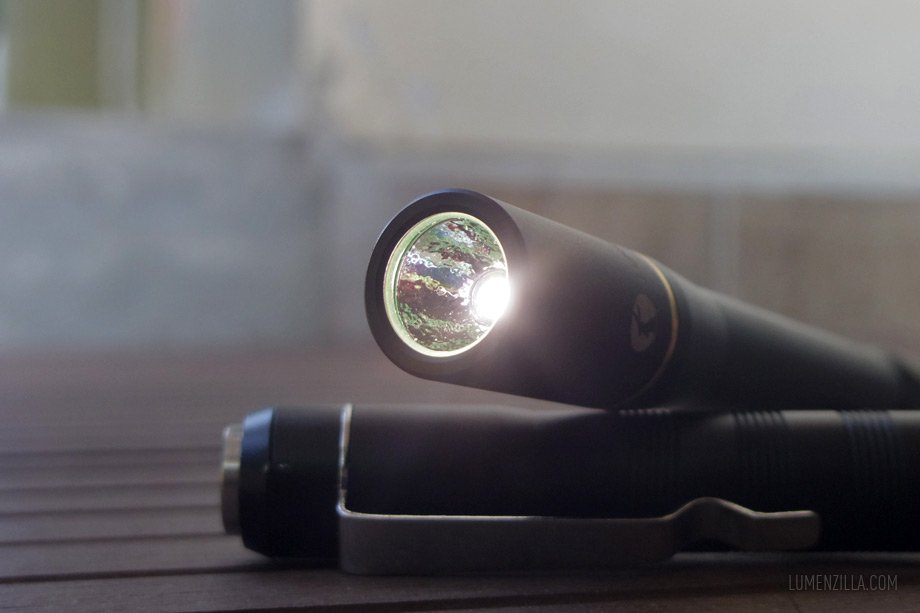 Beam spread is approximately 90 degrees as depicted below. There's actually more spill out of the hotspot that help us seeing in the dark at a closer distance.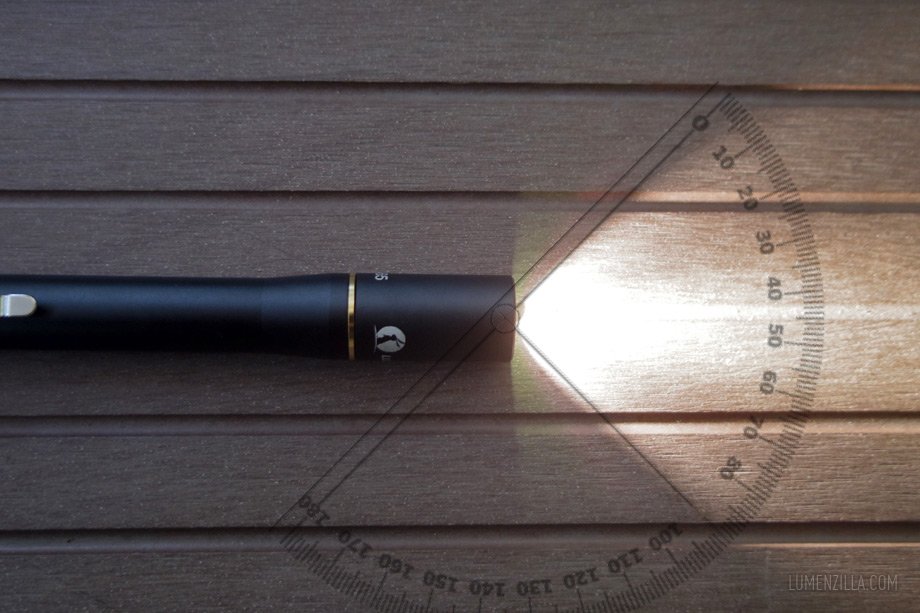 Lumintop IYP365 uses reverse clicky switch located at the tail. Turning on/off can be done by clicking tail switch while changing modes are possible by either using tail switch or twisting its head.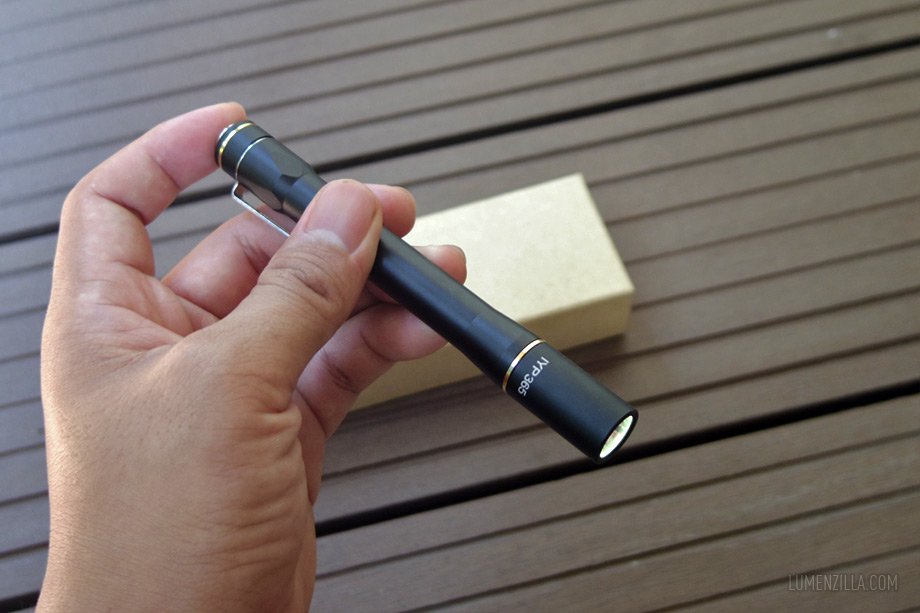 Three brightness levels are quite ideal for most everyday carry purpose. The light always starts on Medium because it has no memory, then goes to Low, and later High.
According to the data sheet, maximum runtime is 50 hours on Low and 35 minutes on High mode.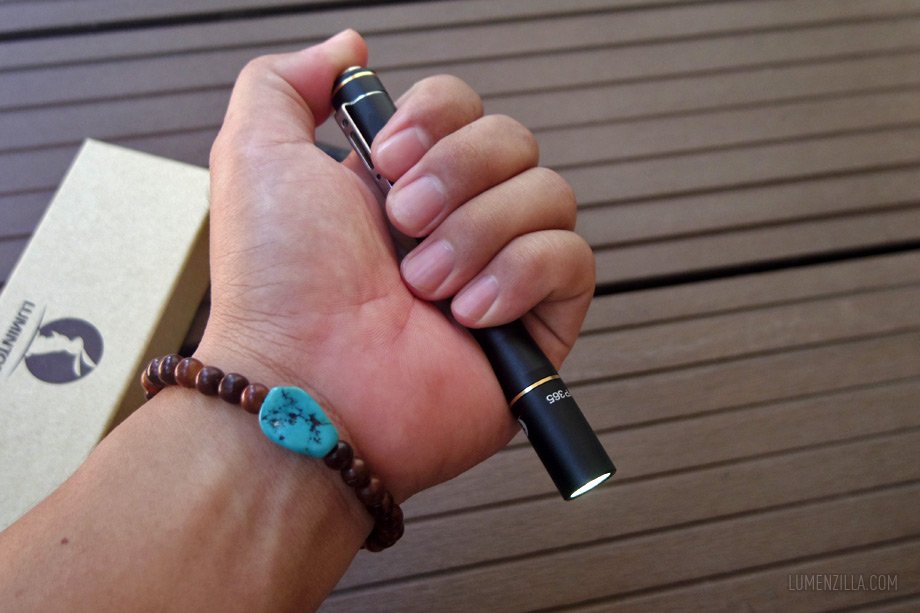 It doesn't support 14450 batteries so never try to put ones in them. Otherwise, you might burn its engine instantly.
Beamshots
Here's animated beamshot pictures for your reference. The wall is 2.5 meters from flashlight and camera, all taken in manual exposure, 1/4 sec, f/2, ISO 200 using Pentax Q.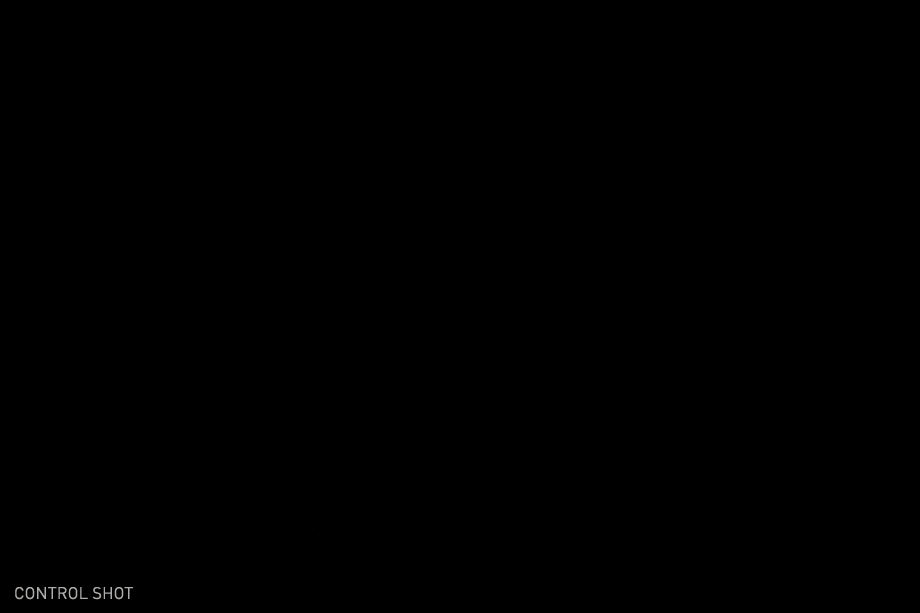 I've shot some videos as well, I'll update this article after I finished edit the video.
Summary
Overall, Lumintop IYP265 is an excellent penlight for general everyday carry purpose. It can be stored inside your pocket, your bag, or any other locations where you use to keep your pen.
Powered by two AAA batteries which is available almost everywhere is a key point here and the use of Nichia 219B LED is a plus.  It's also looking good and elegant so you will want to carry it everywhere.
Pros:
Nicely  designed penlight
Lightweight
Decent runtime & output
Using Nichia 219B LED
Cons:
I wish the mode sequence is L-M-H (personal preference)
---
You can purchase this awesome penlight directly from Lumintop Store at following links:
Lumintop website: http://www.lumintop.com/
US Amazon store: http://amzn.to/2421r4t
DE Amazon store: http://amzn.to/290zJjK