Review CooYoo Quantum CR
CooYoo Quantum CR is a tiny flashlight made from copper material and powered by a 10180 battery with built-in battery charger and gives 130 lumens output. Because of its form factor, it can be used as pendant on necklace or simply a keychain for your EDC, or even a pendant for necklace.
I got this nice looking flashlight from GearBest who've been nicely send it to me for review.
It comes in a blister package and sealed so tight that I have to tear the blister pack. I don't know about other versions (stainless steel, brass, and titanium) but I think they seal it this way to keep the copper's color nice.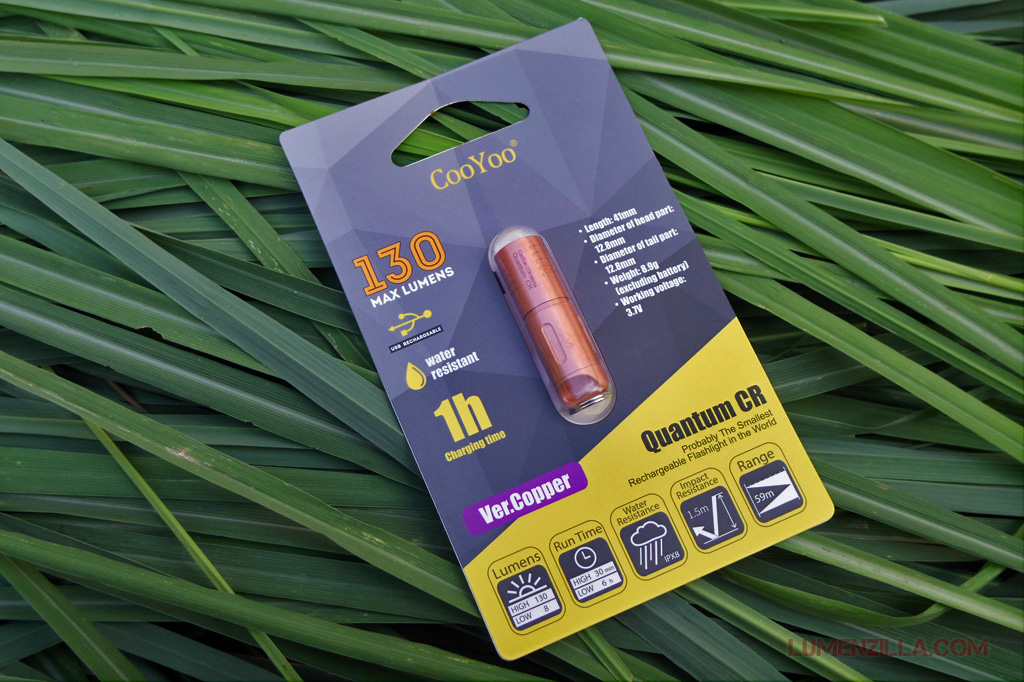 It has 2 modes, 8 lumens on low and 130 lumens on high. A nice configuration on general purpose flashlight, simply low and high. No fancy debatable firefly mode.
I haven't tried to submerge this flashlight nor drop it from 1.5 meters, but I've seen a video depicting its ability to keep the water from entering the battery chamber and how it survived from 1.5 meters drop.
The package is very simple: The flashlight itself, a 10180 battery (already inside the flashlight), a split ring, and two spare o-rings. A manual book in English and Chinese was also included.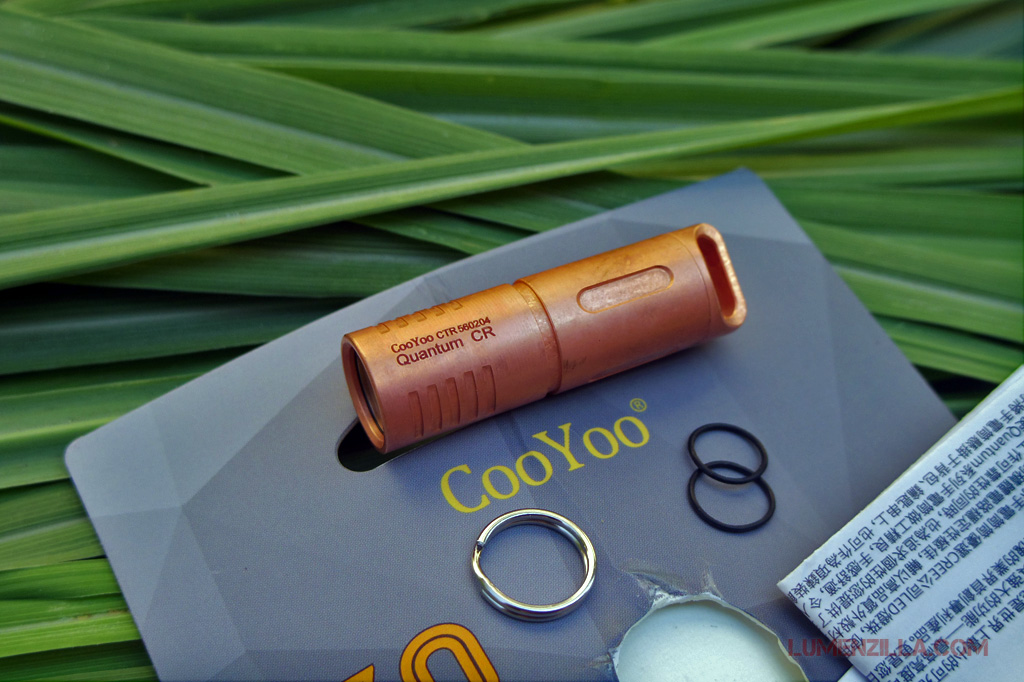 Out of the box, it has a nice reddish color. I don't know what type of copper material they use, but it's slightly more red than other copper stuffs I have.  Nevertheless, its body construction is very well-made.
As other stuffs made from copper, the color will be changed after being "contaminated" with the air. At the end of this article, I put a picture of how this CooYoo Quantum CR looks like after being oxidized (exposed to air).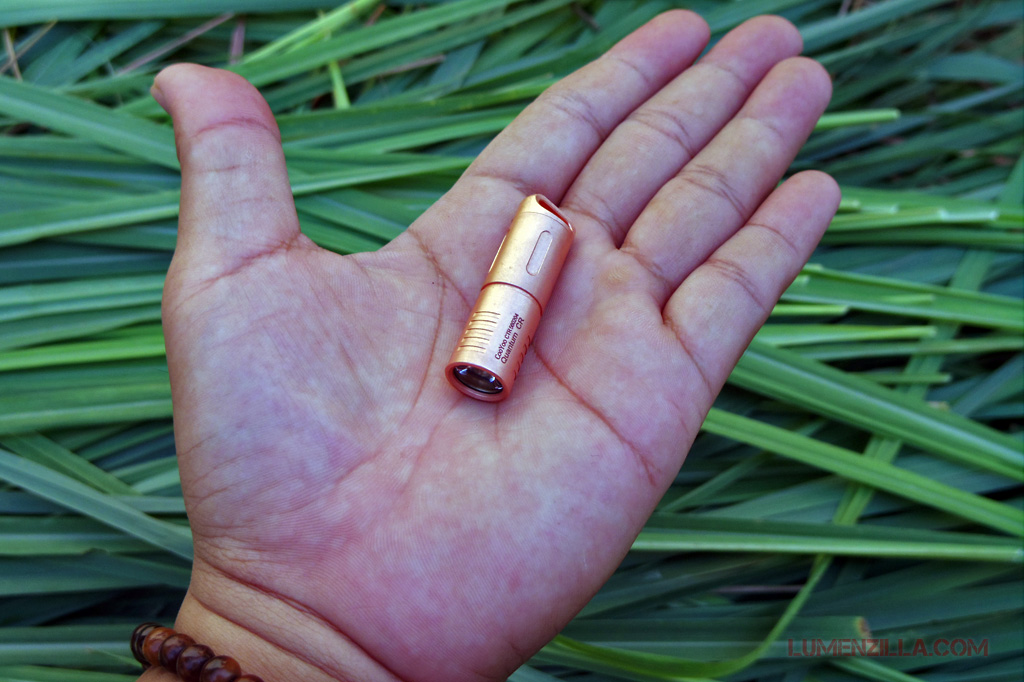 CooYoo Quantum CR equipped with TIR optic, resulting a floody beam profile. The gradation from hotspot to the spill is very smooth, no disturbing artifact found.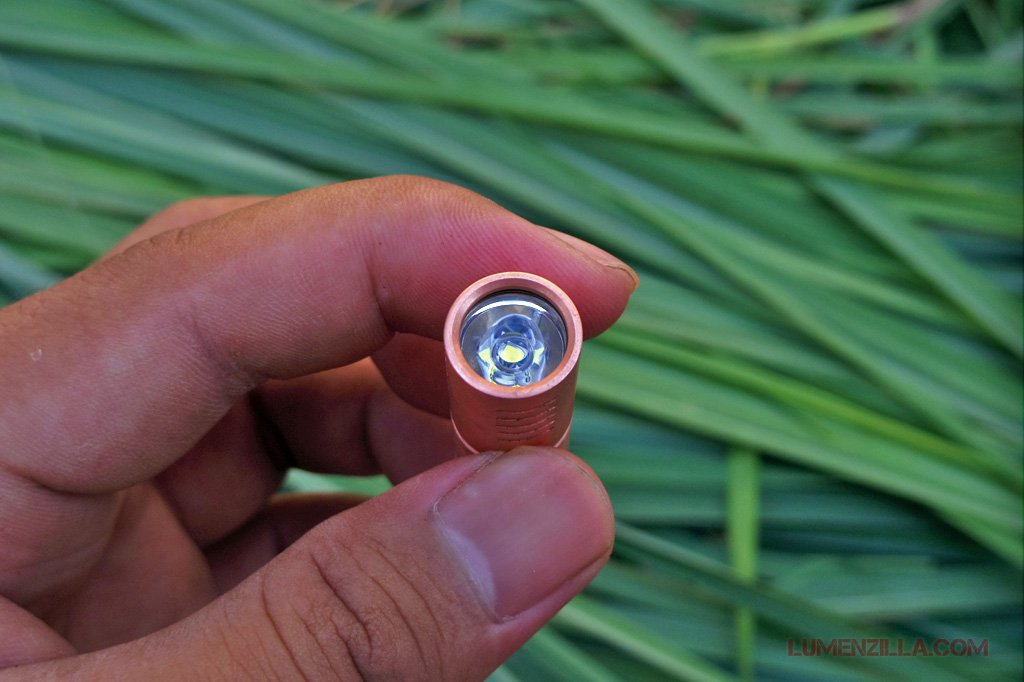 This kind of beam profile is something I always seek from an EDC flashlight.
CooYoo Quantum CR's body is constructed by 3 parts: head, body, and a "tail" that functioned cover for battery chamber. There's an instruction to remove round plastic sheet (I forgot to take the picture) on the tail in order to make this flashlight works properly.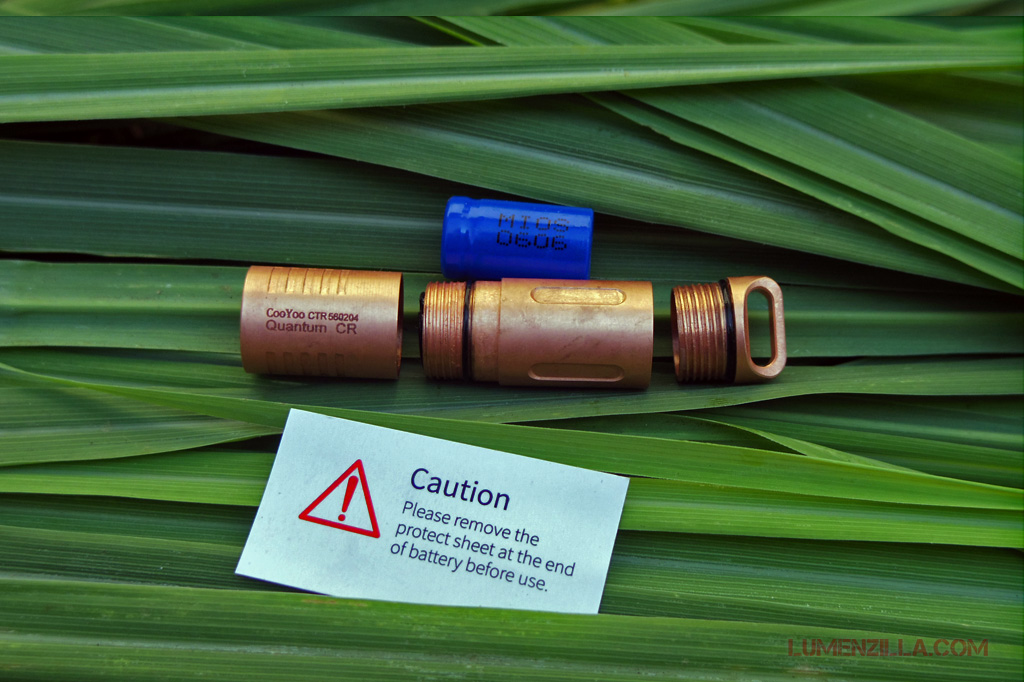 That plastic sheet was used as "seal" between negative pole with flashlight body to avoid flashlight being turned on accidentally while it's still in its packaging.
It also has a built in battery charger with micro USB slot. A very nice idea because I can charge the included battery using micro USB cable commonly used for smartphone charging.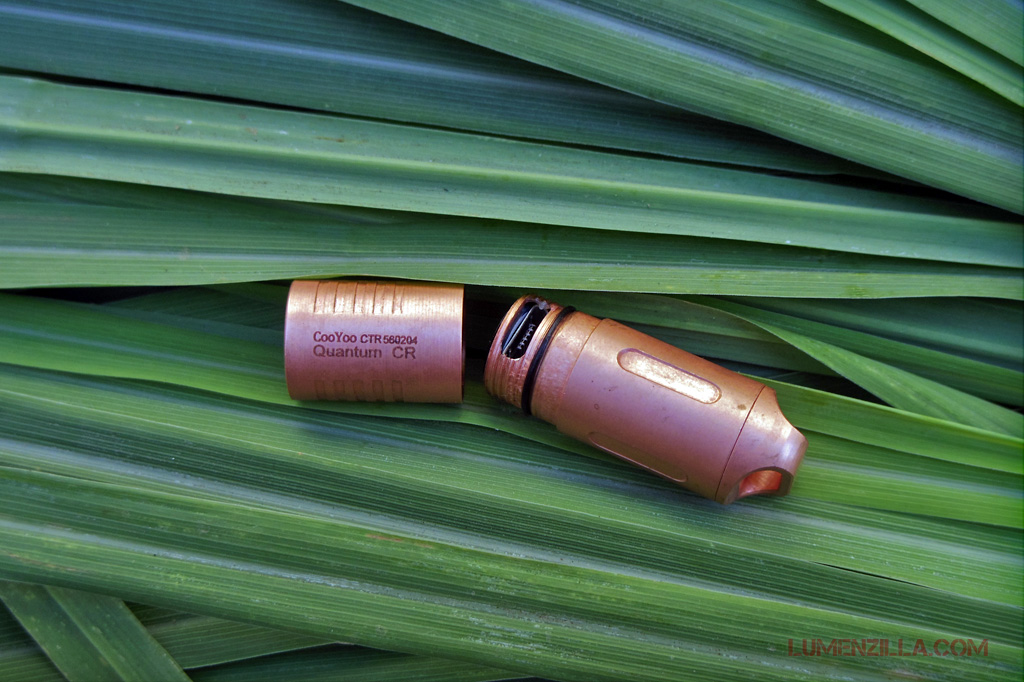 To charge the battery, its head must be removed and plug micro USB charger on the slot depicted below. There's a LED indicator showing the charging progress. Red light means the battery is charging, green light means the charging is completed. It takes only one hour to fully charge the battery.
It has two brightness levels, 8 lumens on low and 130 lumens on high. Operating the flashlight is fairly easy, just twist the head clockwise and it will turned on at low mode. Twist it again (tighten) and it goes to high mode.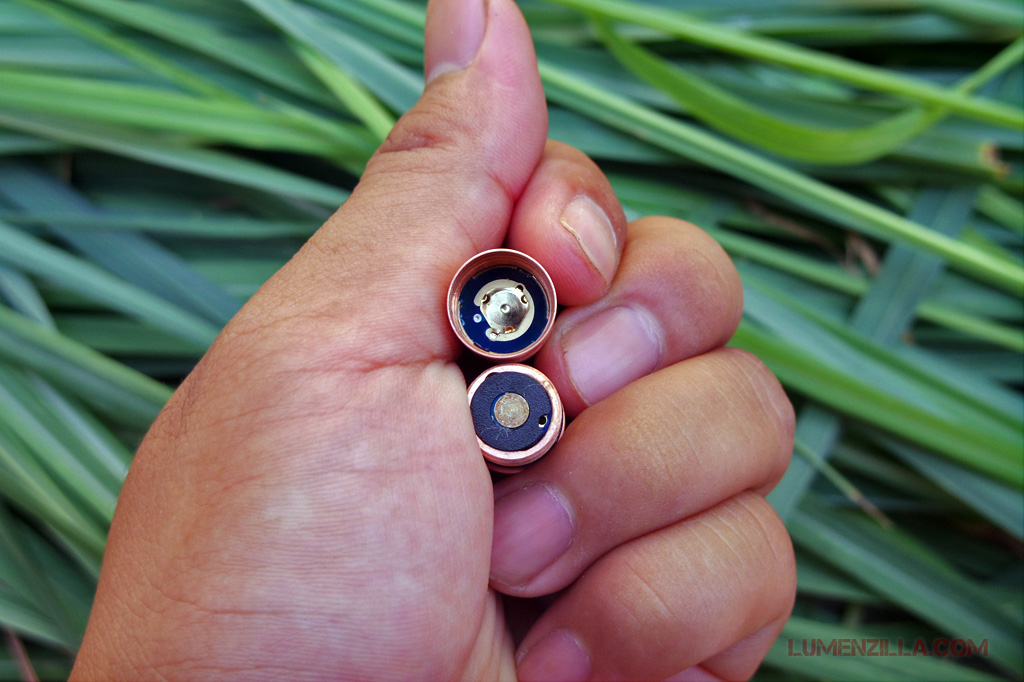 Look at picture above, the upper part is the head. The switching and mode changing mechanism is nicely done using that goldish plate. While the lower part is the body, the battery chamber. LED charging indicator is inside that tiny hole.
CooYoo claimed that it's the smallest flashlight with built-in charger. While it's true, this copper version is slightly bigger than DQG Hobi or DQG Spy (DQGs without built-in charger).
Quantum CR has cool white tint and I don't think they made with another tint color. I would prefer neutral or even warm white if they made any. That would be awesome.
Following are DQG Hobi with neutral color tint and CooYoo Quantum CR with cool white beam color.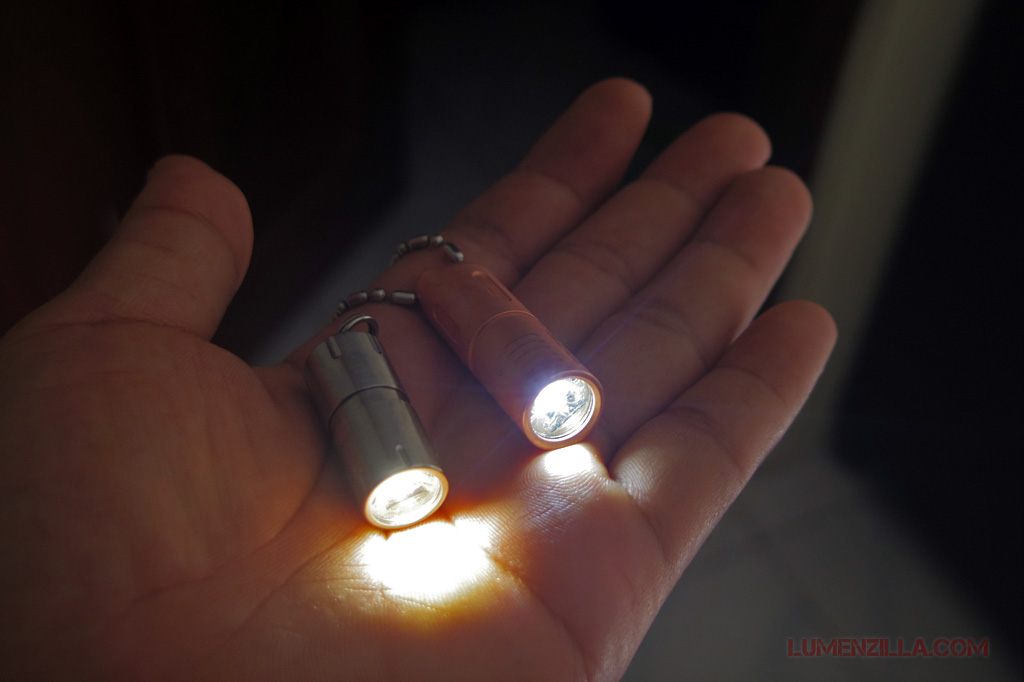 As I previously mentioned, copper material will be oxidized quickly when it's exposed to the air. Picture below is the same flashlight after 3 days being carried every day. The patina color is not awesome yet, but it's starting!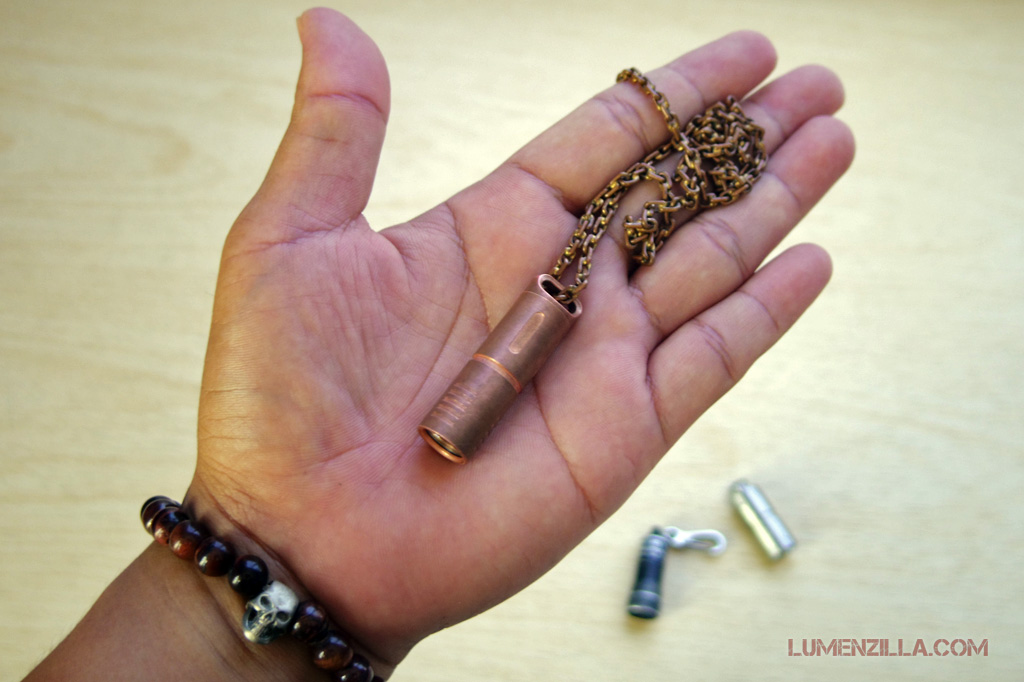 CooYoo Quantum CR may not be the smallest flashlight on earth. Compared to Streamlight Nano and DQG Hobi, it looks a little bit bigger. But with its internal battery charger, it's a good deal.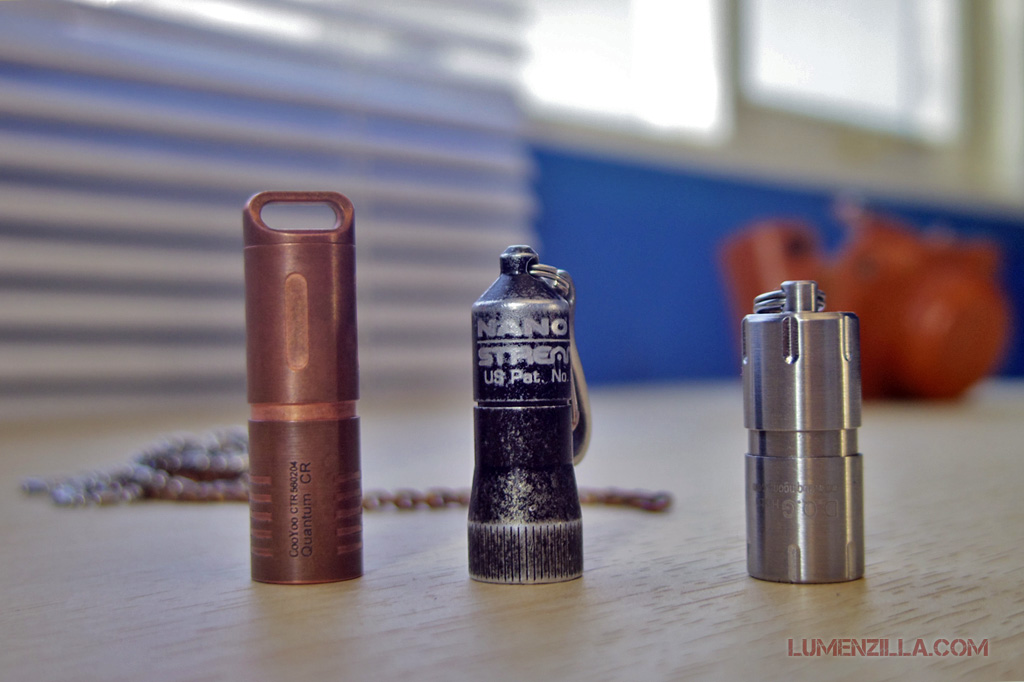 I have taken some beamshots pictures but I will not post it here to keep it short and clear. After some minor editing on the pictures, I will write another article in this blog.
If you have any questions or something to say about this CooYoo Quantum CR flashlight, drop a comment below and I will respond it as soon as possible.
Thanks for reading and thanks to GearBest for providing me this flashlight.