Olight S1 Baton Flashlight Review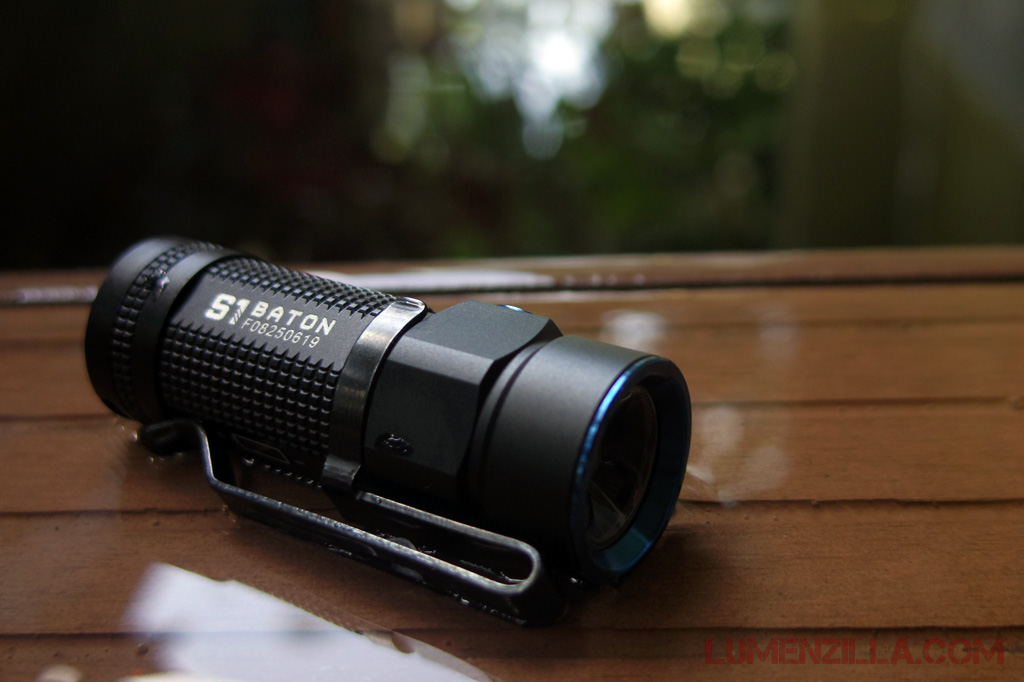 Olight S1 Baton is the smallest side switch LED flashlight ever produced by Olight, features a Cree XM-L2 CW LED that reaches a maximum beam distance of 110 meters and has a maximum output of 500 lumens using 1 x CR123A.
I got this brand new Olight's series from GearBest a couple of days ago and here are some photos and a little description from me. Let the picture speaks most for themself at this Olight S1 Baton flashlight review article.
Olight S1 Baton's technical specifications
Cree XM-L2 LED. Maximum light output up to 500 lumens.
3 standard modes: 8 lumens, 80 lumens and 500 lumens.
2 special modes: 0.5 lumen moonlight mode and a 10Hz strobe mode.
6061-T6 aluminum alloy body with anti-scratch Type-III hard anodizing
PMMA TIR lens with a 90% light transmittance rate
Low standby current below 10uA
Body material:  6061-T6 aluminum alloy structure, Type III hard anodizing
Stainless steel pocket clip, stainless steel flashlight bezel, stainless steel binder ring
Dimensions:    Length: 61mm, Diameter: 21mm
Weight :  30g (excluding batteries)
Color  (body + clip)black,(BEZEL+ side switch binder ring)blue
Operating voltage:   2.5 to 4.2V
Luminous Intensity:  3000 cd
Max beam distance:  110 meters
Waterproof:   IPX8
The detailed specifications is taken from Olight S1 Baton's official web page.
Initial Impressions
I can say that Olight S1 Baton is using almost any recent hypes on flashlight world: bright light, side switch, TIR optics, firefly/moonlight mode, magnet on tailcap, and small in size (read: tiny!).  All those feature make this Olight S1 Baton become the most anticipated flashlight at the end of this year.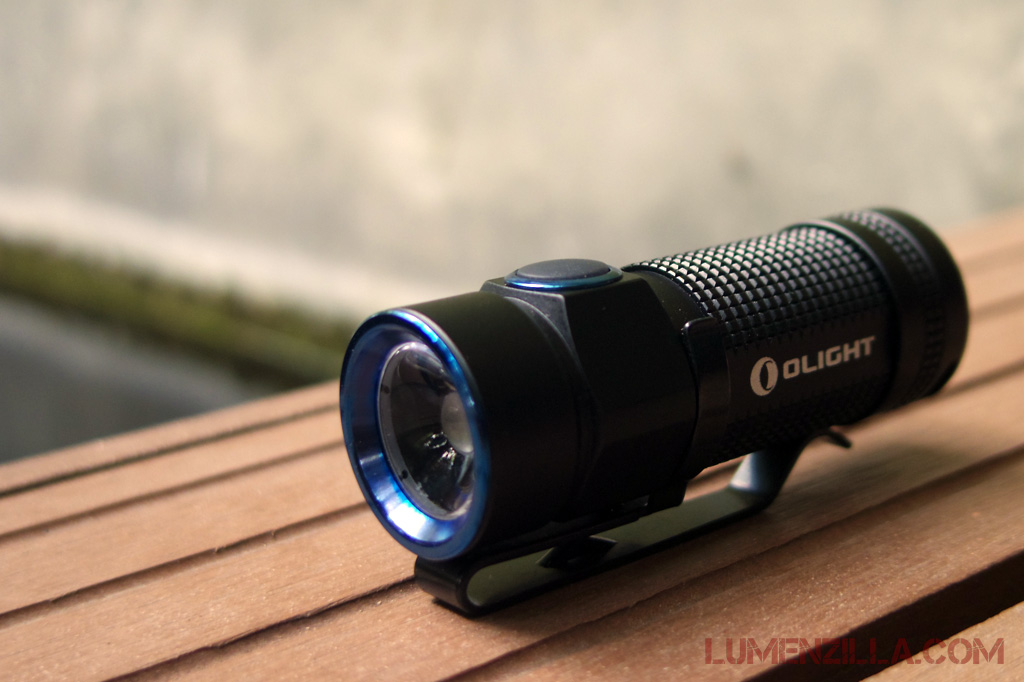 With just 6 cm length (61 mm to be precise) and 21 mm in diameter, this flashlight is pretty small. It's also very light, just 30 grams without the battery. I can easily put this little light inside my pocket without even noticing that it was there.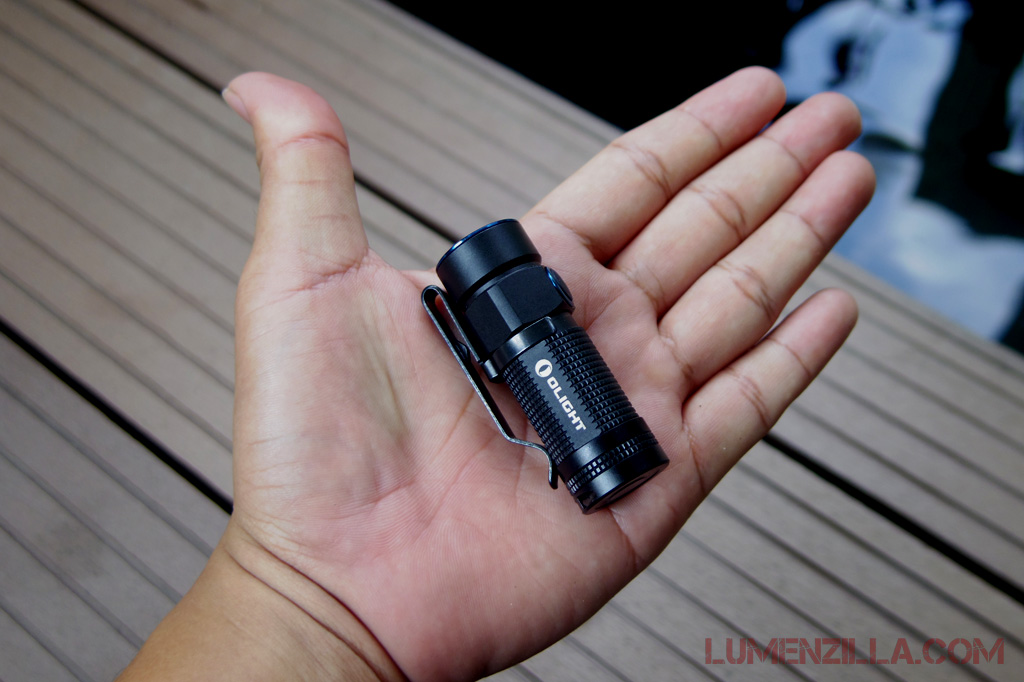 While I'm not a fan of side switch because of two reasons:
It's difficult to locate the switch/button in the dark.
It may accidentally clicked and turned on while inside the pocket.
I found that above problems is pretty much anticipated in this series.
Default clip position is against switch position, it helps me locate the switch when pulling S1 Baton out of my pocket.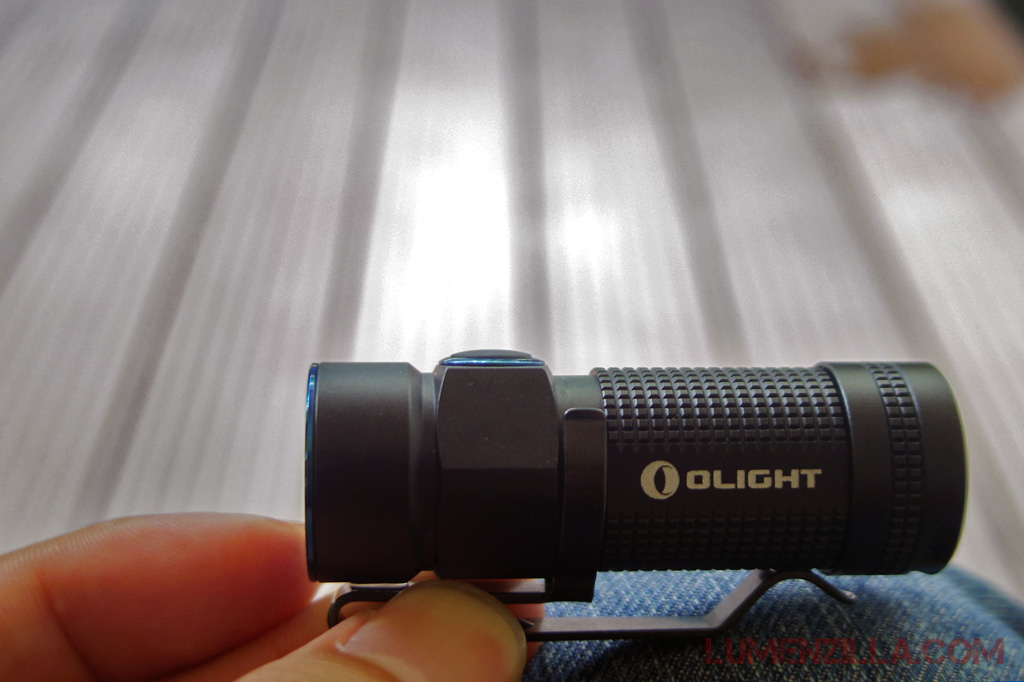 The switch is quite deep and won't be easily clicked by accident and the pocket clip help me locate the switch seamlessly without looking at the flashlight. Problems solved.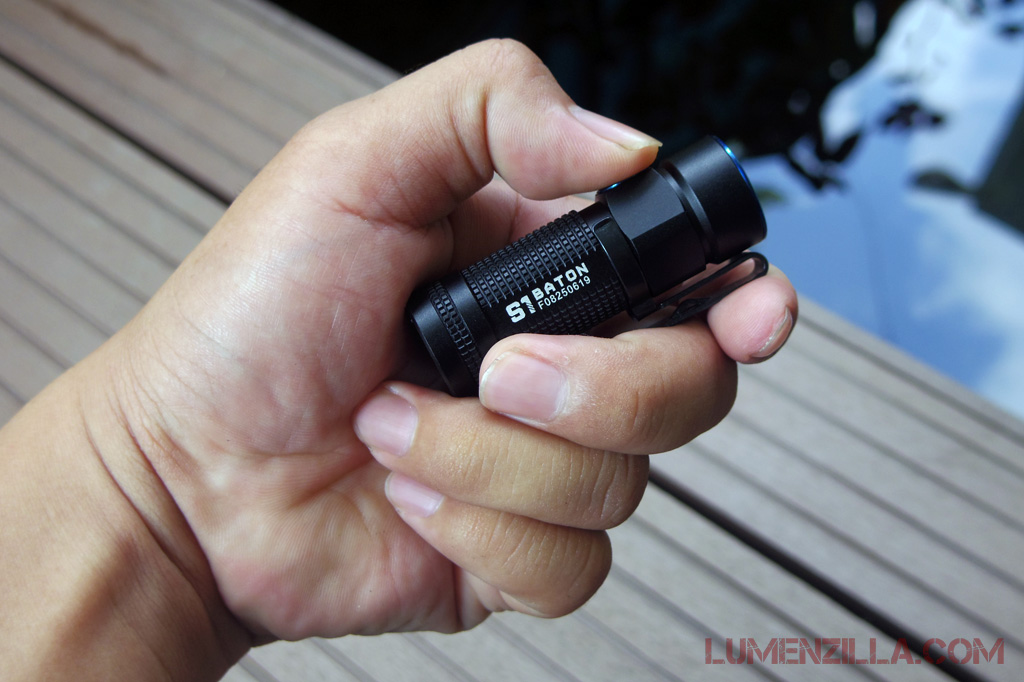 The design of the lens is also interesting. I've seen several TIR lenses before and found this S1 Baton has nice lens design. The PMMA (high quality acrylic) TIR lens is claimed to transmit 90% of light from the emitter and resulting a balanced beam.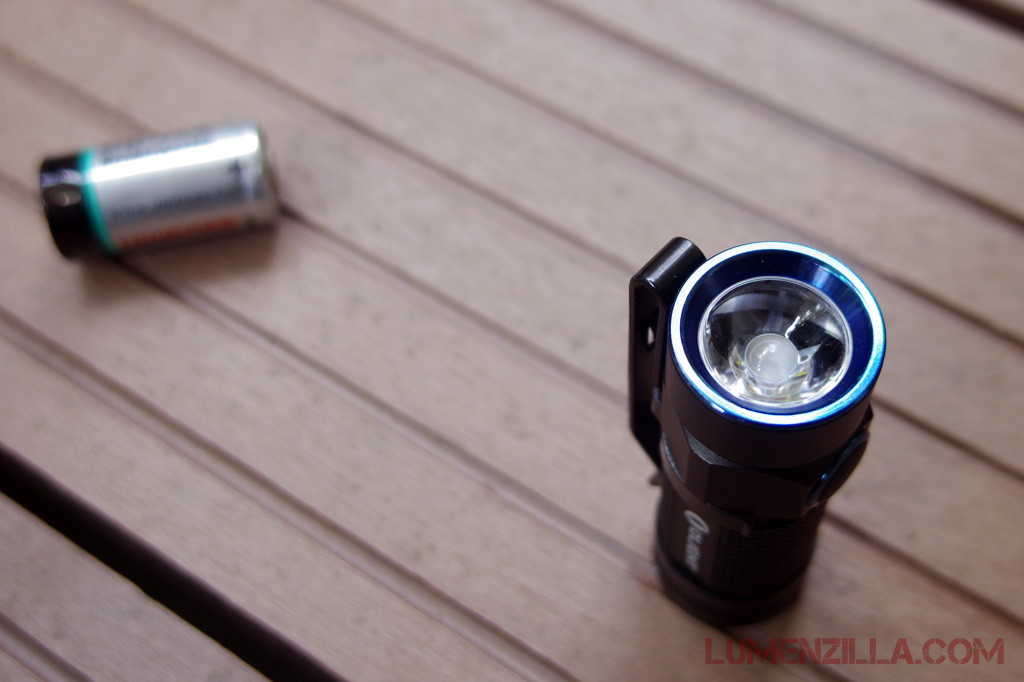 To protect the lens, Olight makes a great metal bezel that is processed using PVD technology. The bluish bezel color gives this S1 Baton an aesthetic looks as well as the functionality.
On other pictures, you will see that the metal ring covering the switch also has this nice bluish color.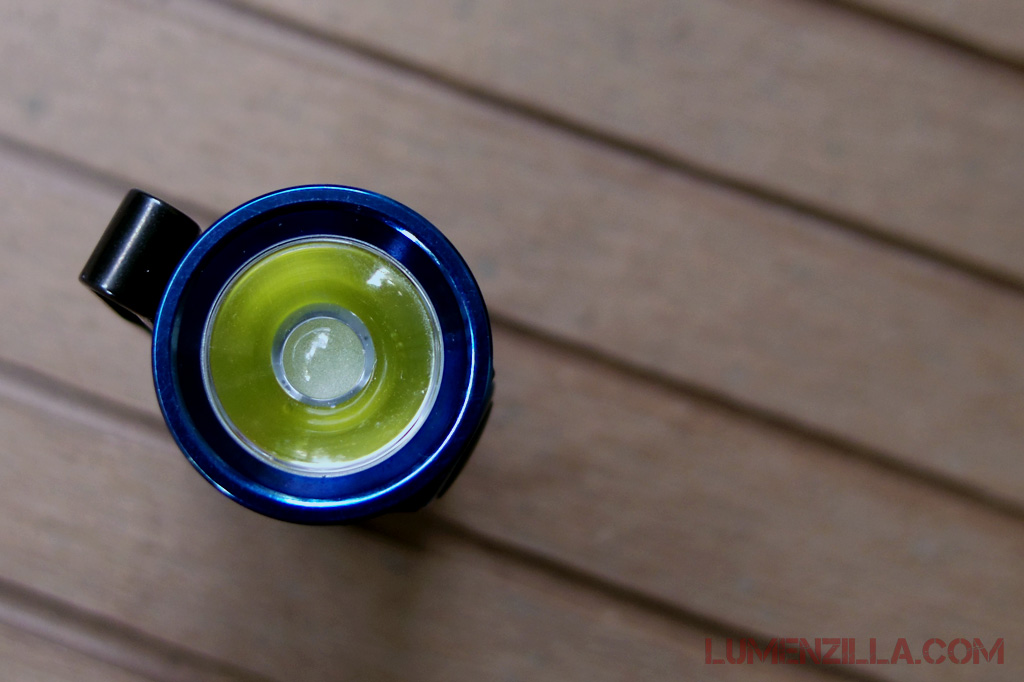 Olight S1 Baton powered by a single CR123/16340 battery (not included). Unlike other flashlights, Olight put positive pole on the tail cap so we must insert the battery with negative polarity facing the head of the flashlight.
But don't worry, S1 Baton has reverse polarity protection in its circuit. It won't harm your flashlight if you accidentally insert the battery in wrong direction.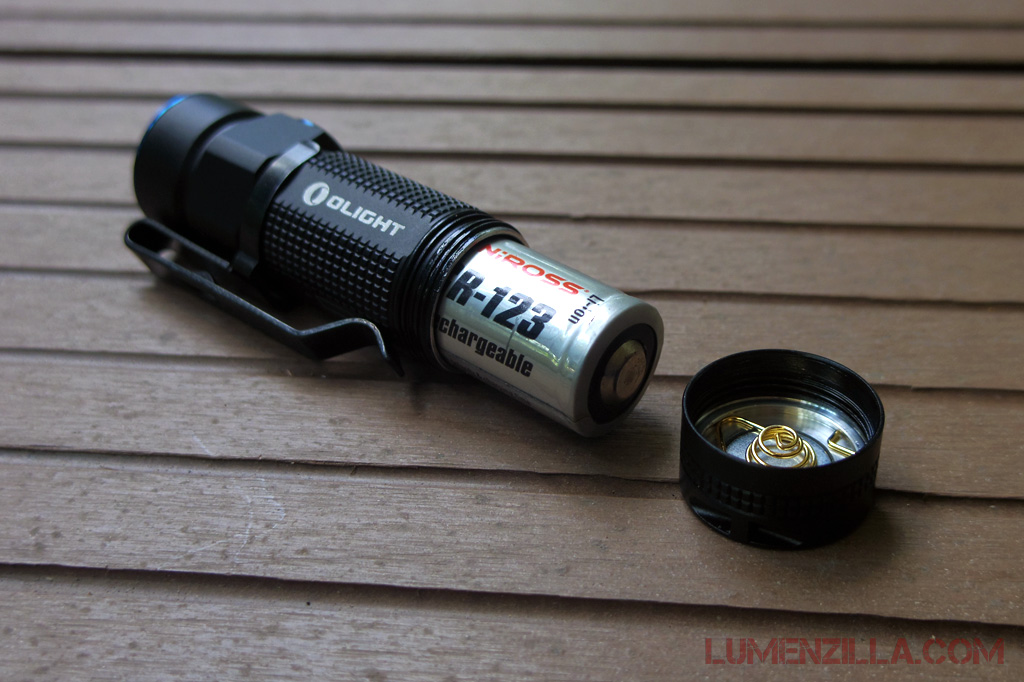 I think I've read somewhere that Olight reversed battery polarity direction to get shorter flashlight, but I'm unable to find relation between battery polarity direction with shorter body.
To help owner insert battery in correct direction, Olight printed the polarity sign on the body although it may covered by pocket clip by default.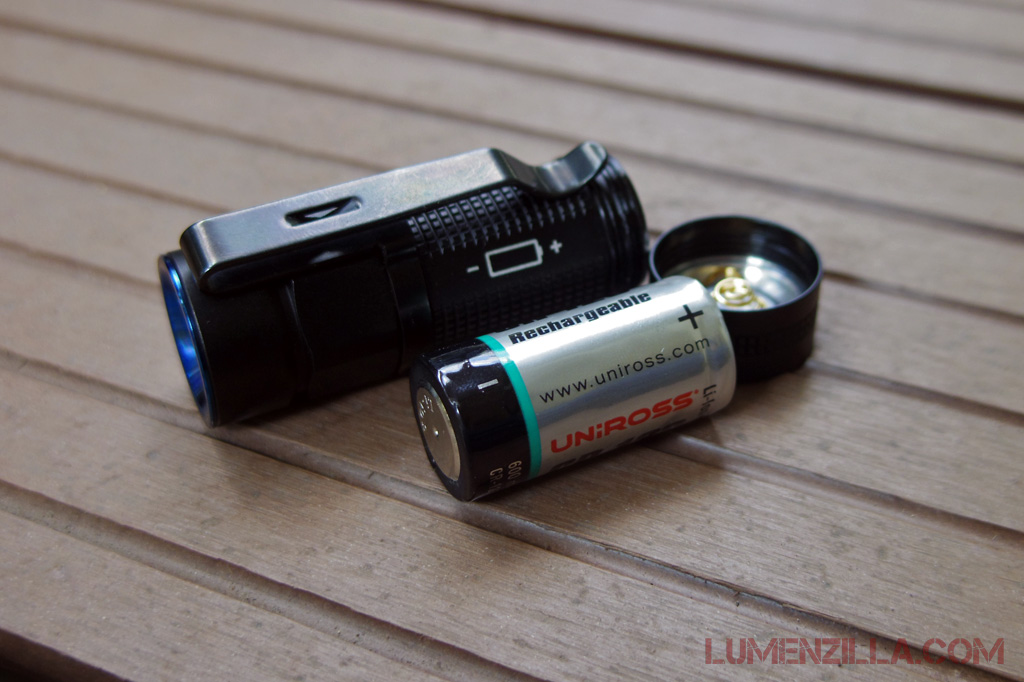 The pocket clip itself very sturdy and gives us the ability to deep-carry this flashlight. I reverse the clip direction so the flashlight head is facing down (tip-down carry) and I get extra grip for my index finger.
When I was still amazed by S1 Baton's size, I quickly grabbed 4Seven's Quark Mini 123 from the shelves and put them together in one frame for comparison. They're almost identical in size.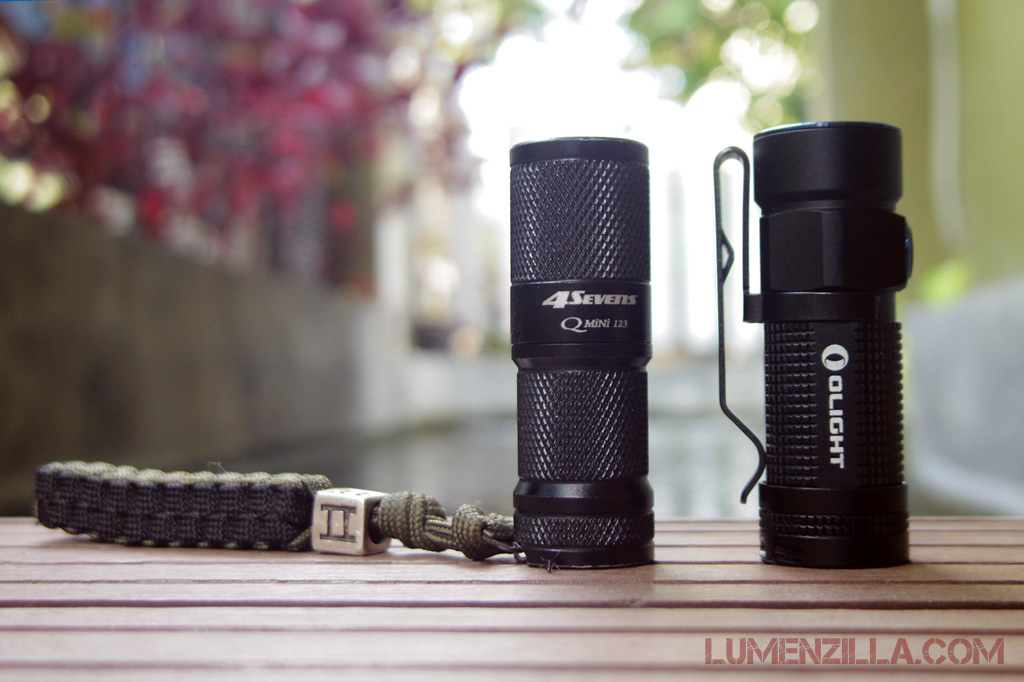 Both light uses 16340 sized battery, my favorite battery size for the balance of size and juice (read: capacity).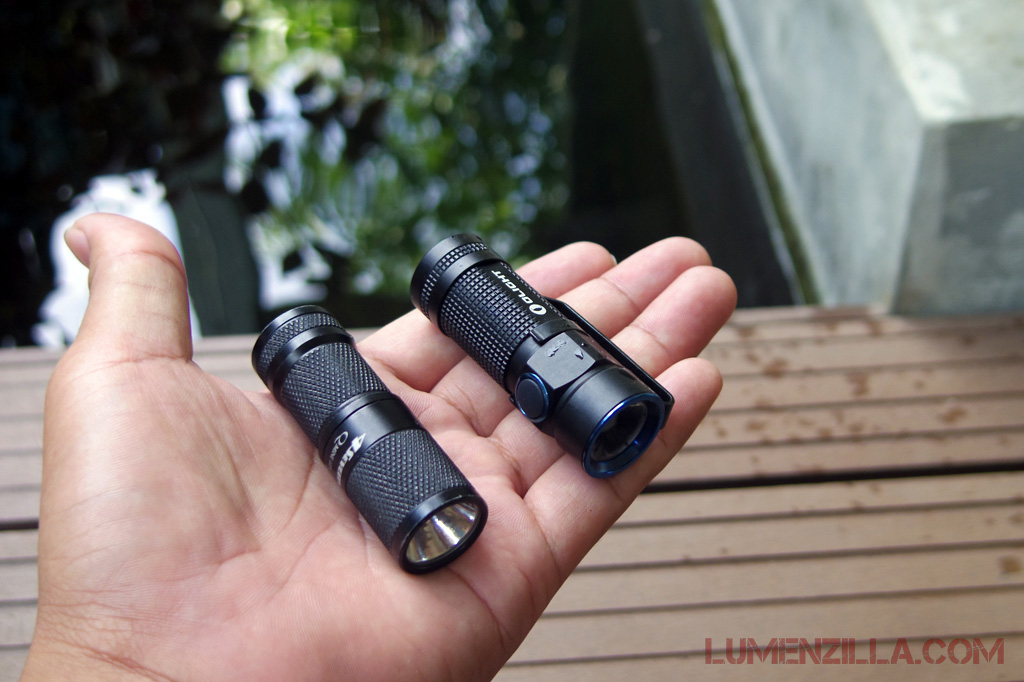 Compared to Zebralight SC52, it looks way bigger than Olight S1 Baton.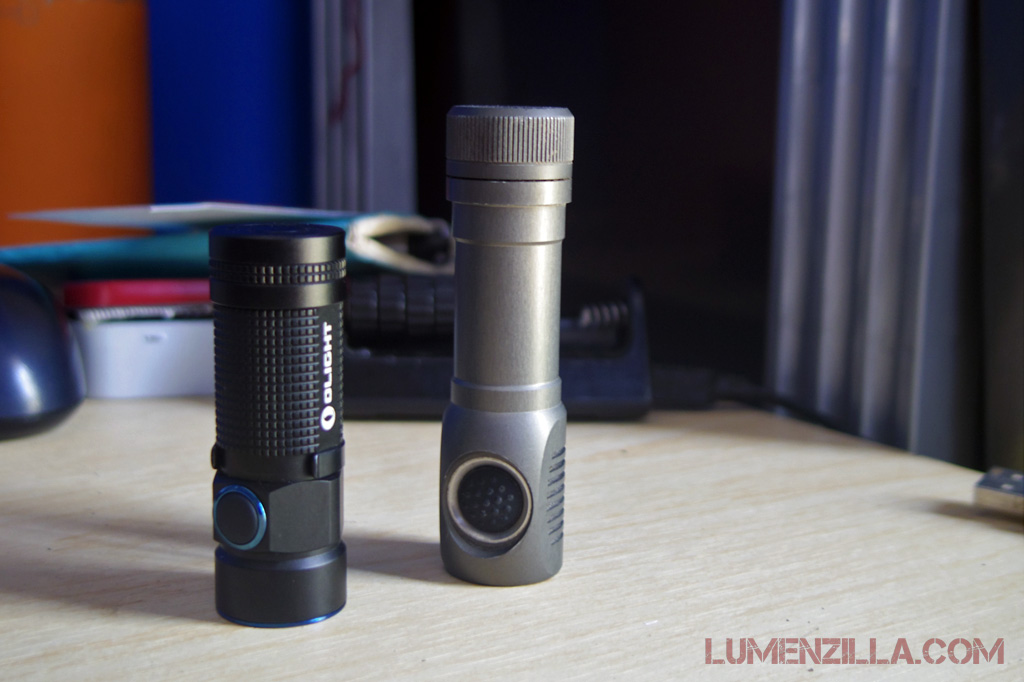 Another handy feature is strong magnet on its tail cap, allows us to attach S1 Baton to almost any metal surface.  In this picture I attached S1 Baton on to the fence.
The magnet is also removable. If you don't like magnet or want to reduce more weight (in microgram) you can easily remove the magnet with no hassle.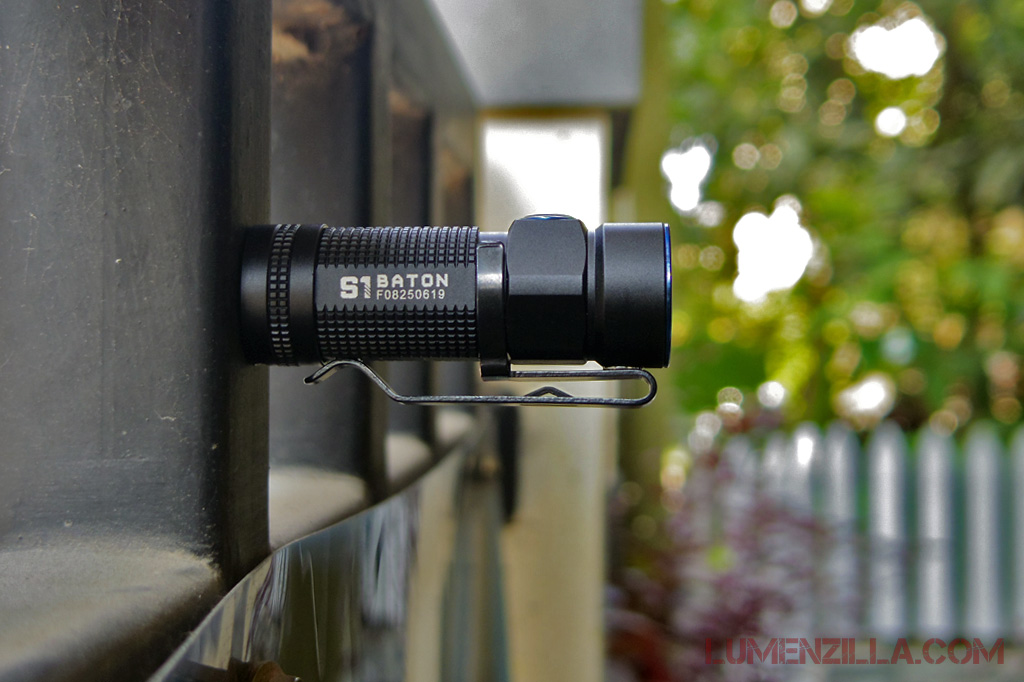 Now let's talk about brightness levels and related features. Olight S1 Baton has maximum output of 500 lumens on turbo mode and will automatically stepped down to 300 lumens after 90 seconds (1.5 minutes) to protect the flashlight from excessive amount of heat from the LED.
Changing brightness level is easy, press and hold the side switch while the light is on. It will cycle through low, medium, and high brightness levels.
Taking advantage of digital switch, we can jump to specific modes easily. While the flashlight is off, click and hold the switch and it will jump into moonlight mode (0.5 lumen) and quick double click (from off) will jump to turbo mode (500 lumens).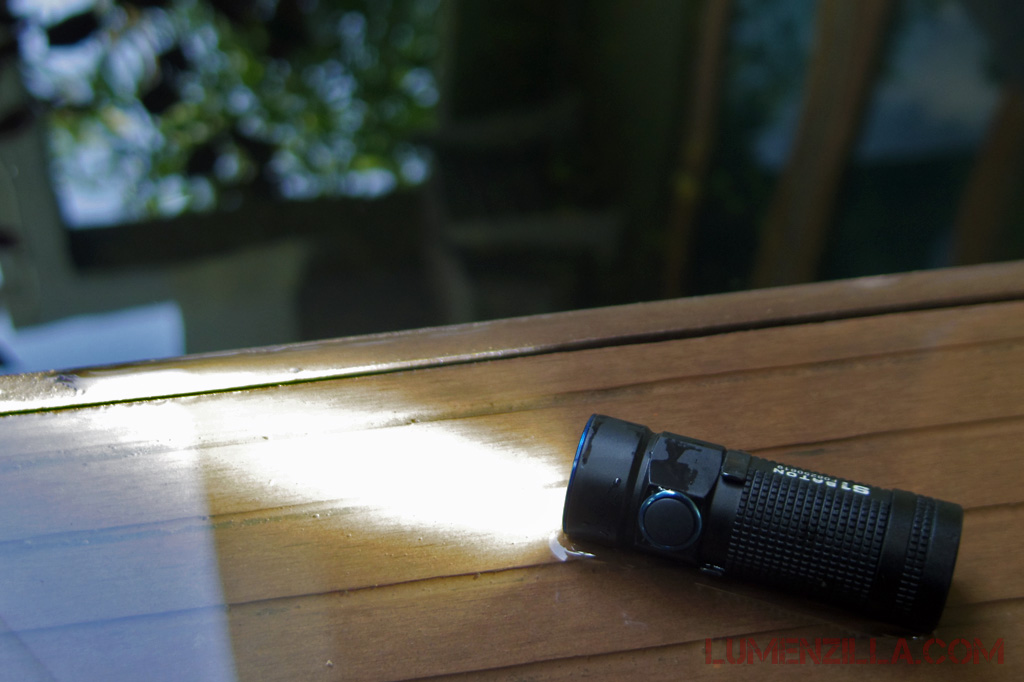 Another cool feature is a timer, it means we can leave the flashlight on and it will be automatically turned of after specific time. While the light is turned on (at any levels), double click and it will enter 3 minutes timer. Double click again and it will enter 9 minutes timer mode.
Olight S1 Baton also has memory feature so it will turned on at any brightness level previously used.
Bottomline
All of the cool features above make me easy to decide to use Olight S1 Baton as my primary EDC flashlight. It would be an additional awesomeness if Olight also add beacon/locator feature on this flashlight.