Nitecore F1, Outdoor Charger and Power Bank
Nitecore F1 is an outdoor (portable) battery charger that charges almost all types of li-ion batteries that are no shorter than 340 mm. It can also be used as powerbank using 18650 or 26650 li-ion battery as power source.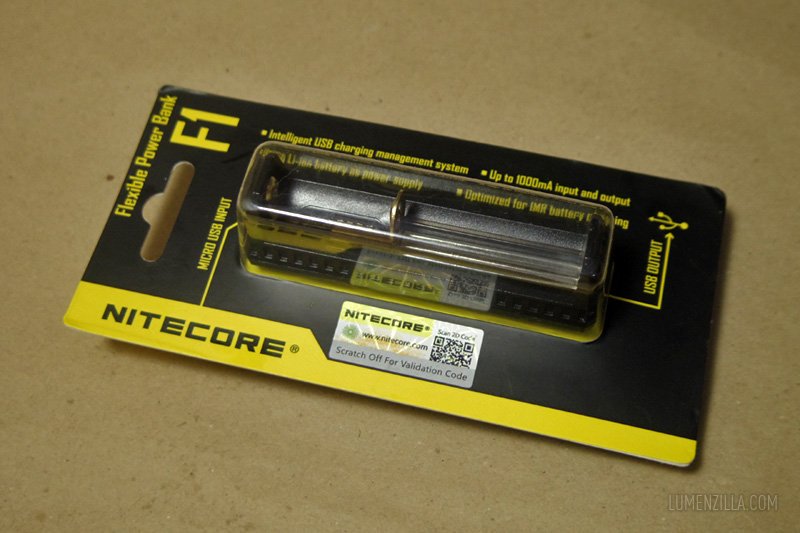 I received this Nitecore F1 from Gearbest for reviewing purpose and have been using it for almost two weeks. I also carried it on a week holiday to see how it performs.
Packaging
The charger is packed inside a blister pack and came with two rubber bands (black and yellow) with "Nitecore" brand embossed on them. No other accessories nor manual book is included.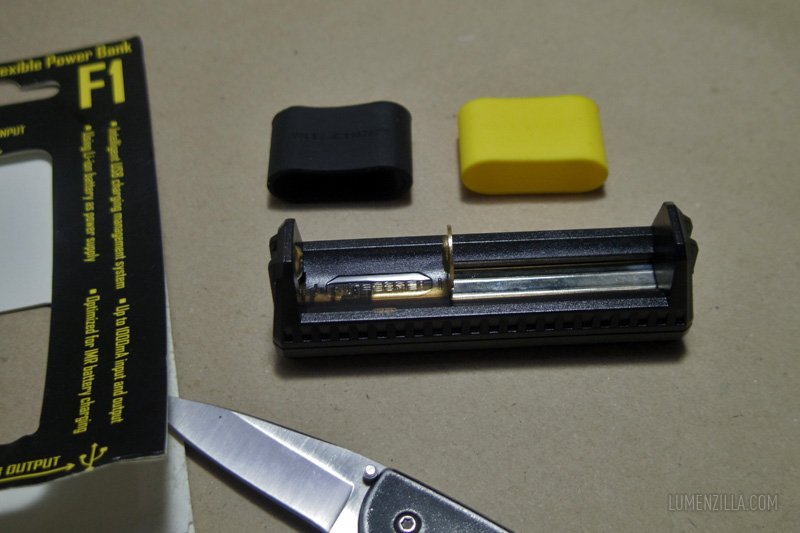 The rubbers band are used to hold the battery safe for outdoor activities and I normally use one rubber only.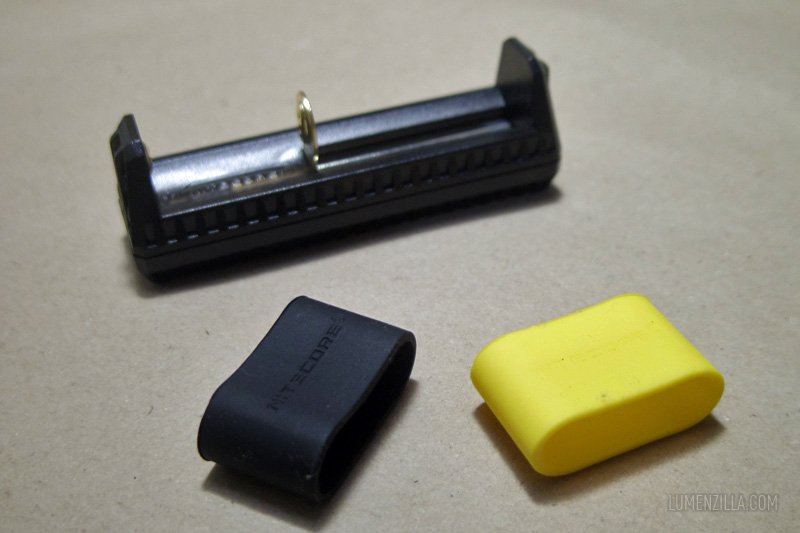 Yet, it's not prohibited to use booth rubber bands at once.
Technical Specifications
Nitecore F1 will charge almost any types of li-ion battery, from 16340 to 26650 with CC and CV charging modes. It's also optimized for charging IMR batteries.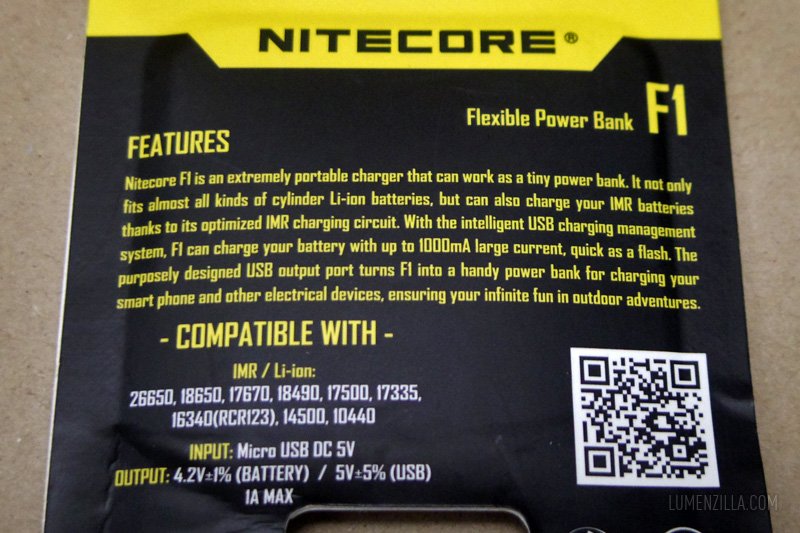 Input: DC 5V; more than or equal to 500mA
Output: 4.2V + / – 1 pct (slot); 5V + / – 5pct (USB)l; max 1000mA
Battery type: Li-ion and IMR
Battery size: 26650, 18650, 17670, 18490, 17500, 17335, 16340 (RCR123), 14500, 10440
Nitecore said that the body is made from fire proof material. From what I see, the body material is almost the same as Nitecore Tube's body material.
It has three power (LED) indicators to indicate charging/discharging status as well as for battery voltage check feature.
Like any good charger/powerbank, Nitecore F1 has over charging protection and over discharging protection for battery safety.
First Impression
The charger size is quite tiny (smaller than my previous XTAR MP1S) so I can carry it anywhere without any problem.
During my holiday, I stored Nitecore F1 with 18650 battery inserted inside my Maxpedition Micro Organizer along with spare 16340 batteries and micro USB cable.
The metal connectors are gold plated to ensure good electric conductivity during charging and when used as power bank. The metal connectors are shaped for optimal contact with the batteries.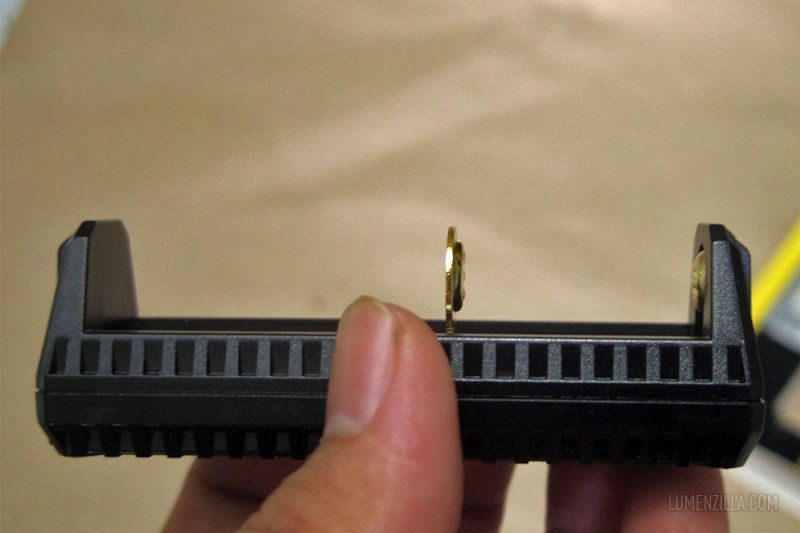 It uses slider with spring to accomodate various length of li-ion batteries.
The polarity signs are embossed at the base although I can barely see them. But it's not a problem because Nitecore F1 has reverse polarity protection.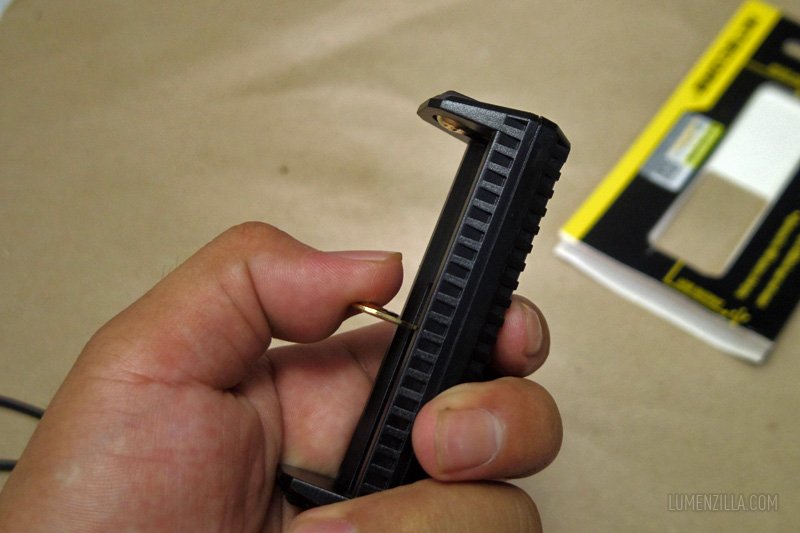 The charger has two ports. The first one is for input using standard micro USB cable. There's no cable included in the packaging but I can use any micro USB cables for smartphones.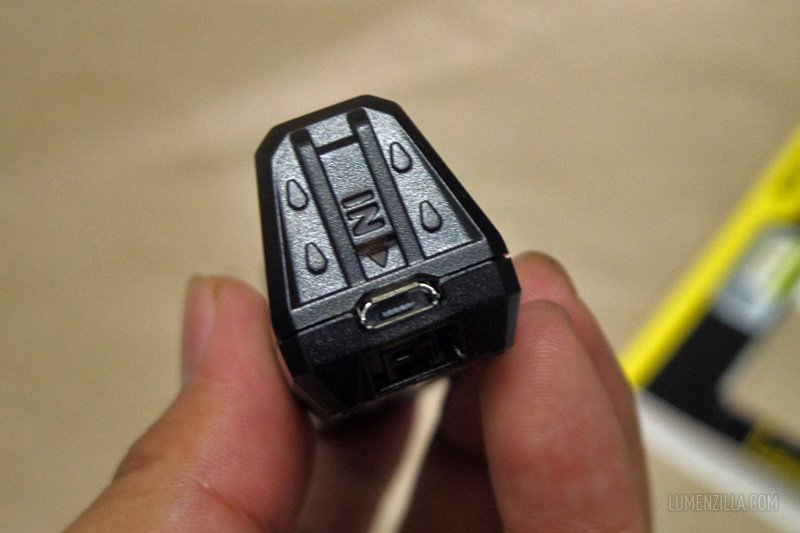 Another port is for output when used as powerbank, using standard USB port.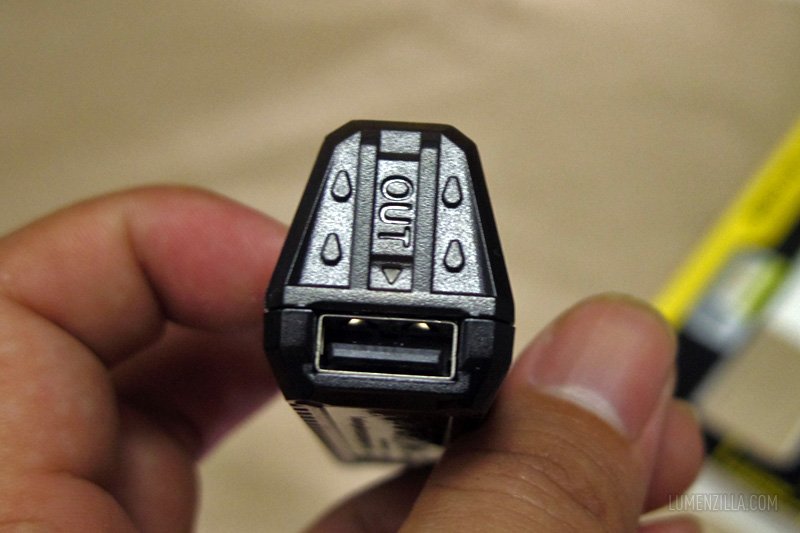 Just plug any USB cable into it and it will deliver power to your electronic devices.
Nitecore F1 as Charger
During the charging process, LED indicator will blink to indicate the battery capacity. When the charging is done (battery full), the three LED indicators will lit up.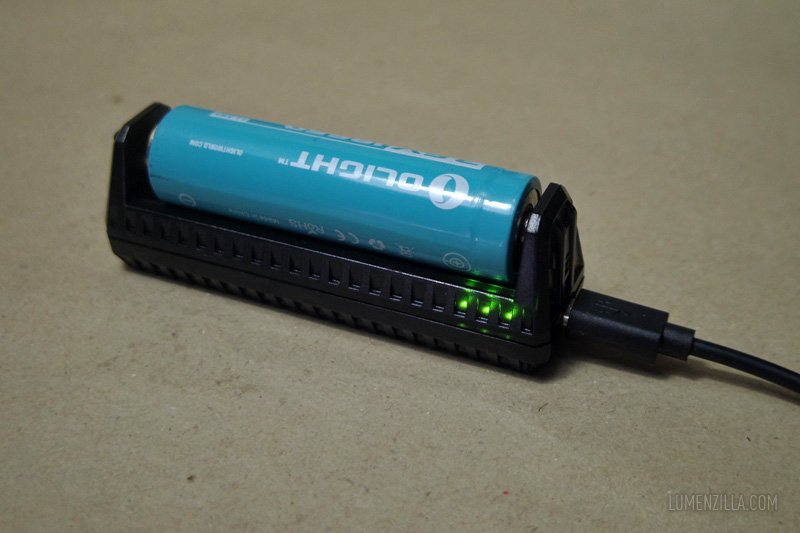 Using its voltage checker feature, the charging is finished when the voltage reaches 4.2 volts.
Nitecore F1 as Powerbank
Before using it as powerbank, don't forget to reconnect the battery when the battery is already inserted before. Nitecore F1 has "sleep mode" when no cable is inserted into its ports (input or output) within 10 seconds.
The amount of smartphones that can be charged with Nitecore F1 may vary, it depends on the capacity of the battery and the capacity of your smartphone battery as well.
When the battery voltage reaches 3.3 volts, the three LED indicator will blink to alarm the user, then shut down at 3.2 volts. It will stop working as powerbank when the voltage is dropped into 2.8 volts to protect the battery.
One thing to note is that the powerbank feature can only be used with 18650 or 26650 battery. When small capacity battery is inserted –such as 16340, 14500, 10440– it will automatically shutted down.
Voltage & Capacity Indicator
Nitecore F1 is a compact charger with plentiful features. Despite the lacks of LCD display, it has cool way to show the battery capacity and voltage.
When a battery is inserted, first digit LED will blink up to 4 times then the second digit LED will blink to show the number after the decimal point.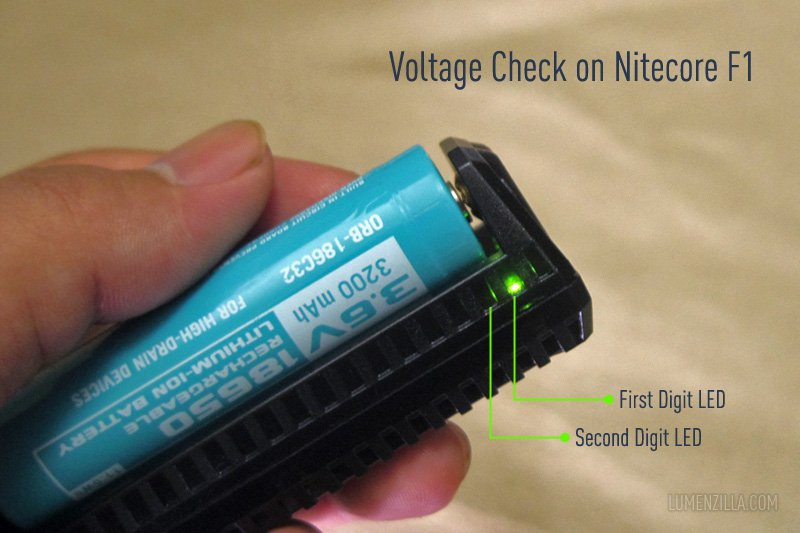 After displaying the voltage information, the combination of three LEDs will tell us the battery capacity:
3 LEDs on: capacity over 81%
2 LEDs on: capacity between 41-80%
1 LEDs on: capacity between 1-40%
Summary
Nitecore F1 is a compact/portable charger and powerbank, suitable for outdoor activity or simply for traveller on the go. The small size factor and battery voltage/indicator make it stand out among other portable li-ion battery charger.
Pros:
Small size, easy to carry and store.
Made from durable and fire proof material.
Gold plated metal contacts.
Can be used as powerbank.
Battery capacity/voltage indicator feature is very helpful.
Rubber band helps keep the battery safe.
Cons:
No USB cable nor instruction manual is included.
Battery polarity sign directions are barely visible.
I wish it came with a little pouch.
If you have this charger, or just want to read more about its features, click here to download the user manual from Nitecore's website.
If you're purchasing Nitecore F1 from Gearbest, do not hesitate to use coupon "F1620" at checkout to get 30% OFF of their retail price.