Convoy L6 with XHP70 up to 3800 lumens
Convoy L6 is a powerful and high performing flashlight. It utilizes a CREE XHP70 N4 LED with a maximum output of 3800 lumens, offering 4 brightness levels and a strobe mode. It powered by two 26650 batteries in series.
Gearbest offered me to review Convoy L6, the biggest LED flashlight I ever tried. I was excited because Convoy L6 uses XHP emitter which I never tried before and I realy keen to see how it perform.
This flashlight was made by Convoy — many of you acknowledge this brand as well as Simon the owner. He produces many good flashlights in a reasonable and affordable price. Thanks Simon!
I received Convoy L6 in 5000K tint color inside a brown cardboard box without batteries.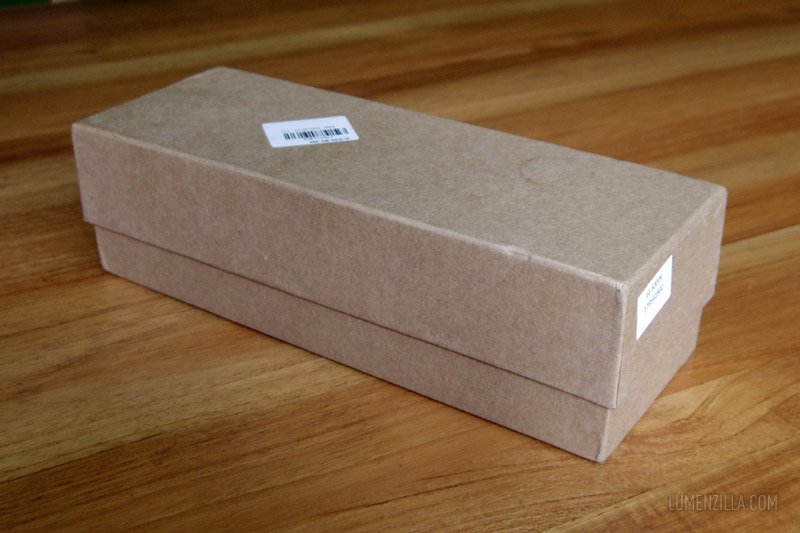 I opened the box and there are a flashlight and a tactical ring (sealed in a plastic bag). No manual book, no spare o-rings, even no label on the flashlight body.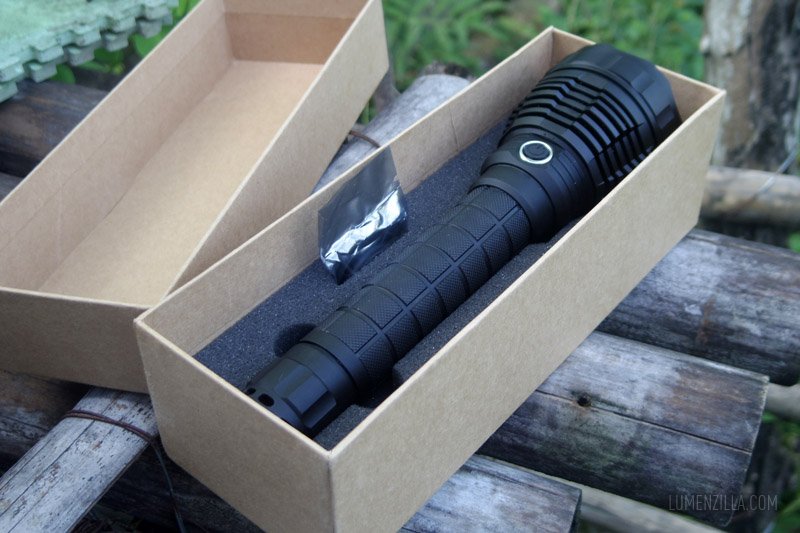 It is big! That's what I thought upon opening the box.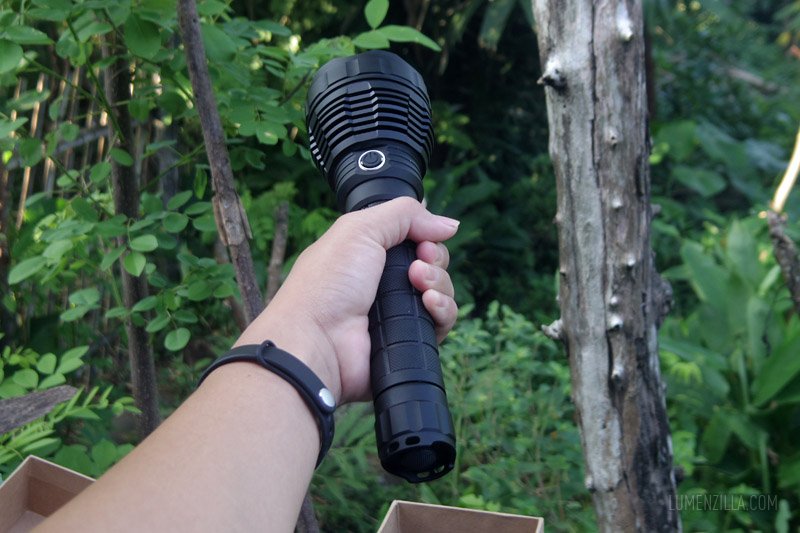 So I took my current biggest flashlight, Courui D01, and put it aside for size comparison.
Convoy L6 looks more curvy and taller.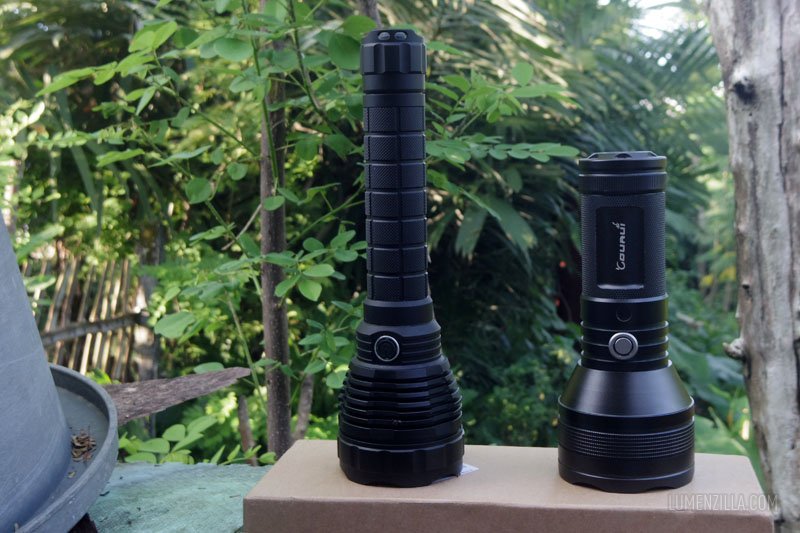 I went back inside and took comparison picture with a flashlight that I carried that day, Olight S30R. They looked like David and Goliath.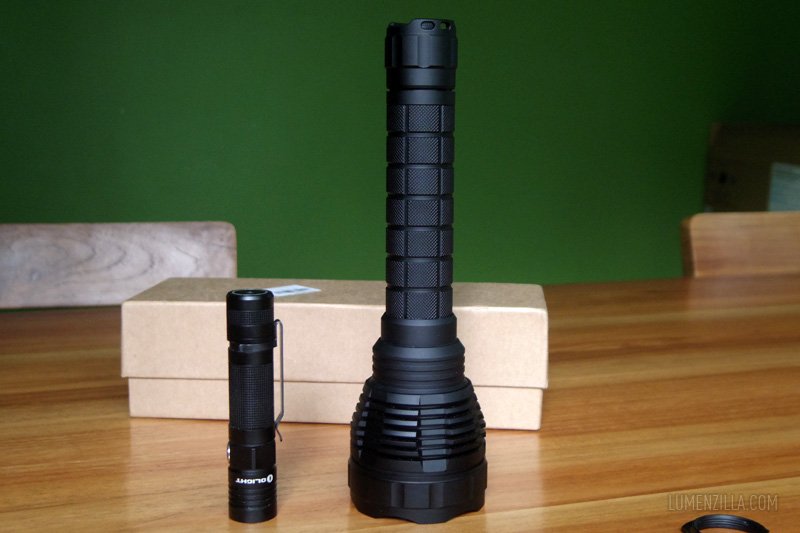 I can say that Convoy L6 is a well made flashlight with decent build quality. Look at the knurlings on its body, it doesn't hurt my palm and quite comfortable in hand.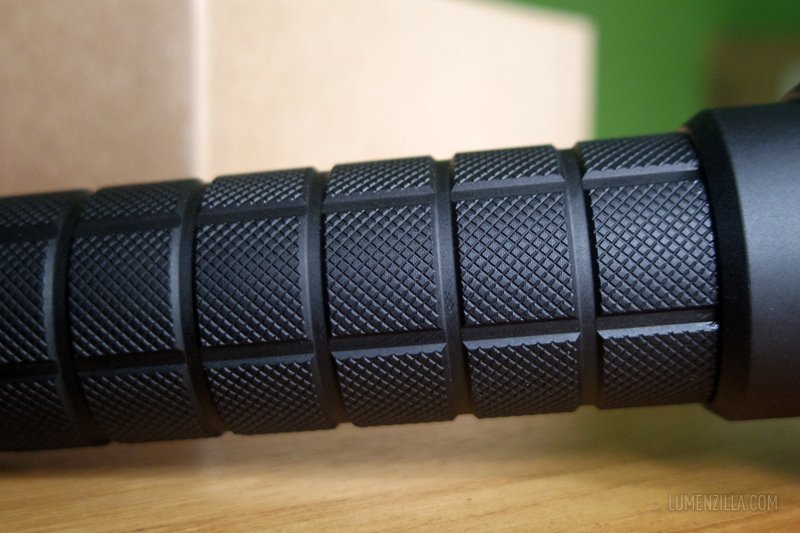 The head is also designed to anticipate the excessive heat that may occured on long period of usage. We can see the fins function on following image as a "cooler". The side switch (it also has tail switch) which is used to choose brightness level is quite decent as well.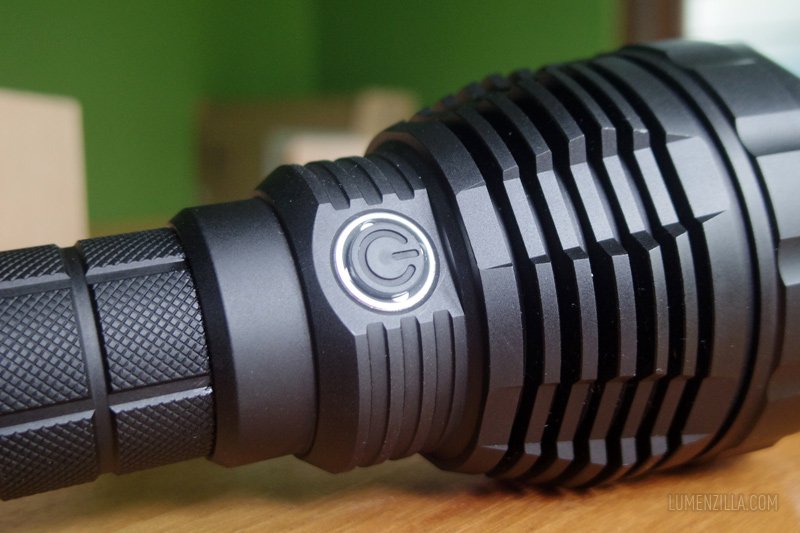 Side switch position is well positioned and is easy to access. I'm not really a fan of side switch but this one surprisingly quite easy to locate just by hand. Switching modes is no problem at all.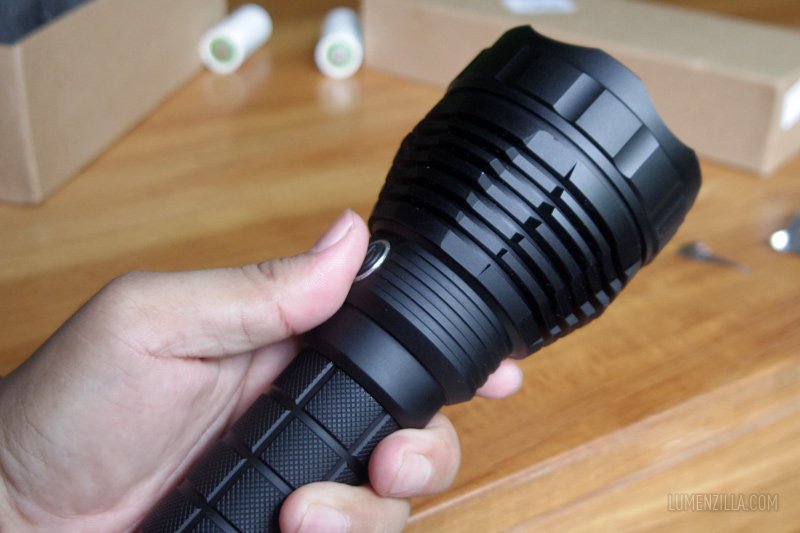 As I mentioned before, Convoy L6 has a tail switch too. The forward clicky switch located on its tail is used for switching on or off the light. It has no other purpose.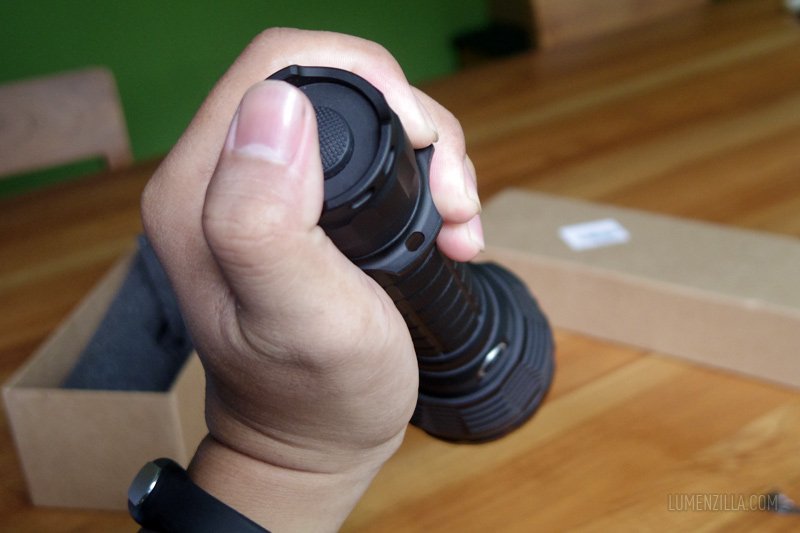 One thing I noticed was it has its spring by-passed using wire in order to deliver more current.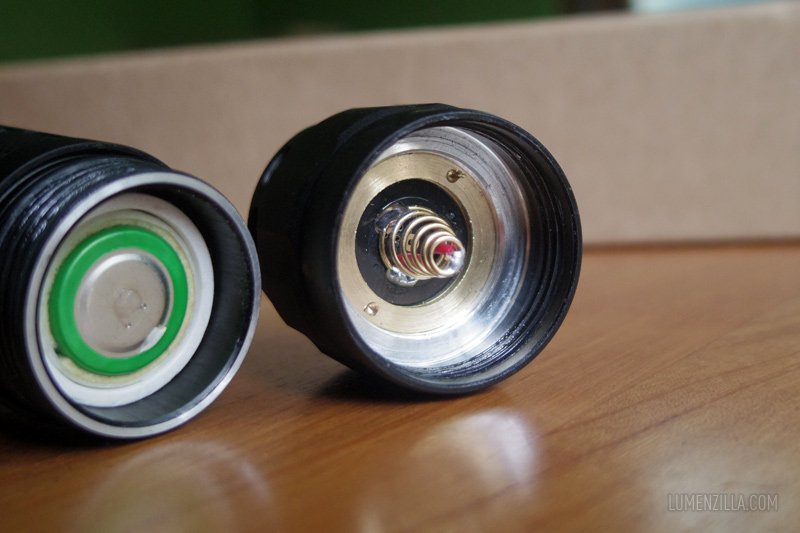 Spring by-pass was not only done for the spring on tail cap but also done for the spring on the head. Impressive!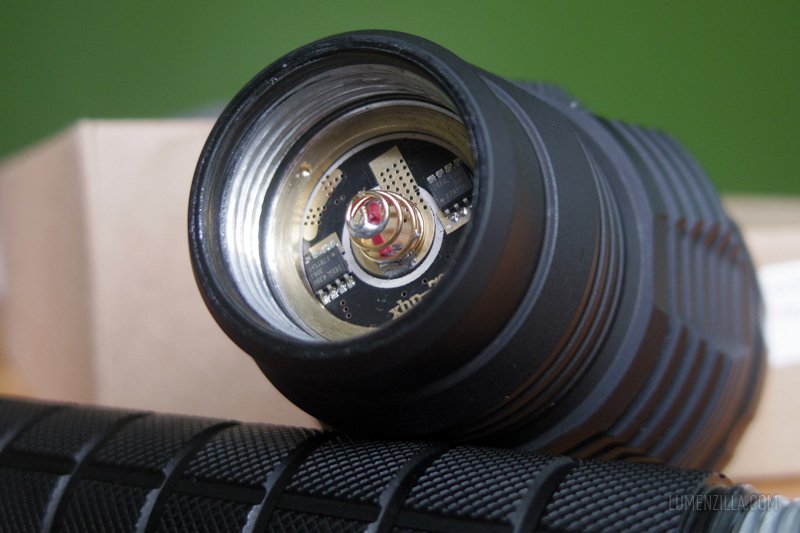 Now let's we see the spirit of this flashlight by disassembling the head part. Any parts can be opened easily because they're not locked nor glued.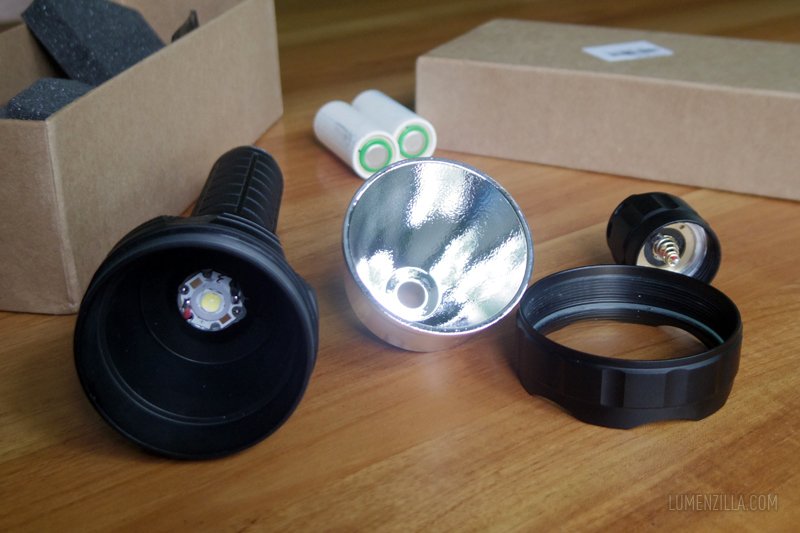 Just be sure to be careful when assembling them back together because o-ring on the head might get out from its line because of pressure from the lens.
Convoy L6 is equipped with large orange peel reflector. The output is quite throwy but still has decent amount of spill and illuminate the surrounding.
The purple-ish color shows that the lens is coated, this will guarantee that most of the light will be passed through the lens and not reflected back to the emitter.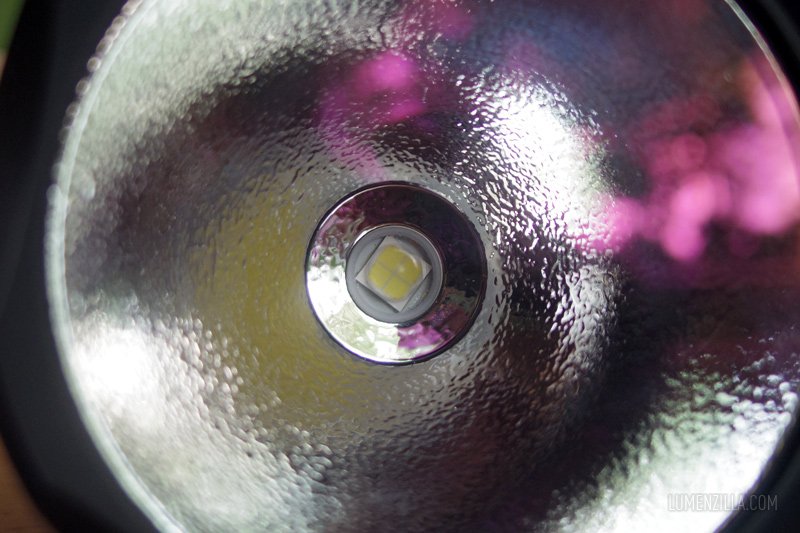 XHP LED is mounted into a copper base plate and an insulation gasket is used to help the reflector stay centered. Copper base plate is mounted to the body (head) by using two screws.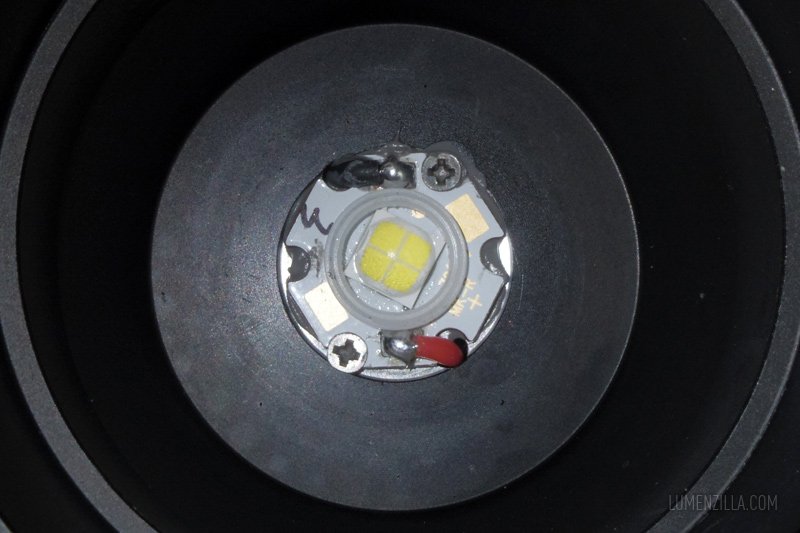 After looking carefully, I found that the reflector is not fit perfectly inside the head without the bezel mounted. But I don't think this will be a problem as long as the bezel is mounted, sure everyone will do.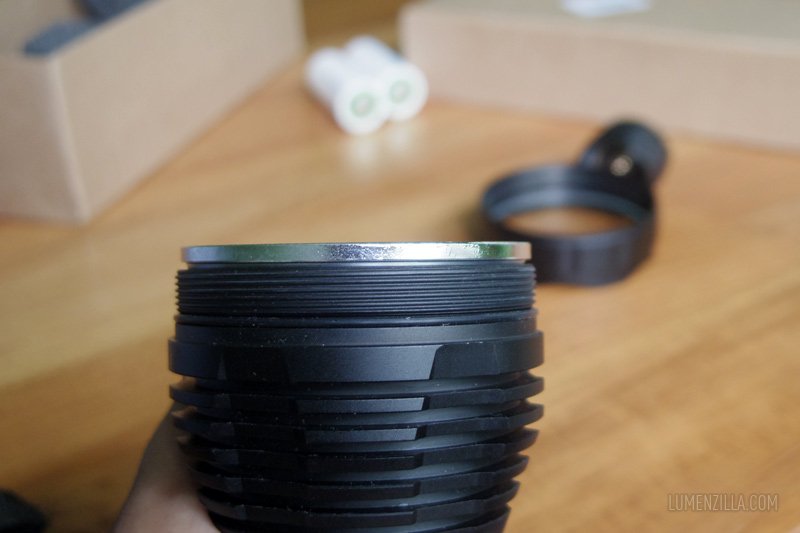 The last part I'd like to tell is the tactical ring, the only accesory included inside the box. I don't really know the function of this ring, I think it's used to attach the lanyard to.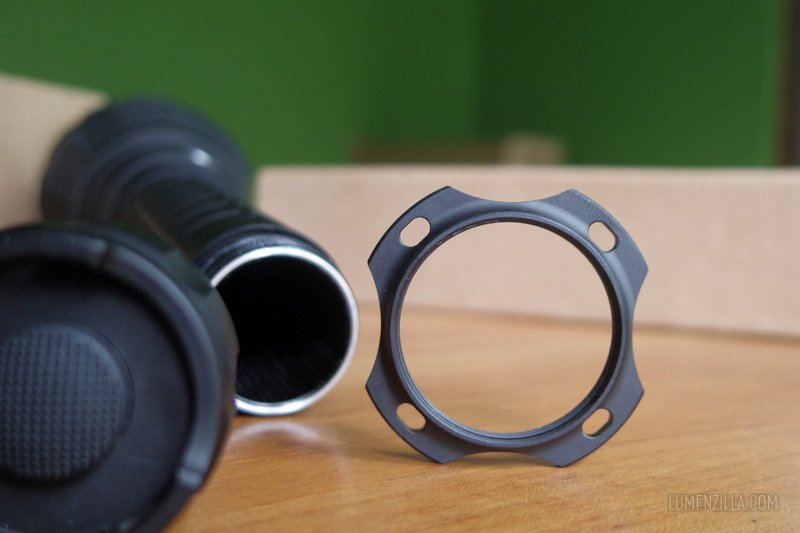 Looking at its design, the purpose of the ring is to avoid the flashlight rolling on flat surfaces. There's an "invisible ring" that should be removed before attaching the tactical ring.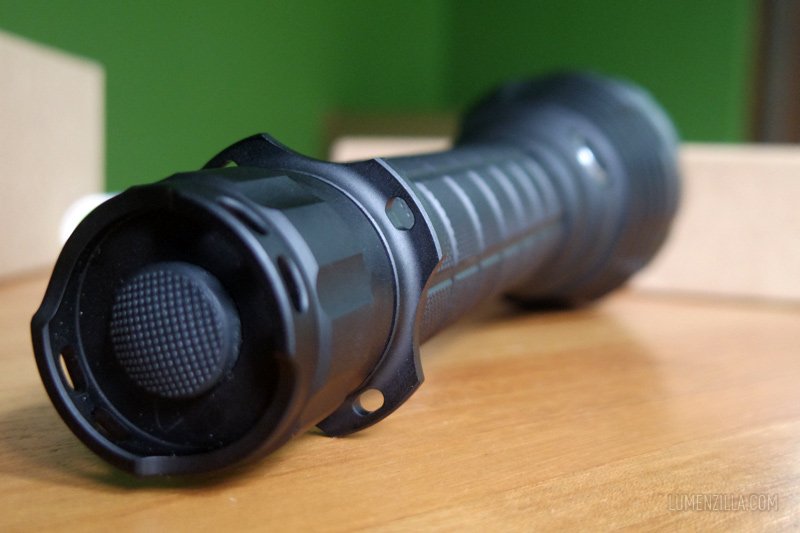 Testing Convoy L6
I received Convoy L6 without batteries so I searched local online store (for quicker delivery) that sell protected 26650 batteries. Unfortunately, most of the stores only have unprotected ones.
After searching for few days, I purchased protected 26650s but they broke my heart. The protection boards are so awfull that the light can only went to low and medium mode, couldn't go higher.
So I made a makeshift 26650 batteries by using 18650 batteries wrapped with tape and inserted them into 3/4″ plumbing PVC pipe and they worked!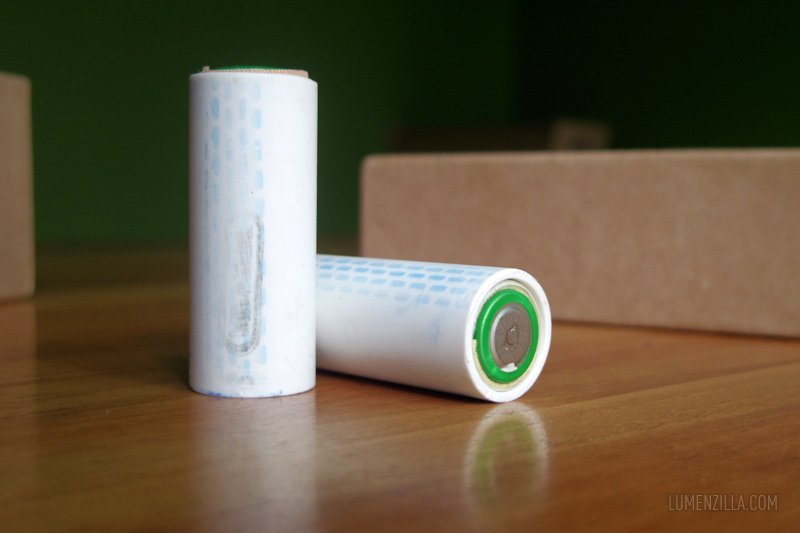 I clicked the tail switch and flashlight turned on at lowest mode. A click on the side swicth will ramp the mode into medium, and another clicks will bring it to high and turbo. It has memory so it will remember the last used mode.
Acessing strobe mode can be done by double clicking the side switch.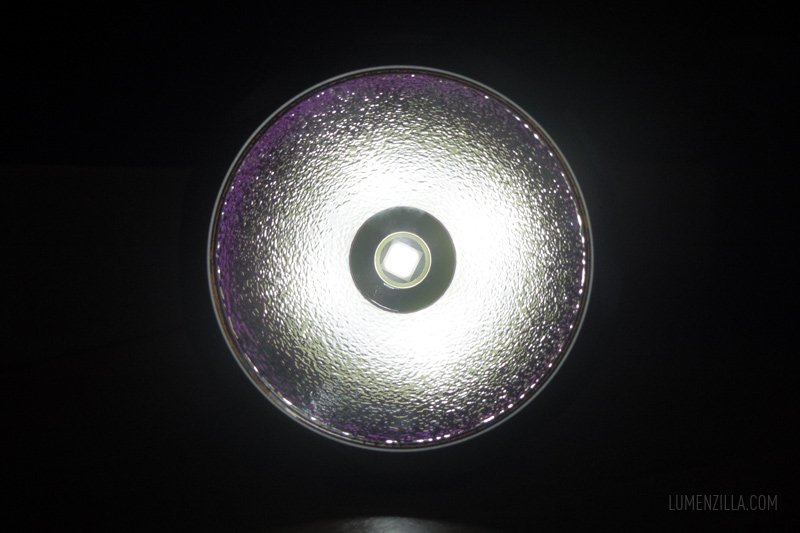 Looking at its beam pattern, Convoy L6 is a thrower. But it also has quite decent amount of spills that gives a sufficient amount of light.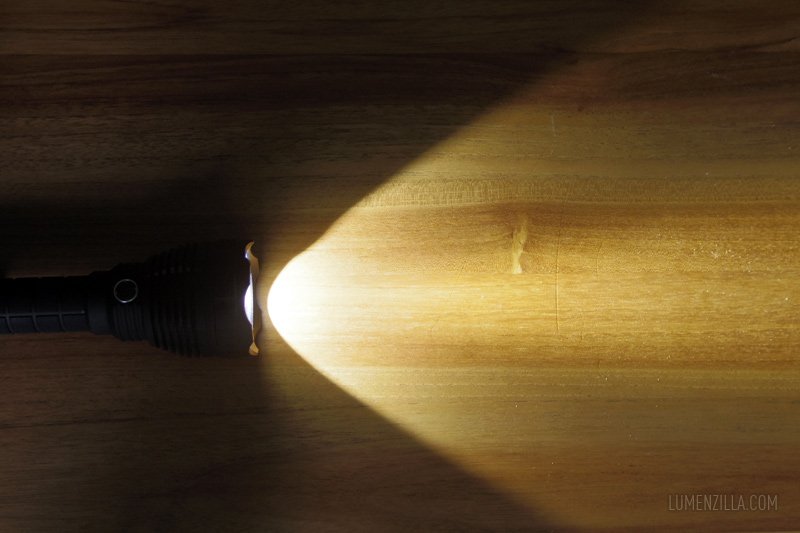 Convoy L6 Beamshots
I made two beamshots photos with different distance.
First series are shot using Pentax Q with standar prime lens (8.5 mm, fixed), manual exposure at 0.3 seconds, f 1/9, ISO 400. Distance to the target (church's roof top) was about 97 meters.
Because I pointed the light at the church's roof that is above my height, a pythagoras law may occur and the distance might be accounted further.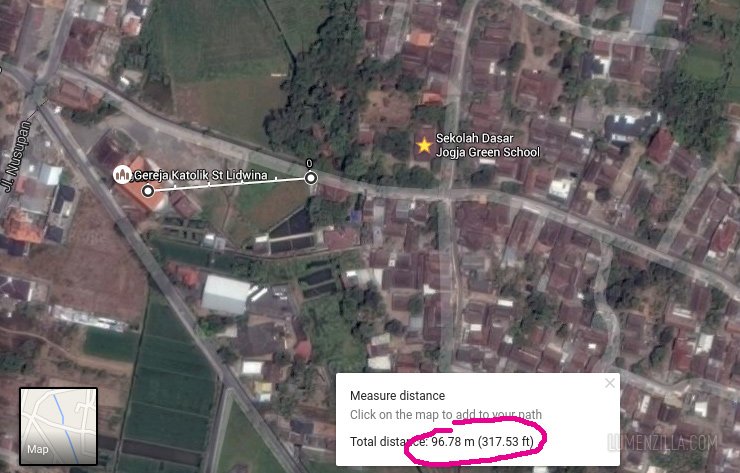 Here's the curch view using Google Street View, it's old picture (2015) so there's no wall shown surrounding the church.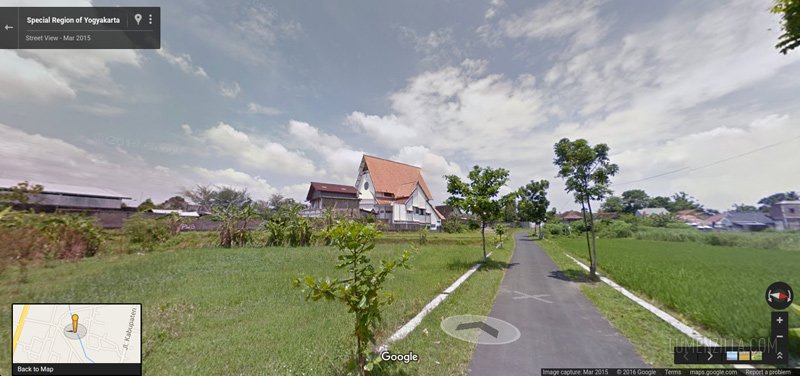 Control shot: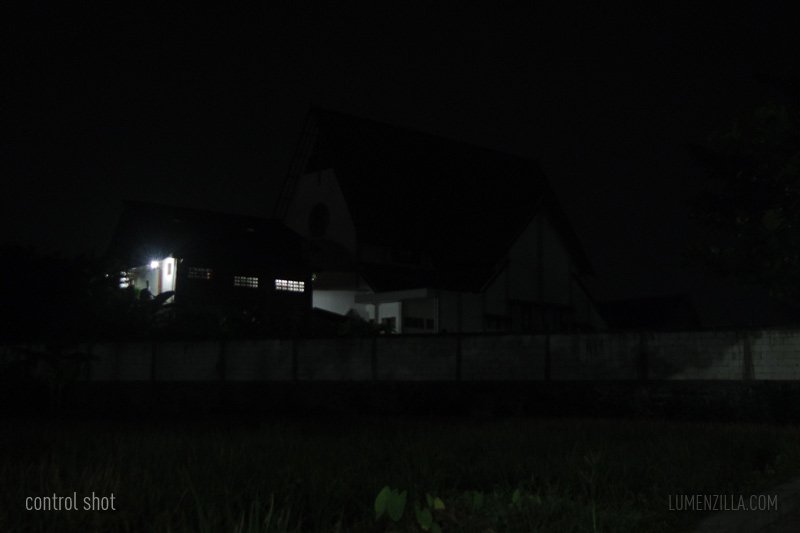 Low mode: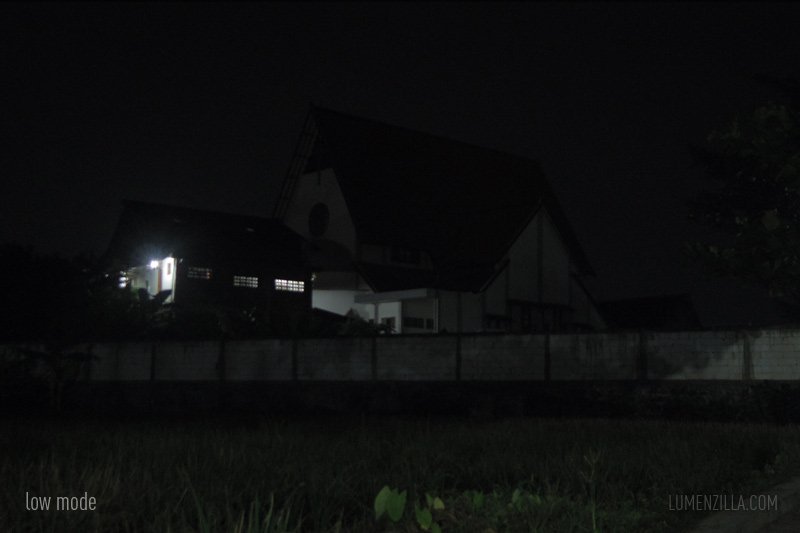 Medium mode: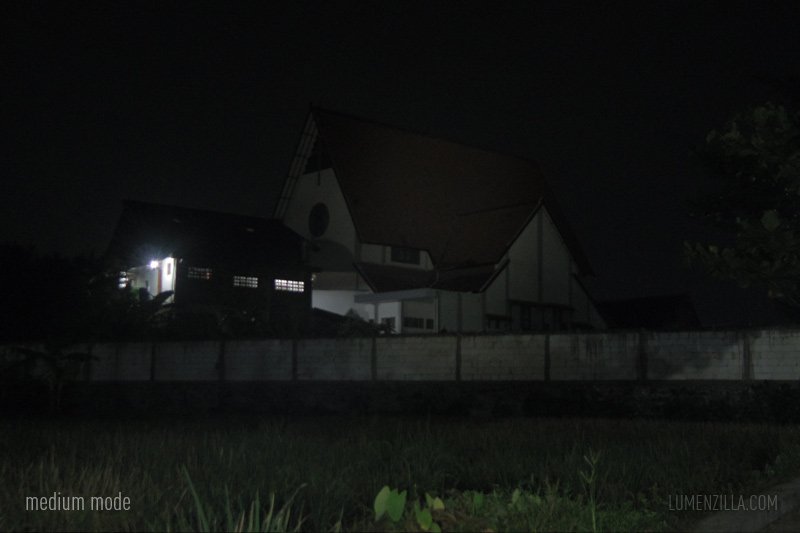 High mode: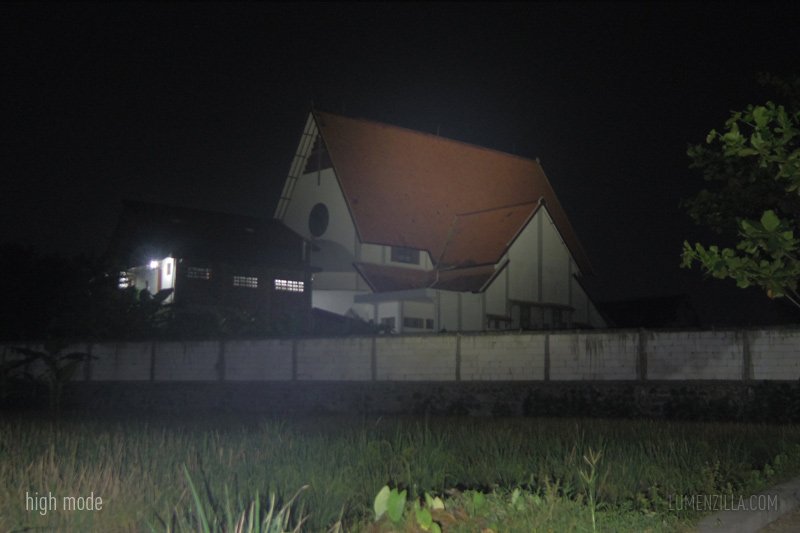 Turbo mode: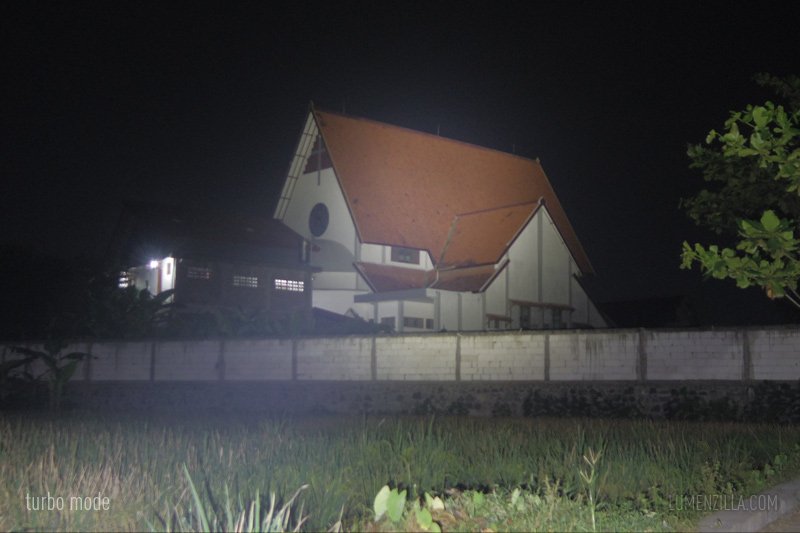 Here's the animated version for your viewing pleasure.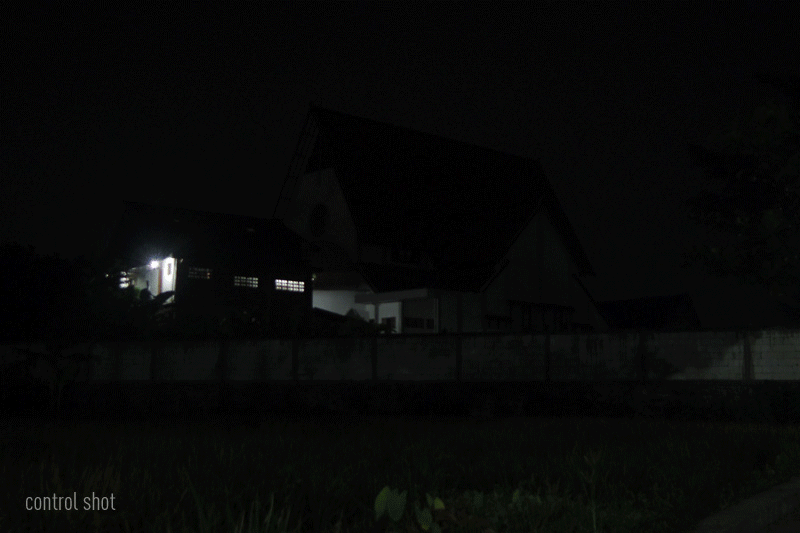 Second shot series were done using the same camera, manual exposure at 0.5 seconds, f 1/9, ISO 400. Distance to the target (tree) was about 63.25 meters.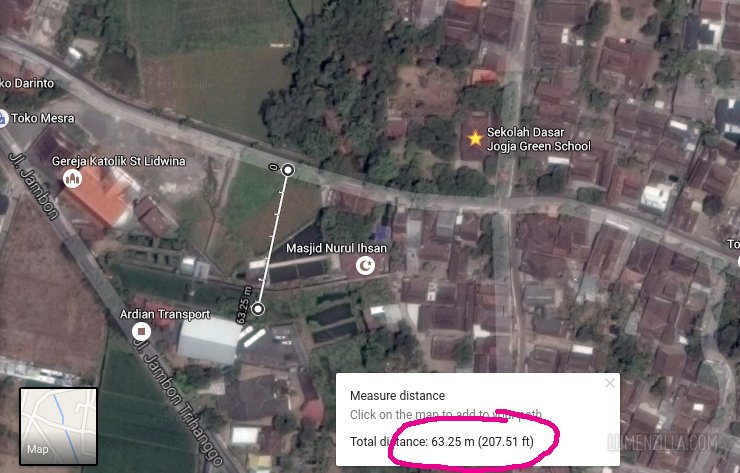 Here's the view of the tree at the day, shown using Google Street View.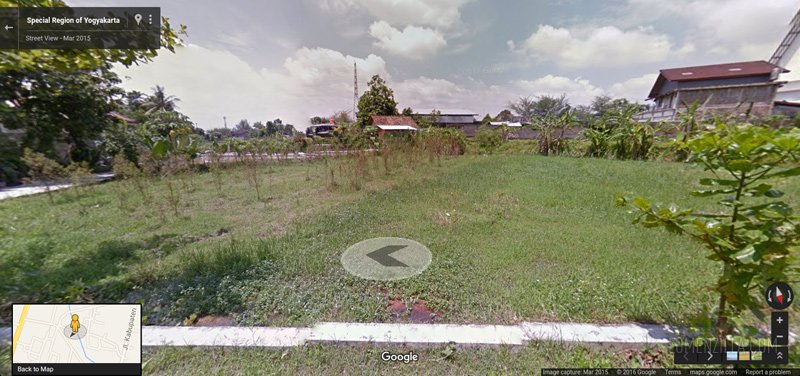 Control shot: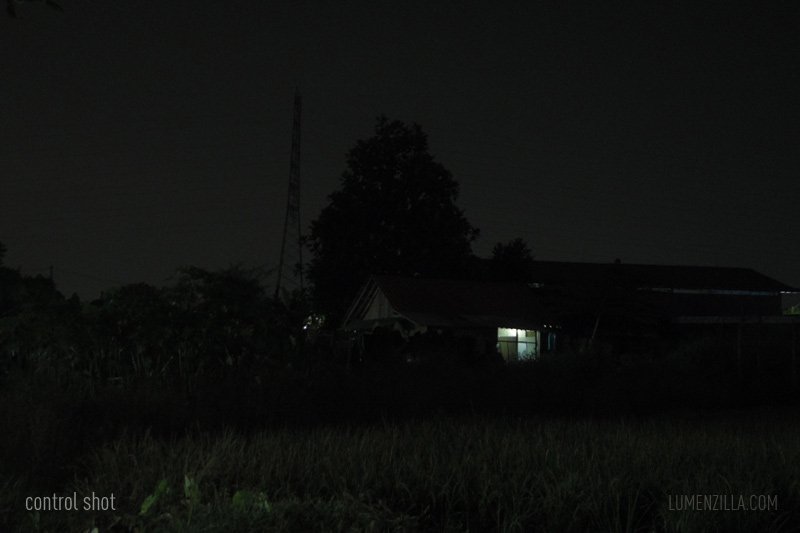 Low mode: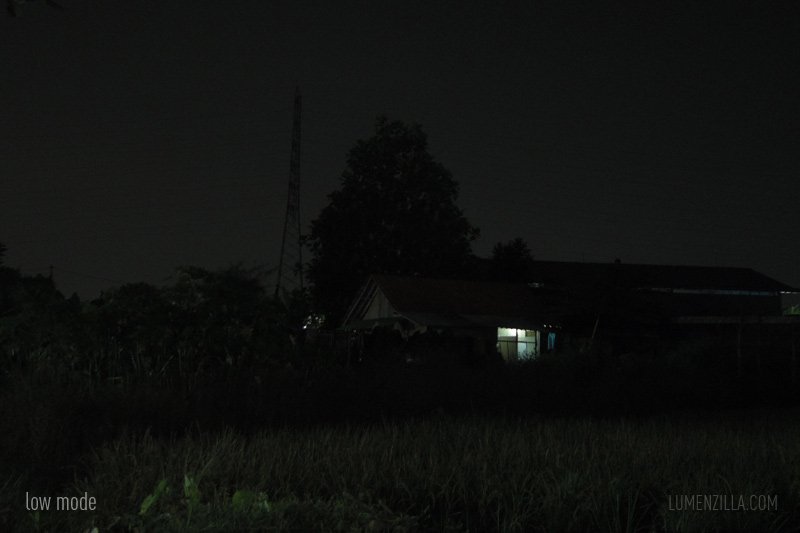 Medium mode: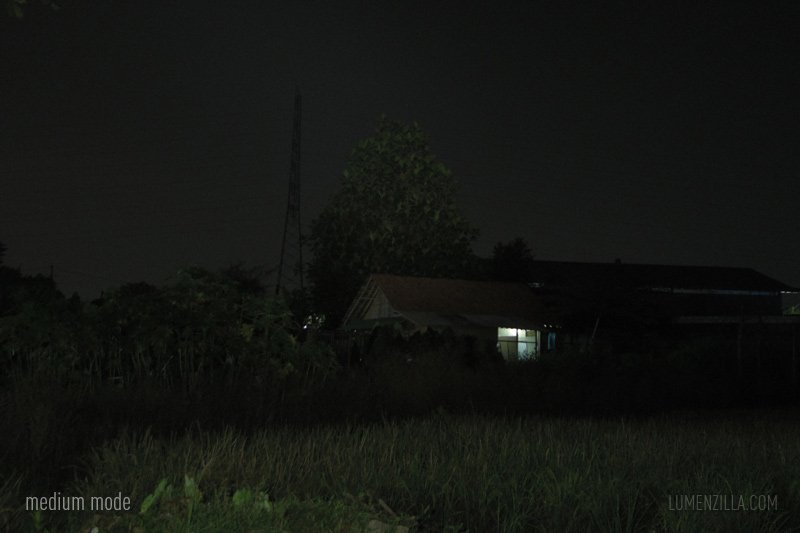 High mode: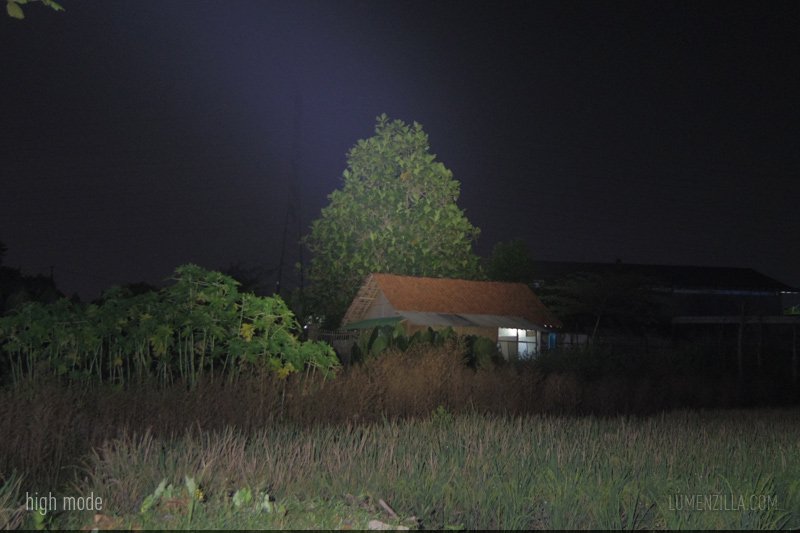 Turbo mode: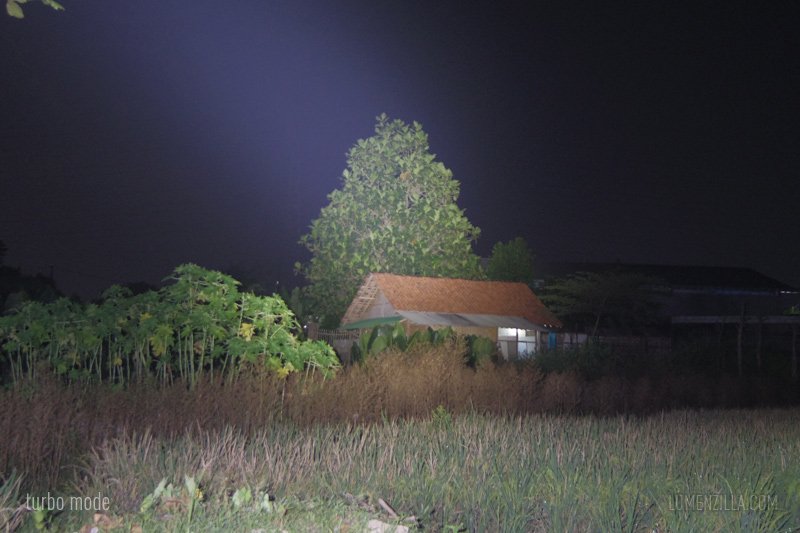 And again, animated beamshot pictures for your viewing pleasure: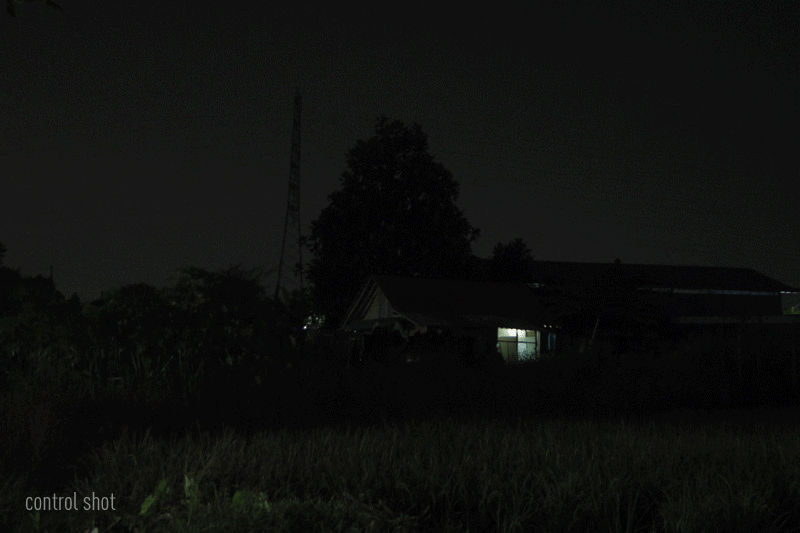 Convoy L6 Experience
Pros:
Super bright flashlight
Great build quality
Orange peel reflector give enough light spill for suround illumination
Good mode spacing, easy to operate
No hidden modes
Two switches with different purpose
Affordable price
Cons:
A bit heavy, 700 grams without batteries
No manual book, no spare accessories
Not all 26650 batteries can be used (need longer ones)
No low battery level indicator
Bottomline:
Convoy L6 is not a flashlight for EDC purpose because of its size. Powered by 2 x 26650 battery in series, it produce maximal output (thanks to its XHP emitter) without sacrificing the runtime. Because it's using two lithium-ion batteries in series, I strongly suggest using protected batteries for our own safety.